Golfer Hits Hole in One with Award and Dual Degrees
Ellis Yoder '20, MSDI '21 named Northeast-10 Male Scholar Athlete of the Year  
Ellis Yoder '21, a golfer who earned both his bachelor's and master's degrees in just four years, was named the 2020-21 Male Scholar Athlete of the Year in the Northeast-10 Conference. 
The Fort Wayne, Indiana, native not only earned dual degrees, but did so by sparkling in the classroom, earning a 3.968 grade point average as an undergraduate and a 3.91 in his graduate work. His Bachelor of Science came in computer information systems, and he attained a Master in Science in digital innovation.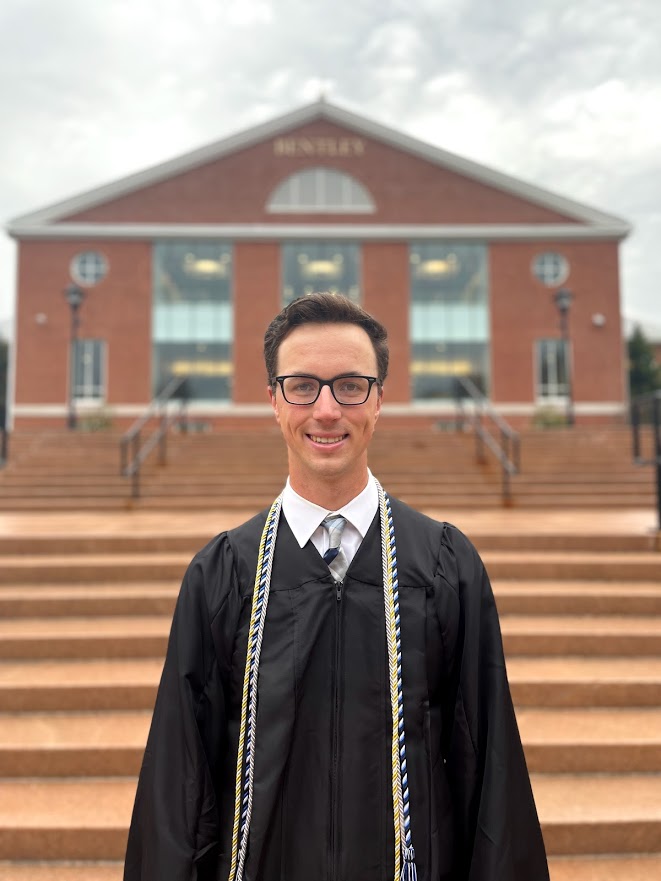 It wasn't until this driven student began work at the Office of Academic Services and was taken under the wing of Leslie Doolittle, executive director of academic support services, that he learned about the dual major opportunity. "She helped me so much in my first two years at Bentley, working with me to decide what program was best for me and how to get the most out of my time at Bentley," Yoder recalls. "When we realized I could complete two degrees and still play four years of golf, it made the most sense for me, and that's how it worked out." 
The Falcon co-captain was one of Bentley's top players the last three seasons, finishing his career with a 77.5 stroke average -- the average number of shots taken in an 18-hole round -- over 46 rounds. 
This latest honor tops a list that also includes two-time recipient of both the Academic All-Northeast-10 and the Division II Athletic Directors Association Academic Achievement Award, the 2019-20 All-Northeast-10 third team and a 2019-20 Cleveland/Srixon All-America Scholar award. 
Twice receiving the NE10's Elite 24 Award for golf, he was also presented with the team's Most Improved Player Award in 2019 and the team's Richie Powers Honor Award in 2020 (Richie was a former Bentley golf team captain who passed away at too young an age. Coach Mickey Herron honors his memory each year by presenting the award to a member of the team for their contributions). 
Yoder says he chose Bentley not only because of its elevated status as a business school but also for the opportunity to play on the golf team as soon as he arrived. "Those two factors ensured that I would be prepared for the professional world, while getting to play the sport I love competitively for four more years. It made the decision easy," he shares. 
Ellis has been the most outstanding student in Bentley golf program history.
Mickey Herron, Head Golf Coach
"Ellis has been the most outstanding student in Bentley golf program history," said coach Mickey Herron. "Couple that with consistent improvement with his golf game due to tireless effort on his part, it makes me proud to weigh in on his accomplishments and overall character." 
Accomplishing so much in four short years, this all-star student says he knew how important it was to keep a balance between academic and athletic excellence. "For me, it was important to manage my time well when I wasn't practicing golf, but then when I was on the course, I needed to be fully present and engaged in the sport," he shares. "It's hard at first with so many projects and assignments, but staying in the present and fully devoting myself to my tasks was a major key for me." 
As he prepares to start a business technology solutions analyst position at Deloitte Consulting's Boston office this summer, Yoder reflects upon his time at Bentley – and what an important role golf played in his college experience. "I felt that being part of an athletic team kept me balanced and took me away from my computer for a bit of time each day," says Yoder. "As a CIS major, I spent a lot of time looking at screens! Golf was the perfect opportunity to get outside and compete with my teammates. For that reason, I knew that athletics were a critical part of my Bentley experience."