A Father's Sacrifice
Khushbu Patel '19 Surprises Her Dad By Listing His Name on Her Diploma
Graduate Thanks Father by Adding his Name to her Diploma
Khushbu Patel '19 considers her father as much a part of her college success as she is. An immigrant from India and the sole provider for her family, he worked long hours building motors at a manufacturing company to save enough money to put Patel and her sister through college. But he was always there for her – at award nights, parent-teacher meetings and when she got her first "B." So Patel found an unconventional way to thank him: by adding his name to her Bentley diploma.
"When I was filling out what name should go on the diploma, it hit me that I could put my dad's name on it, too," she recalls. "I just did it in the moment but I had no idea it would be one of the best gifts I would ever give to my dad."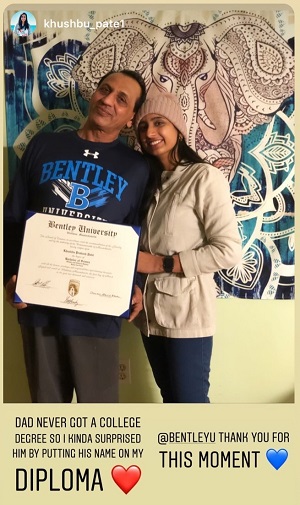 When Patel received her diploma, her father, whose first name is "Prakash," looked at it in awe. "He opens it and reads 'Khushbu Prakash Patel' and looks at me and says, 'You put my name on it?!' I said, 'Yes, Dad, that's your name, and this is my way of thanking you for getting this degree with me.'"
Patel remembers her father's support when she told him Bentley was her dream school. She recalls him saying, "I have always wanted you to go to the best college and Bentley is for you; the smile on your face says you want to go there. Even though I didn't get to go to college, I worked really hard and saved up so that my daughters wouldn't have to worry about paying for college like I had to when I was your age."
It was that support, Patel says, that encouraged her to apply early decision to Bentley, and she was thrilled to learn of her acceptance. Once on campus as a student, Patel held numerous jobs including as a front desk assistant in Bentley's Office of Academic Services. Another favorite experience, she says, was being a First-Year Seminar Peer Leader. "It was a way for me to give back to Bentley and help first-year students get accustomed to campus."
Patel planned to major in Accounting but ultimately chose Finance and a Liberal Studies major in Health & Industry. "Finance was more of a puzzle to me, which I enjoyed. And I was always interested in healthcare and businesses related to that industry."
She was also busy outside of the classroom. She participated in service-learning; served on the Board of Academic Integrity; was president and treasurer of the Commuter Association; and did internships at fashion company Nic+Zoe and at Thermo Fisher Scientific, where she landed a full-time financial analyst II position after graduation.
Patel credits both of her parents for supporting her endeavors. "My parents would always tell me that I was a blessing for them. Growing up, they never told me to get straight As or get involved in sports. They just said they would always be behind me, that I am my own pilot and all decisions were up to me."
She reflects on the values her father instilled in her, including a strong work ethic and a commitment to always be honest, humble and helpful.
"Putting my dad's name on my diploma gave me the chance to tell him how proud I am of him for who he is and what he has accomplished," Patel says. "He always says he hasn't done much in life, but educating both of your daughters and being there for them really shows how much he has worked and done in his life."