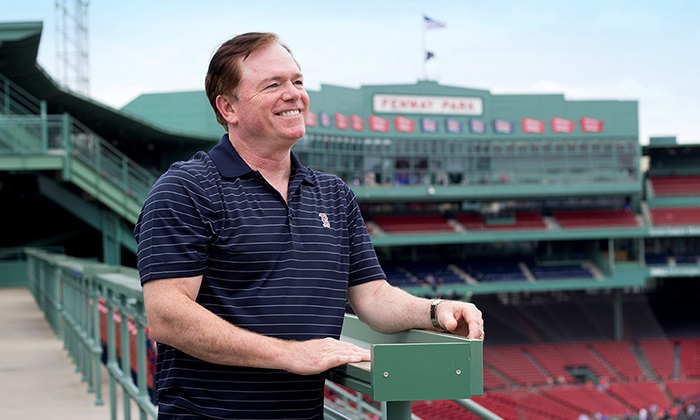 Brian Shield '85 at Fenway Park
He's the Red Sox's IT MVP
Brian Shield '85 Helps the Sox Get the Most Out of Their Data
Professional baseball has long used data and analytics to evaluate players' skills, with advanced metrics such as wOBA (weighted On-base Average) and LIPS (Late-Inning Pressure Situation) playing ever more important roles in recent years. But there's been less emphasis on technology when it comes to understanding fans and revenue streams.
That's changing.
Being on the cutting edge of IT is a "requirement now for a sports franchise to remain competitive, drive revenue and ultimately make the ownership group more successful," says Brian Shield '85, the vice president of information technology for the Boston Red Sox, who begin the Major League Baseball playoffs this week. Shield notes that baseball had historically lagged behind other industries in its use of technology, but a lot of that has changed over the last five years.
"There's a renewed emphasis on leveraging technology as a competitive advantage," he says.
Turning Data into Engagement
Though on-field players like Mookie Betts and J.D. Martinez get all the publicity, Shield and his team of IT all-stars are making significant changes off the field to help the team's long-term success. The Red Sox have undertaken two big-data-driven initiatives under Shield. The first was building an enterprise data warehouse to track transactions from their primary sales channels as well as from secondary market sellers, loyalty programs, turnstile data, digital ticketing and surveys. The data have helped to project sales, set staffing levels, inform promotions and, Shield says, understand fan behavior to improve the fan experience at the Red Sox's home stadium, Fenway Park.
The other big IT initiative on Shield's watch implemented customer relationship management tools that allowed the Red Sox sales team to reach current and future fans more effectively. "We can now leverage data to make fans aware of ticket programs and events and to build a more holistic relationship with them," Shield says.
Learn About Bentley's Data Analytics Degree
Recently, Shield's work has focused on the next generation of Red Sox fans. He oversees a digital strategy that has created a Bingo app to teach kids about baseball and a simulated virtual reality batting experience for kids at Fenway Park. Several more Red Sox apps are on the horizon.
An Enticing Offer
Shield didn't start his career with the Red Sox. He joined the team by way of CIO and CTO roles in the investment industry, at the flower delivery company FTD and at the Weather Channel, as well as serving as a technology consultant to clients such as the Fenway Sports Group. The latter signed him for the vice president of information technology role – a position that had not existed before – in 2013.
"It was an opportunity to apply a lot of things I had learned over the years to one of my favorite pastimes," he says. "It's hard to refuse a chance to combine technology with something you're passionate about."
Shield credits Bentley, where he earned a bachelor's degree in Computer Information Systems, for developing "the ability to combine solid technical knowledge problem-solving with good business acumen. The best technology leaders are business people first and technologists second, and Bentley did an exceptional job in preparing me for both."
A version of this story first appeared in Bentley Magazine.