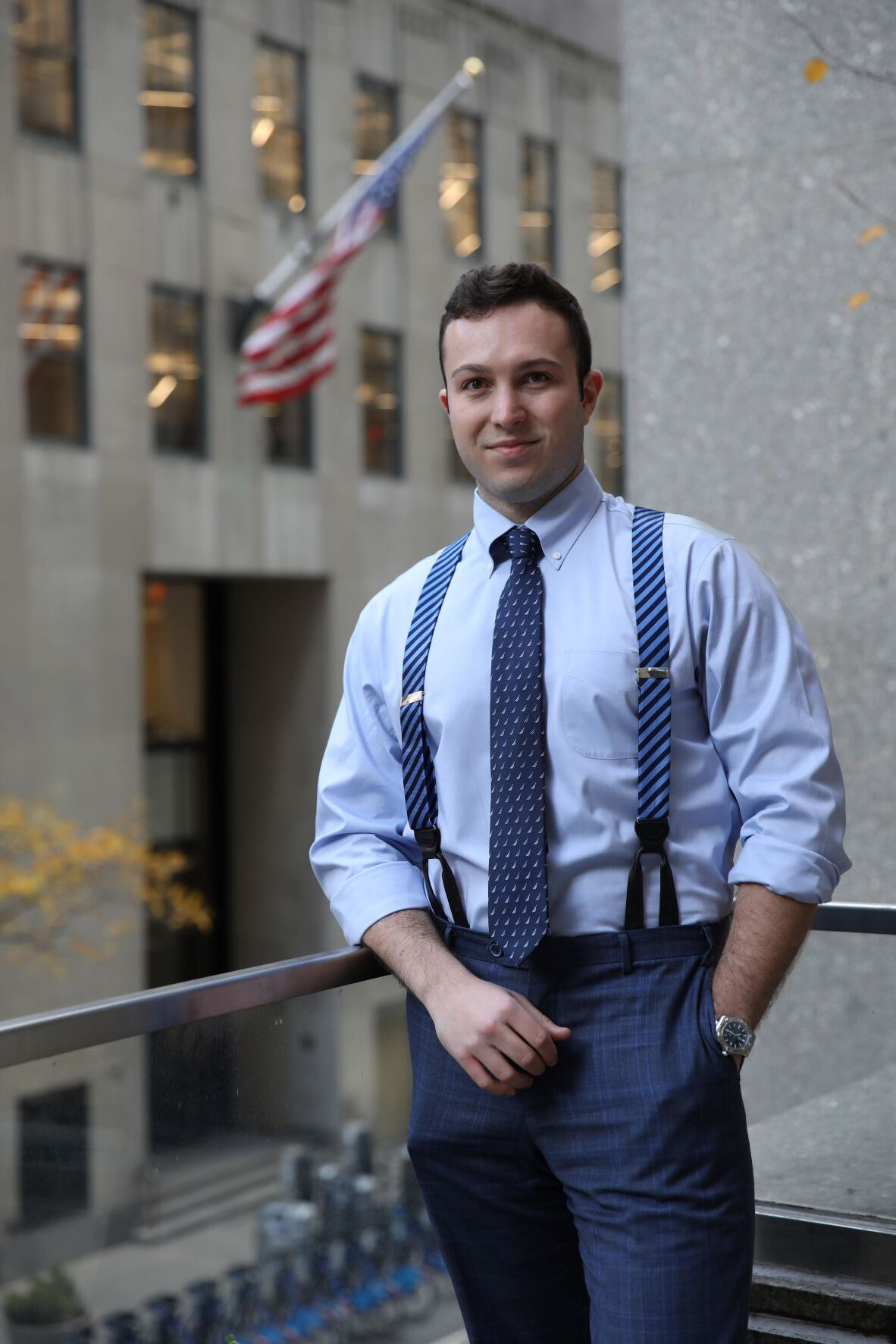 It's Not All Numbers for Nick Plate '17
How financial psychology informs his work
Finance and Psychology may seem an unlikely major/minor combination, but for Nick Plate '17, that mix of business and social science created the foundation for his career at Merrill Lynch Wealth Management. Following internships at Merrill Lynch and graduation from Bentley, Nick Plate joined the company full time as a financial advisor and rose to vice president just two years later. His expertise is in stock-based company awards, customized wealth management, long-term investing, behavioral finance and estate planning services.
We caught up with him to learn about overconfidence bias, bringing a positive energy and the art of the cold call.
When did you first become interested in finance?  
When I was a little kid, my dad started me with a brokerage account around the time that the financial crisis happened, and I purchased blue-chip stocks like Ford and U.S. Steel. I thought it was the coolest thing in the world to have a brokerage account and be a shareholder of a publicly traded company. From that point on, I knew I wanted to be a Finance major and make it my career.  
What interested you in a Psychology minor?  
It's funny because when I was making my schedule, I added a couple of Psychology courses to fill my courseload and credit requirements, but they ended up being interesting, particularly the way professors approached the topics.   
When you think about finance, oftentimes it's super above the shoulders – numbers, watching charts – quite different than psychology. But what a lot of people don't know is that psychology plays a huge role in finance. Once that clicked for me, I thought a background in psychology would be helpful in my career.   
What role does financial psychology play in your job?  
There are computers, algorithms and institutions that do a lot of trading, but at the end of the day, people move the financial markets. And people have emotions that contribute to their financial decisions, often based on behavioral biases. One example is overconfidence bias: If someone had a couple of investments in a specific sector and a strategy that worked well in the past, they may be overconfident in that strategy moving forward. My goal when working with clients is to provide the information necessary for them to make an educated decision by stripping the emotion out of it.
There are computers, algorithms and institutions that do a lot of trading, but at the end of the day, people move the financial markets.
Financial Advisor and Vice President, Merrill Lynch Wealth Management
How did you get your start at Merrill Lynch?  
I started as an intern and was immediately assigned to cold calling. I initially didn't have a lot of success, but my second summer, I brought in some decent leads and Merrill Lynch sponsored me to get my Series 7 and Series 66 FINRA [Financial Industry Regulatory Authority] registrations, which allowed me to arrive fully licensed for my third summer as an intern.   
What was that first cold call like?  
Cold calling is an art form, and the only way to learn is to do it. l got a lot of rejections at first, but every once in a while – even though I was stuttering through my pitch and sounded like I wasn't the most experienced guy – someone would end up taking the call. Once I got my first lead it was exhilarating, making a connection and booking a follow-up call for a senior advisor. I was able to sit in on the subsequent dialogues to learn more about how to speak to clients and learn about the client acquisition process. My team kept me motivated; having their support allowed me to let the challenging experiences roll off my shoulders and hang onto those wins.
How do you define success?  
I define success as the ability to enjoy how you spend your time. I love what I do; I look forward to conversations with clients and to providing value to them. 
I define success as the ability to enjoy how you spend your time.
How would your clients describe you?  
I hope that they think I am knowledgeable and bring value to them – and that they enjoy our discussions as much as I do. I try to be a positive energy, so I hope that when my clients hang up the phone, they have a smile on their face and feel confident that our team has their back.  
What were some of your best memories at Bentley?  
I made friends quickly at Bentley. People on my floor would get together for pickup basketball or football and we also played intramural sports, so we built a great bond. Right away I noticed we had similar goals and motivation for business.  
A lot of time was spent talking finance – it was a bit of a hobby for us. That was a huge motivation to me and helped me grow; we pushed each other to learn. I remember trading competitions where we would form teams and come up with different strategies, talking about what went badly and how to improve going forward. Group projects gave me a chance to work with people on a semi-professional basis. Sometimes I didn't know my teammates, but we were all working toward a common goal. That helped me secure my first internship with Merrill Lynch and hit the ground running.   
Tom Yuen '05, MST '05 named to greater Boston '40 under 40'