'Make the Small Memories Matter'
Commencement remarks from Erin Buckmeier, president of the 2022 Class Cabinet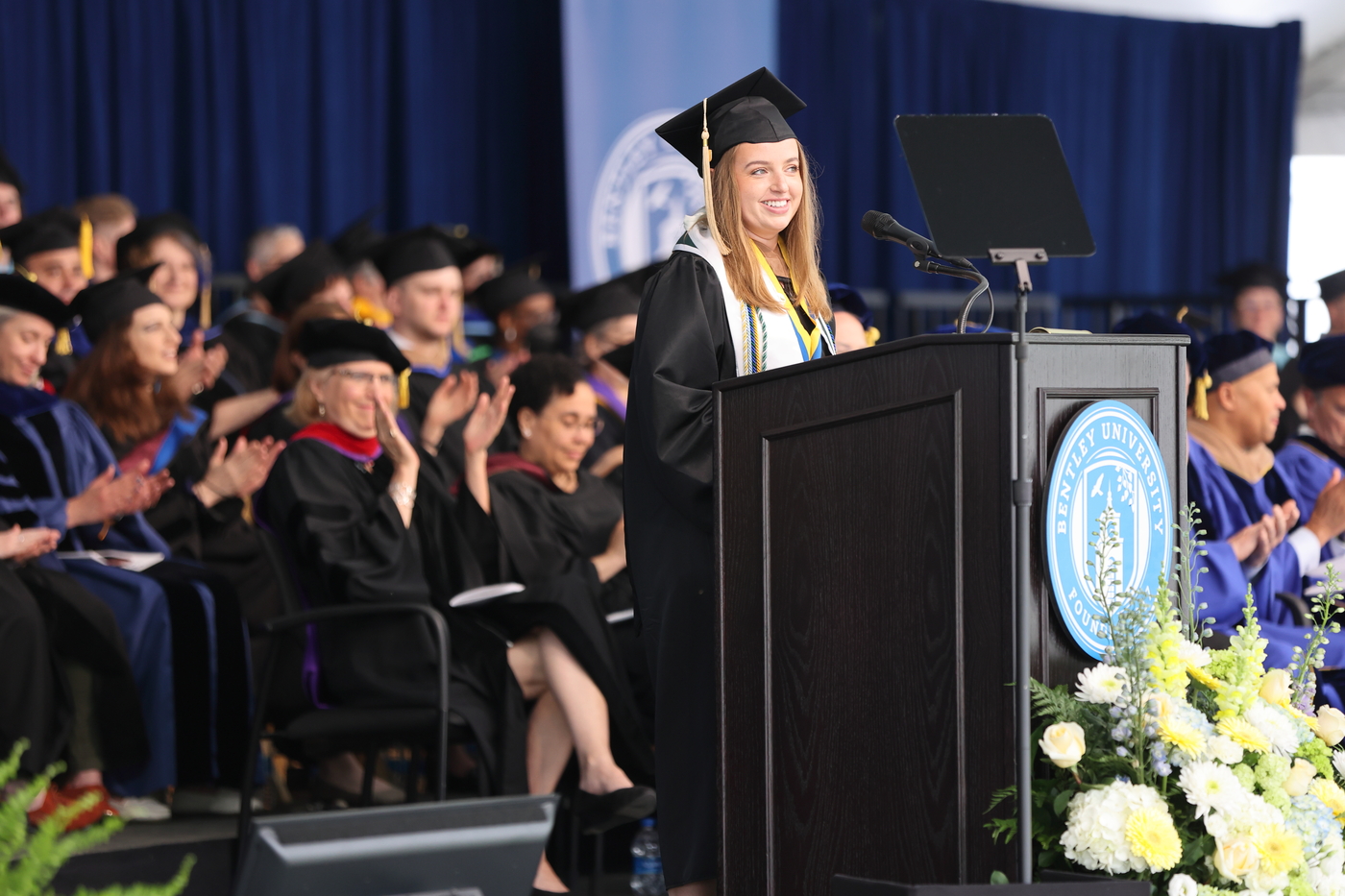 Good morning, family, friends, faculty, staff, trustees, President Chrite and most importantly to the undergraduate Class of 2022. It is an honor to be standing here today representing the 2022 graduates. 
To my fellow soon-to-be Bentley alumni, I want you to think of a memory from freshman year where you were maybe a little bit lost or uncertain. Take a few seconds, and now think about where you are in this moment sitting among your peers and how different your life is today. Most importantly, think about how much you have grown as a person since that point, and how each moment has brought you here today as a graduating Bentley student. I think about how in our orientation, I looked around to my group and wondered if I would ever make a true friend. But now, I'm standing here today with some of my closest friends, who will soon cross this stage to complete their journey at Bentley.  
Bentley University has a reputation as an incredible business school, one that provides its students with an abundance of opportunities from internships and job placements to social experiences and ways to make new lifelong friends. Our class is no exception. I know that each of my fellow graduates will find success in whatever path they take.  
However, we have offered so much more to the Bentley community than our employment status. We became the orientation leaders to welcome the new classes of students, RAs, FYS Peer Leaders, leaders of our respective organizations and everything in between. We have been the students to advocate for racial justice on campus, gender equity and many important changes necessary for all students and the entire Bentley community. 
Now, I can't talk about the many successes the Class of 2022 has had over the past four years without mentioning the one thing that many of us wish we could forget. After hearing for months on end phrases such as 'uncertain times,' all we wanted for our senior year was a somewhat 'precedented' experience. In our time at Bentley, we experienced new administrations, the change from Russo's to Harry's, the Dunkin move, the revival of the Harvard shuttle and the addition of a new sorority —  just to name a few, all of which was topped off with a global pandemic. Though I, like many of you, am grateful to have experienced many Bentley senior traditions this year, our experience was by no means traditional.  
Like many students, I owe an incredible amount to the administrators, professors and staff. However, at the end of the day, we must also give ourselves credit for our resiliency and determination.
Despite the many changes we experienced, and the year and a half we largely spent entirely apart, we came back together for our final year. We started the year with our last first day of classes. We celebrated the mark of 100 days to this very moment in one of our favorite places, Harry's pub. We savored the end of the semester with a boat cruise and a Red Sox game, shared a lovely toast with President Chrite, embarked on an incredible trip to the Bahamas and came to together one last time last night for the Falcon Finale that was truly that: a finale.  
We may not remember the last night we had before spring break in 2020, because we weren't aware it would be our last night together as sophomores. But this year, we had the privilege of knowing these were the last moments we would share together. At the beginning of the year, I could feel the shared sentiment our class had of doing everything to soak in the last moments. We chose to make the small memories matter, because we know those are the moments that add up to an extraordinary experience. We will be able to look back at the GB Saturdays, green space days and even fighting for a seat in the dining hall and know we made the most of our time here. 
We would not be standing here today without the support of the faculty and staff here at Bentley and our personal support systems. Like many students, I owe an incredible amount to the administrators, professors and staff. You have been a significant reason that I wake up each day thankful to be a Bentley student and wholeheartedly call this place home. I am incredibly thankful to my parents who supported every step I took along the way. I am thankful to my fellow Class Cabinet members that have dedicated so much to bringing incredible campus experiences to our peers. However, at the end of the day, we must also give ourselves credit for our resiliency and determination.  
We all have different paths as to how we chose to come to Bentley. I knew deep down that Bentley University was the place for me — even if I was scared to make the final decision. My dad, however, knew from the day I toured campus and put on a sweatshirt in the bookstore that Bentley University would become home. No matter how we all got here, on August 22, 2018 we came together as the Class of 2022.  
My final request before we graduate today is that you all join me in celebrating one another. During our first few days at Bentley, a very special speaker, Ed Gerety, told us a story about what he called a lollipop moment. In case you don't remember, this moment is one when a person does a small act of kindness or something that seemed insignificant, but to you, the moment made a world of difference. I ask you to think about what this moment was for you in the past four years and share it with that person before you leave today. Thank you all for giving me four years of these lollipop moments. Congratulations, Class of 2022! 
President Chrite: 'Create your own magic to stir the souls of others'
Elizaveta Borisova MSMA '22: 'We are driven, resilient and determined'
Robert Reynolds: 'Greatness awaits when you believe in yourself'
Valerie Mosley: 'You are what you believe you can be'