'We are Driven, Resilient and Determined'
Commencement remarks from Elizaveta Borisova, president of the Graduate Student Association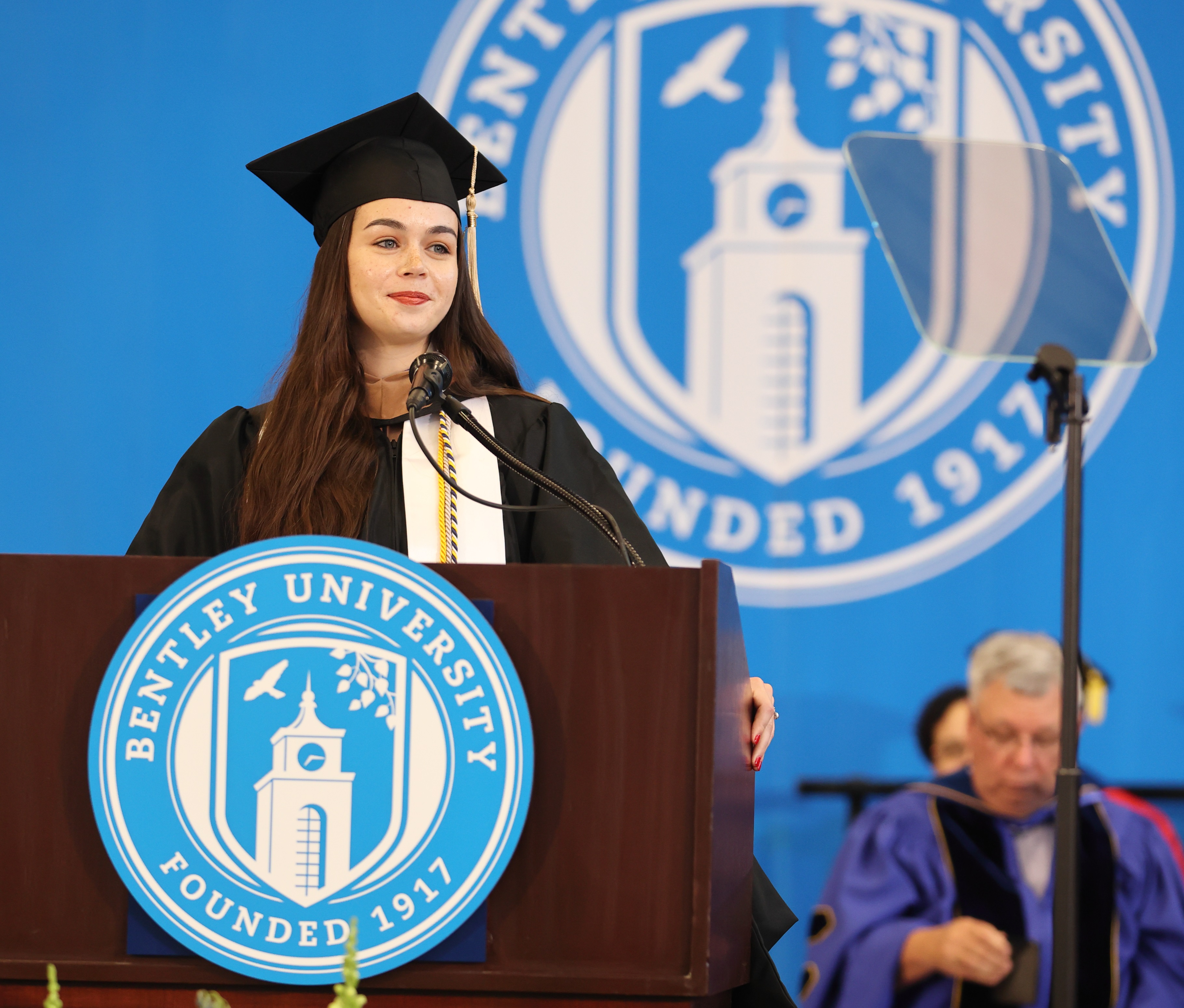 How many of you developed new habits when the pandemic started? TikTok dancing, bread-making, wearing sweatpants on important Zoom calls. In my case, when Covid first started, sometimes I would go days without having a real in-person conversation. So, I developed a funny habit of talking to myself out loud. While Covid started more than two years ago, I kept this habit. And although my story alone cannot be a representation of all our experiences, it is my pleasure and honor to be your speaker today so I can reflect out loud with all of you. 
Welcome all, President Chrite, faculty, staff, administrators, board of trustees, families, friends and of course the Bentley graduating class of 2022 — we have been through rollercoaster times while at Bentley. But today we are all celebrating. Congratulations, class of 2022. We made it! 
My name is Elizaveta Borisova, but you probably know me as Liza. When I first joined Bentley, I had to attend classes remotely from Moscow, Russia, because of Covid, of course. Like all of us, it took me a while to adapt to the new norms and environment. I have lived abroad since I was 14 years old, but for many reasons came back and got stuck in Russia, which hasn't felt like home for a while. That first semester, I took classes all night and then was awake during the day to take care of my family. My physical and mental health completely crumbled. Initially, I tried to be the strong, independent Russian woman I have always strived to be. But I learned that it is impossible to keep pushing yourself alone to reach the highest peaks. 
Even though I was thousands of miles away, Bentley still provided me with a sense of belonging. Drinking my third coffee while attending professors' office hours at 1 a.m. and then Graduate Student Association trivia nights at 3 a.m. is what made me feel valued and kept me somewhat sane. Then, once I made it back to Boston and met some of my peers, staff and faculty in person, I was even more motivated to get involved in student life: Helping update the university's sustainability and climate action plan; bringing diversity and inclusion closer to graduate students; advocating for international students; and leading the Graduate Student Association were some of the ways I got involved. These experiences made me feel even more accepted, but also challenged, at Bentley. I was challenged as a student and as a classmate. As a student leader. As a woman. As a young professional. And as a Russian citizen. 
We may aspire to reach the highest peaks in life, but there are times when we cannot do it alone. It is the force of the Bentley community we will cherish.
As an international student, I am always an ambassador. Even before I went back to Russia in 2019, for years I had been putting so much work into learning to appreciate where I came from. A few years ago, I even got a tattoo to remind myself of my heritage and upbringing (I am sorry I didn't tell you earlier, Dad). At Bentley, I joined the WorldView program through the Center for International Students and Scholars to push myself to recognize my culture. While I've had my fair share of heartbreaks while at Bentley, there is nothing harder than going through a love-hate relationship with your country. The past few months have introduced me to a whole new level of pain I have truly never felt before. 
These months have taught me a few lessons I would love to share with you. You have to be brave. You have to challenge norms and views. You have to educate. You have to advocate for yourself and others. And you have to rely on your community. 
We may aspire to reach the highest peaks in life, but there are times when we cannot do it alone. As graduate students, we are equipped not just to succeed in our careers but to make a real difference with the help of our communities. Apart from new technical and social skills, it is the long-lasting friends and mentors we've gained at Bentley who will take us even further. It is the force of the Bentley community that we will cherish. Even if life throws even more unpredictable challenges at us, we are driven, resilient and determined. Every challenge we have already overcome has added to our inner strength. I encourage you, class of 2022, to value your networks and use them to shape the future. 
Thank you all for letting me reflect out loud with all of you. And lastly, thank you to my support system (you all know who you are) for pushing me to finish this degree no matter what, and for always reminding me that I am enough. Thank you. 
President Chrite: 'Create your own magic to stir the souls of others'
Robert Reynolds: 'Greatness awaits when you believe in yourself'
Erin Buckmeier '22: 'Make the small memories matter'
Valerie Mosley: 'You are what you believe you can be'