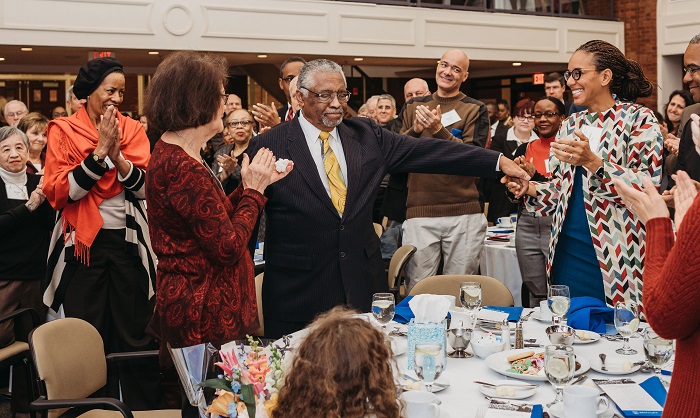 Earl Avery is honored at Bentley's Martin Luther King, Jr. Celebration. Photos by Joy LeDuc.
Martin Luther King, Jr. Celebration Honors Diversity Pioneer Earl Avery
Legacy is synonymous with Martin Luther King, Jr. Millions have been moved by his movements and affected by his actions — whether they realize the full impact of his life on theirs or not. On Tuesday, at Bentley's 33rd annual MLK celebration, the halls of Bentley rang with Dr. King's words and hushed in reverent pause, thanks to another man's legacy: Earl Avery.
Honoring the Pioneer
In 1986, Dr. Earl L. Avery took on the role of ethics officer on a Bentley campus where, as a friend warned him, "no one on the faculty looks like you." The situation was nothing new for the career activist from Los Angeles, whose family had always been inclusive; everyone, no matter their creed, color or religion was welcome at the Avery dinner table. Equality and justice for all were life mottos. A veteran of youth and education advocacy, Avery was undeterred — and determined.
Bentley would become the better for it.
Among the accomplishments in Avery's 33-year career at Bentley: The annual celebration of Dr. King. The university gospel choir. Bentley's chapter of the National Association of Black Accountants. The Summer Transition Education Program (STEP). And quietly behind the scenes: Earning administration and faculty trust, respect and support. Student field trips to unfamiliar territory to face implicit bias with a mentor at their back. Hour upon hour of one-on-one counseling that would never be rushed or ruled by the clock.    
And, finally, a Lifetime Achievement Award as a leader for diversity and inclusion.
Read About Dr. Avery's Lifetime Achievement Award From The Boston Business Journal
As Avery's role grew over the decades at Bentley to special assistant to the president and ombudsman, so did his influence in creating a diverse and inclusive campus. From mentor to educator, from advocate to ally, from "Uncle Earl" to wedding officiant, Avery affected the lives of countless students, alumni, staff and friends. More than 300 came to campus for Tuesday's celebration — to honor Martin Luther King, Jr. as well as Bentley's own pioneer.
Katie Lampley '96 (pictured at right with Avery), executive director of Diversity and Inclusion at Bentley, remembers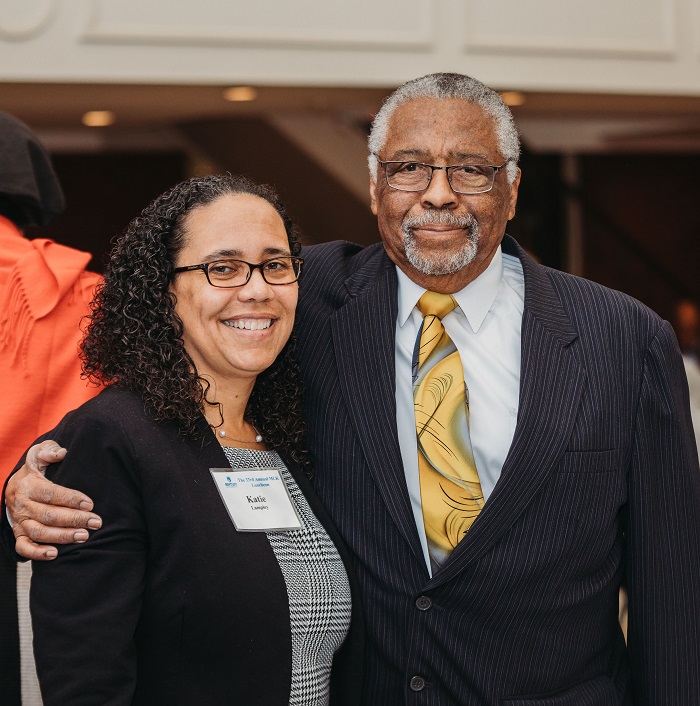 giving a speech at the breakfast 23 years ago when she was in her third year at Bentley: "The person who gave me that opportunity," she told the crowd, "and in so many ways made it possible for me to be here now is Dr. Earl Avery."
Lampley recalled Avery taking her under his wing, 1,700 miles from the Virgin Islands she called home. "He pushed me to stretch and grow as a leader and has continued to be a guiding force, the person I always turn to, who always makes time for me."
Learn More About Diversity And Inclusion At Bentley
Lampley's story is not unique. At Tuesday's event, tables of alumni and students cheered. Many had stories that were similarly special.
Be it "tough love or unconditional acceptance, his care and compassion are unrivaled," Lampley said. "His impact is too vast to ever be truly measured."
Be the Change
"We can't all go out and save the world," Avery told the crowd at this week's celebration, "but we can save the pocket of the community where we spend a great deal of our lives. I implore you to think about how you can be an effective change agent at Bentley."
Two of those change agents were honored with the Dr. Earl L. Avery Martin Luther King Leadership Award — Kristen Sorensen, associate professor of Global Studies, and Tasia Kearse '12, senior assistant director of Undergraduate Admissions — for exemplifying King's principles in their everyday lives.
A member of the Diversity Council, Sorensen was lauded for fostering a climate of inclusion and evolving Bentley culture to ensure that every voice — from every organization, office and committee — is heard. Kearse was recognized for welcoming prospective students with open arms, being a mentor, and advocating for underrepresented communities as the Bentley representative in the Northeastern Consortium Bridging Access to College organization.
This week's MLK Celebration included a keynote address by Callie Crossley, the award-winning journalist, producer and host of WGBH's Under the Radar.
Watch The Video Of Crossley's Address
The Avery Scholarship
To honor Dr. Avery's legacy at Bentley, a scholarship has been announced with initial funding from two generous alumni, university trustee Robert E. Alan '91 and Lebone Moses '02. The Dr. Earl L. Avery Scholarship will ensure talented students of color who demonstrate financial need have access to Bentley for years to come. These Dr. Earl L. Avery Scholars and their participation in the Bentley community will honor in perpetuity the impact Avery has had at Bentley. (Click here to contribute.)
At the news of a scholarship in his name, Avery showed the humility and grace that have endeared him to so many.
"I can't think of a job more rewarding than to establish relationships with young people," he said. "To get to see them achieve their dreams and goals both personally and professionally. So when I think about legacy, what do I hope? That each and every one of you will push the boundaries of inclusion, that you will strive to address the conditions of inequality and the impact it has on many of the people in our community, especially students.
"Be the change agents that continue the work here at Bentley."