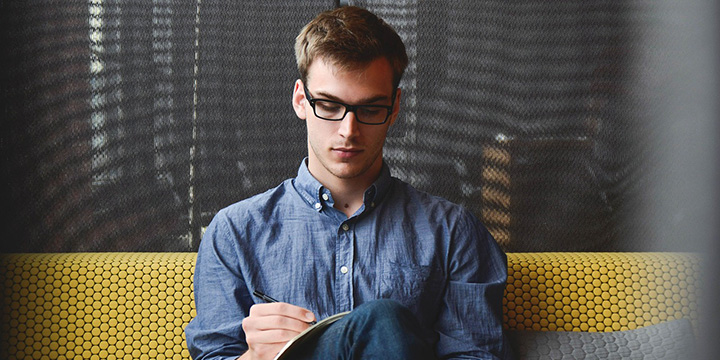 By Kristen Walsh
One of the most crucial elements of your graduate school or MBA application is the recommendation letter. You can't control what people say about you. But there are ways to make sure an MBA recommendation letter will support your acceptance into a top program.
"Schools typically require at least two recommendations and it's an important part of the application process," says Gordon Berridge, associate director of graduate admission at Bentley University. "The most significant piece of advice is to choose the right recommender, because in addition to check-the-box questions about you, we ask open-ended questions that dive deeper into your personality and values."
While some places require an MBA recommendation letter, many (like Bentley) make it easy by having recommenders fill out a form.
No matter the format, these suggestions from Berridge can help you get a solid endorsement:
1. Do Get the Right Kind of Recommender
The biggest problem people often have is deciding whom they should ask for letters of recommendation. The kind of MBA program you're applying to will help determine if your recommendations should be educational, professional or a mix.
For programs for people with relatively little or no work experience, such as Bentley's MBA, it could make sense to use a professor or academic source; but be sure to combine that with a professional recommendation whenever possible.
For programs targeted at seasoned professionals, the rule of thumb is to use professional contacts.
The essay is another important part of your application. Get tips on how to write an MBA essay.
2. Don't Choose Title Over Quality 
One of the biggest mistakes is choosing someone with the fanciest title.
"People go for the CEO or vice president," Berridge says. "But unless you're working directly for that person, you'll get vague feedback from someone who can't honestly speak about your abilities and work ethic."
Instead, choose a colleague or client who will give you the strongest recommendation: someone who has worked on projects with you and can speak to your abilities.
3. Do Stack the Deck
When you're looking for someone to write a letter of recommendation, think about people with whom you've had positive interactions. Someone you work closely with on a day-to-day basis or on a specific project. You want recommendation letters that feel genuine.
Think about personal traits you want to highlight for the admissions committee. Who could best speak to that trait?
And if you notice any hesitation when you ask for a recommendation, Berridge says: "Move on. You don't want to take the risk of a bad or lackluster review."
4. Don't Choose a Family Member
This one doesn't need much explanation—but people still ask about having letters from relatives. "This recommendation is nearly irrelevant because I'm already assuming that your mom and dad are going to say you'll be a good student," Berridge says.
5. Don't Choose a Subordinate
If you're a manager, don't choose someone who is working for you because they may feel pressured to give you a great recommendation, and it doesn't come through as genuine.
Instead, choose someone at your level or your direct manager. Berridge says that those are often the best letters he reads.
6. Do Read the Questions Ahead of Time
If available, look at the MBA recommendation letter prompt or the questions on the recommendation form. This will help you identify the people who can best speak to those specific areas.
Bentley asks about traits such as intellectual, analytical and quantitative abilities, ethical sensitivity, motivation, self-confidence, strengths and weaknesses, and potential for success in the MBA program.
7. Do Ask Early
Scrambling for folks at the last minute can mean hold ups for your application—or rushed endorsements. Berridge suggests you start asking for recommendations as soon as you begin thinking about an MBA program.

It will give you time to find the right people and help you avoid stress. The people will also have more time to think about what they want to say and write notes.
8. Do Tell Recommenders What to Expect
When you ask someone to write you a recommendation, tell them what it involves — different people may have different preconceptions about the process. What will they actually have to write, what questions will they be asked, what format should it take, how long should it be, when do you need it by, etc. These answers may impact their decision.

Once someone has agreed to write you a letter, send them all of this information again and let them know to reach out to you with any questions. Follow up before the recommendation due date to make sure they remember.   
9. Do Tell Recommenders About Emails
Rather than submitting letters, many MBA applications will ask you for contact information for your recommenders. Then the application system will email them a form to fill out.
Make sure that you let recommenders know that you've given their name and when they should expect the form. If they know it's coming, it's less likely to get lost in their inbox.
10. Do Provide the Correct Contact Information
People change jobs and phone numbers. Always double check to make sure information such as email address, phone number and job title is correct.
11. Do Say Thanks
Your recommenders are doing you a big favor. Make sure to say thank you—sincerely and often. When the letters are submitted, wrote them a thank you note or email, telling them how much you appreciate their efforts. A small gift is a nice idea too.  
Just keep in mind: "A really good recommendation could be the one thing that helps you stand out from other applicants with similar experiences," says Berridge. "Knowing how others perceive your value can add that additional dimension to your application."
---
Interested in getting your MBA? Read this article to learn more about the Bentley MBA and what's involved.