Photos by Kevin Maguire
MLK Jr. Celebration Honors Indigenous Communities as Bentley Announces Formal Land Acknowledgment
Native American Activist Winona LaDuke Inspires Reflection and Action in Keynote Address
The executive dining room in LaCava was filled to capacity for the 37th annual Martin Luther King Jr. Celebration, a popular event sponsored by the Office of Diversity and Inclusion and the MLK Committee that featured keynote speaker Winona LaDuke, an advocate for Indigenous people's rights and environmental justice. Students, faculty and staff greeted each other as they arrived; energy was high as the event returned to an in-person gathering after a few years in remote format. The Bentley community turned out, representing many departments and offices across campus for this important event to honor and take inspiration from the life and legacy of Dr. King. A musical performance by Athene Wilson added to the warmth and liveliness of the room. 
King, well known as one of the most prominent leaders of the Civil Rights movement, was also an activist for Native American rights. This year's event theme, "Honoring Indigenous Communities," coincided with the university's announcement of a formal land acknowledgment during the start of the ceremony.
Bentley President E. LaBrent Chrite kicked off the event with a call to action, referencing King's 1963 book "Why We Can't Wait," which urged Americans to acknowledge genocide of its Indigenous population.   
"Many of the conditions across this nation's Native communities captured the attention of Dr. King and they remain unfortunately prevalent today, 70 years later," Chrite said, noting that low socioeconomic indicators for Native Americans compared to white Americans are reminders of the work still to be done by the United States. "This data also serves as a reminder that we have the ability — more accurately we have the obligation — to speak out against wrongdoing and encourage others to do the same. I am proud of our community for the many things that we have done over the past several years toward this end." 
Also announced at the event was a Bentley initiative to create an Indigenous Learning Committee, which will aim to enhance the university's knowledge and awareness of Indigenous history, cultures, perspectives and practices. Community members were invited to volunteer for membership as the committee takes shape in the months ahead.
Read Bentley's Land Acknowledgment
The event was emceed by Fatima Khalid '23 with Jordyn Garrett '24 introducing Bentley's Land Acknowledgment Statement. Student speakers also included Ileaqua Adams '23, Ahmed Amer MBA '23, Anyfern González '23 and Tajon Vassar '23.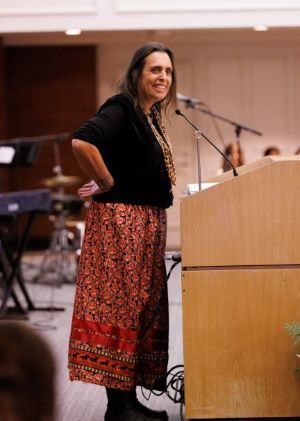 LaDuke, who has devoted her life to advocating for Indigenous people's rights and environmental justice, delivered an impassioned keynote address in which she shared a history of Native American respect for and relationship with the land and the ongoing struggles and oppression that Indigenous people continue to face. She also told personal stories of her work as an environmental activist, including her arrests for pipeline protests. 
"In the time of climate chaos, you've got to protect what is life, you've got to protect the biodiversity of the world," said LaDuke, who is designated as water protector of the White Earth Reservation in Northern Minnesota.  
She continued with a call for people to empower themselves. "In this world we live in, we forget our power; we give away our power; we relinquish it … have faith in the power of the Creator, when you give voice to that, in that you may heal." 
LaDuke emphasized hope for the future in her remarks. "As humans we botch things up. The question is, do you have the humility and courage to change that?" 
Echoing student speakers from earlier in the program, she also referenced a famous quote by Dr. King: "You don't have to see the whole staircase, just take the first step." 
Later in the program, the Dr. Earl L. Avery MLK Leadership Award was presented to Professor of Marketing Isaura Beltre '99, MSIAM '02, noted for her "love, grace and compassion" on campus. She is a valued mentor for students and adviser of Coming Full Circle, an affinity group for female faculty, staff and students of color. Beltre is also an advocate for inclusive advertising practices through her work with ADCOLOR. 
Student award-winner Anyfern González was praised for her steadfast commitment to racial justice on campus through her roles on the Student-Athlete Advisory Committee, Class Cabinet, Women's Leadership Program, Bentley Service-Learning and Civic Engagement Center and Coming Full Circle.  
González spoke of the challenges she has experienced as a first-generation, low-income woman of color in predominantly white communities. "The strong superwoman is a stereotype that I tried to live up to, but it just wasn't possible." 
Resources like the Multicultural Center and Coming Full Circle, she said, were turning points at Bentley — particularly as she took on leadership roles, including as a student representative on the university's Racial Justice Task Force. 
"It isn't about where we stand in moments of comfort and convenience, but rather challenge and controversy," González said. "We must use our privileges to change the narrative for others. We must do more and call out injustices when we see them." 
Watch a recording of the event.