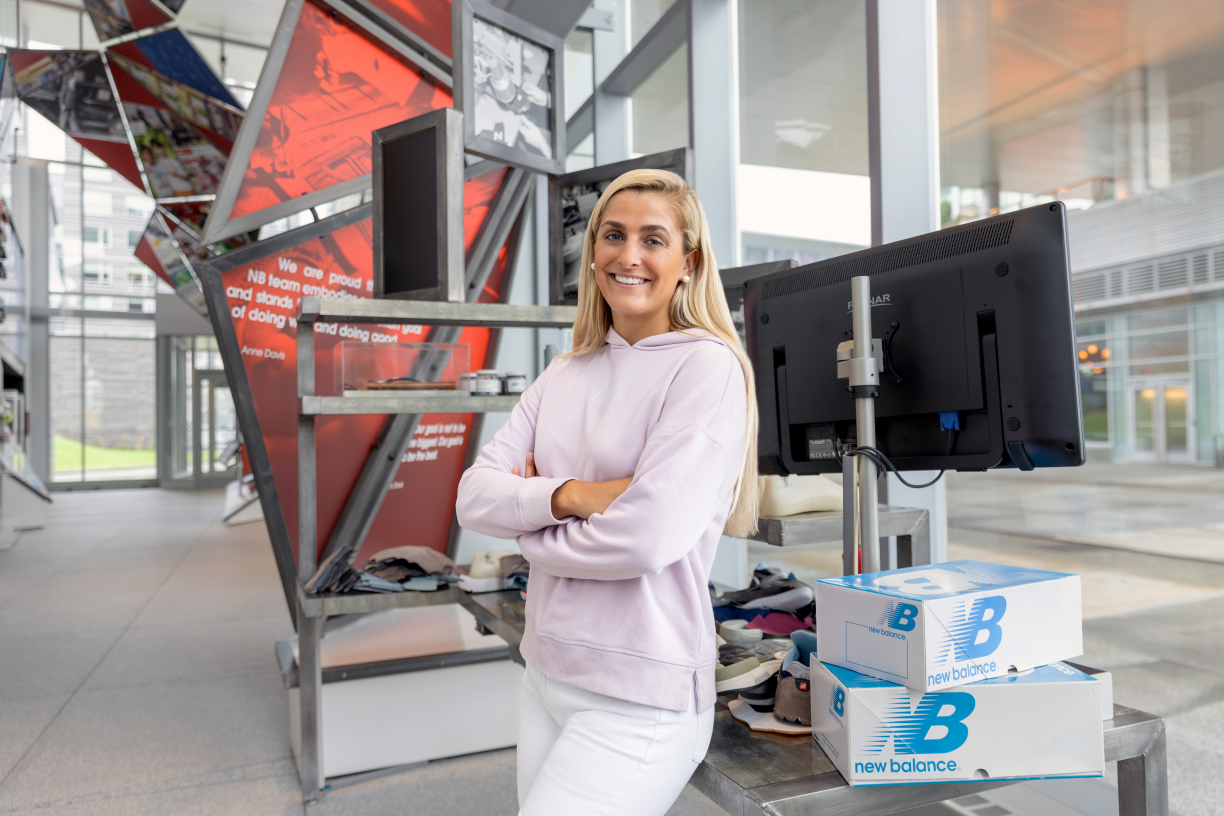 Chase Davies '22 at New Balance Athletics headquarters in Boston. Photo by Kevin Maguire.
New Balance is a Perfect Fit for Chase Davies '22
Many of New Balance Athletics' core values — including integrity and teamwork — are nothing new to former Bentley track and field superstar Chase Davies '22. So it's not surprising that the global footwear giant has kickstarted her career. 
"When I read the sales associate job description, I never imagined that a job like this — one that combined my love of sports and sales — even existed," says Davies, who was named as Bentley's 2022 Female Athlete of the Year and was captain of the Women's Track and Field team. "I applied right away." 
Davies, a Management major, ultimately landed the job as associate team sports sales representative. She immediately felt at home in the company's Boston headquarters — complete with walls lined with iconic shoes and apparel. Across the street is the company's multisport complex that hosts world-class track meets.   
But the building's "wow" factor didn't distract Davies from why she was there. She spent her first few months on the job developing teamwear portfolios for teams running in the New York City Marathon as part of the New York Road Runners nonprofit. She went on to provide sales support and help build custom team uniforms and team stores across all sports categories. Developing orders for school athletic programs brought her back to her days as a Bentley student-athlete. 
"I loved working with coaches to build out team apparel options," Davies explains, admitting a slight learning curve. "If it was a track team, I knew what typical athletes would wear; but if it was a different sport like baseball or hockey, I have to learn what kind of apparel is appealing and will best suit the needs of their team."  
In October 2023, just over a year after she first joined New Balance, Davies was named as the lead merchandiser for the company's partnership with BSN Sports, one of the division's biggest customers. She travels nationally to pitch products to BSN buyers. 
I never imagined that a job like this — one that combined my love of sports and sales — even existed.
Lead Merchandiser at New Balance Athletics
Though she typically works within a team of internal sales associates and sales reps, Davies jumped at the chance to assist the marketing team when she was asked to be part of projects for their sponsored athletes. 
"Being a college athlete, I was asked to be featured in the New Balance track and field photoshoot last spring and got to invite three of my Bentley track and field teammates, too," Davies recalls.  
The company flew out a camera crew from California to take photos and film footage for a promotional video and catalogue. Davies and her former teammates showcased newly launched track apparel, re-creating different running workouts and fitness shots at the world-class New Balance facility. She also does wear testing for New Balance to provide feedback that will inform future products. 
"There have been a lot of cool opportunities working for New Balance," Davies says of the experience.
RELATED: Chase Davies' impact on Bentley Track and Field and new curriculum
FINDING HER LANE 
Davies transferred to Bentley after a year at St. Lawrence University. Of the move, she says, "I wanted to be near a city and study business even though I wasn't exactly sure what discipline, so transferring to Bentley was the best decision to prepare me for that."  
It turns out, an Introduction to Professional Sales course with Bentley professor Zev Young sealed the deal for her path toward sales.  
"Whether it's in your personal life or your professional life, good connections will help build trust," Davies says of what she learned in the course. "Building strong connections is something that Professor Young emphasized in every single class — and he brought in sales executive presenters who also talked about it — so I knew it was something that really matters and that builds loyalty. Hearing from people working in the field also helped me confirm my interest in a sales career and gain insight into what it takes to succeed." 
One of those people was her father, who is an account manager at Zoom. As part of a class assignment, Davies shadowed him for a day and says, "I knew sales was a logical step for me." 
Once she set her eyes on the sales industry, Davies put her networking skills to work. She reached out to Bentley's Pulsifer Center for Career Development for help updating her résumé before setting her sights on an internship. Kristine Vidic, senior associate director and career equity and access specialist in undergraduate career development, connected Davies to a sales executive at LiveData for an informational interview that eventually helped her land a gig as the company's healthcare sales intern. 
"At LiveData I generated leads from target hospitals and ambulatory surgery centers, and used Salesforce to document leads and opportunities and to forecast," Davies says. "It was a great experience because I learned a lot and also confirmed my decision to pursue a sales career."
RELATED: Pulsifer Career Development Center ranks #1 in the nation
PERSEVERANCE PAYS OFF 
That kind of trial and error wasn't new to Davies. During high school, she suffered a back fracture that ended her accomplished career as a gymnast. A natural athlete unwilling to sit on the sideline, she took up track and field as a junior in high school, partly influenced by her mother who was a runner. When she came to Bentley, her track career took off.  
"Transferring from a Division III school to a Division II school was an adjustment," Davies recalls. "The competition is fiercer, and there is a much stronger commitment required. But I loved competing against Northeast-10 schools and Division I schools, as well as many professional athletes and some Olympians at some of the bigger meets that I qualified for." 
In addition to being named team captain for the 2021-2022 season, Davies' athletic accomplishments include being a school record holder in five events: the 55-meter hurdles, 60-meter hurdles, 100-meter hurdles, the heptathlon and the pentathlon. She was also the Northeast-10 champion in the heptathlon in 2021. She was ranked first in the Eastern region for the entirety of Division 2 schools.  
Her lessons from the track — and the classroom — have directly fueled her work at New Balance.  
"As a student-athlete, I learned a lot about time management and leadership, juggling daily training with coursework and serving as team captain," Davies says. "The thrill of competition — and the importance of preparation — instilled a strong work ethic." 
She adds, "I'm obviously in a sales position, not in the finance world or accounting world, but the business curriculum at Bentley taught me about those industries and their terminology — and that helps me succeed in sales. Bentley does a great job of allowing you to dip your toes in the water to get a broad overview of business, and I use that every day." 
RELATED: Lucas Vanroboys '23 helps student-athletes connect with brands
RELATED: Bentley student-athletes earn nation's highest graduation rate