A New Leader for Campus Dining
6 Questions with New Sodexo General Manager Rich Rubini
Born and raised in Westford, Rich Rubini has fond memories of attending summer camps on the Bentley campus while growing up. Today, he's back on campus for a much different reason. As the new general manager for Sodexo, the university's food service provider, Rich is here to ensure that students, faculty and staff have access to good-tasting, healthy meals. To help in this mission, Rich will draw upon nearly 20 years of experience in food service management as well as a "secret weapon": His 18-year-old daughter, Mackenzie, a first-year student at UMass Dartmouth, who gives him valuable insight into the minds — and stomachs — of college students.
We sat down with Rich to learn more about his plans for dining at Bentley.
Why are you excited to work at Bentley?
I've known about Bentley my whole life. I came here for summer camps as a kid, and I loved it, so I'm excited to be back on campus. I've worked at other colleges in the area, including Brandeis and Boston University, so I'm excited to bring what I've learned to Bentley. The team here is really dedicated, and I'm looking forward to working with them to grow and develop the dining program and make sure we're providing the best possible customer service.
What should people know about your background that makes you a good fit for this role?
I've always been interested in the hospitality industry. Even as far back as middle school, I was drawn to jobs where you interact with people and work as part of a team. Once a boss told me, "You always seem to know what people want." That stuck with me, so when it came time for college, I decided to go the hospitality route. I went to Johnson & Wales [a university in Providence known for its College of Culinary Arts], and have worked almost exclusively in higher education since I graduated. To me, it's important to not only consistently serve great food but also provide an exceptional dining experience.
Recently, some students have been unhappy with the food in the 921 student dining hall. How will you address this?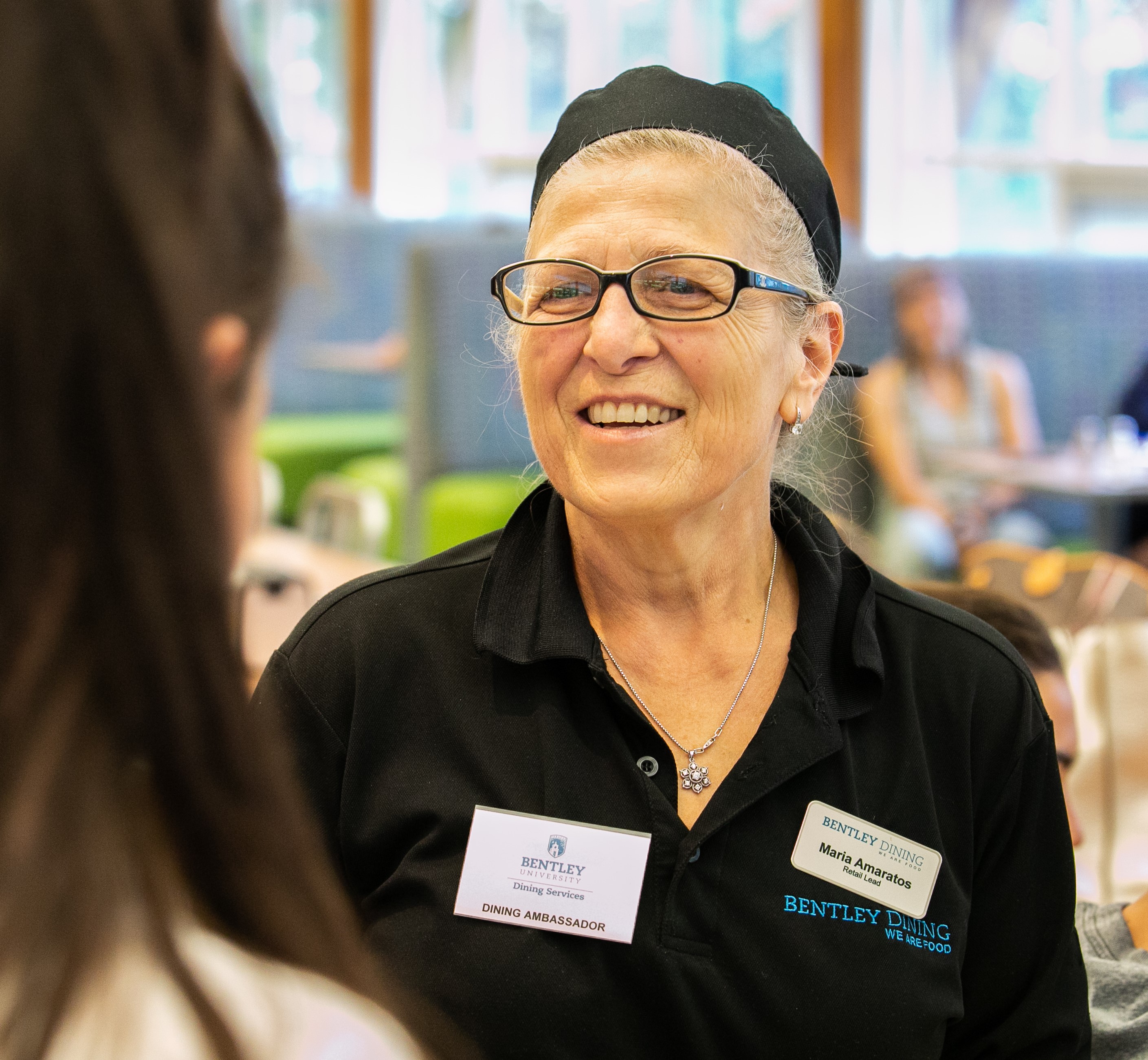 The issues are concerning. We understand that for the students, this is their home away from home, and we want to make sure they always feel that way. For me personally, I take a lot of pride and ownership in food service at Bentley. I feel like my name is attached to every plate of food that's served here — and if I wouldn't eat it, we won't serve it.
Any time a student — or a parent or faculty member or anyone who eats here — identifies a problem, we need to address it. And we're taking steps to do that. We've increased supervision, particularly for our weekend services, to make sure we're cooking proteins consistently and providing quality food. We've also added a dietician to our staff. She'll be here to meet with students individually and talk with them about nutritional concerns.
And we've created the Dining Ambassador program to ensure that students know that we're here, we care and we're listening. These Ambassadors are available in the 921 at all hours to listen to what students have to say about their experience in the moment. The Ambassadors are easy to spot – they all wear badges that say "Bentley Dining Services Dining Ambassador." I've spoken with a lot of students already, and it's been really valuable to hear their feedback. Students can also sit down and have lunch with myself or any manager — all of us eat our meals here — and talk to us about whatever's on their minds.
What other ideas do you have to improve dining at Bentley?
One thing I'm really passionate about is local, sustainable food. It's not only the right thing to do in terms of helping the planet, it's also important to always use the freshest possible ingredients. Wherever and whenever we can, I want to work with local vendors. The team here is already doing some great things but I think we can do a better job promoting those local partnerships and making sure students know that the lettuce in their salad, for example, was grown on a nearby farm. 
What about when you're not working – what do you like to do?
Now that my daughter is in college, I have a lot more free time on my hands! After a day at work, I love to decompress by watching TV shows and movies. One of my favorite shows lately is "Succession" on HBO. I also love crime dramas and just binge-watched "Mindhunter" on Netflix.
Let's end on a culinary note. What's your favorite dish to eat?
My favorite food? That would be my dad's baked ziti, hands down. I come from a big Italian family, and for us, food is love.
Questions about Campus Dining?