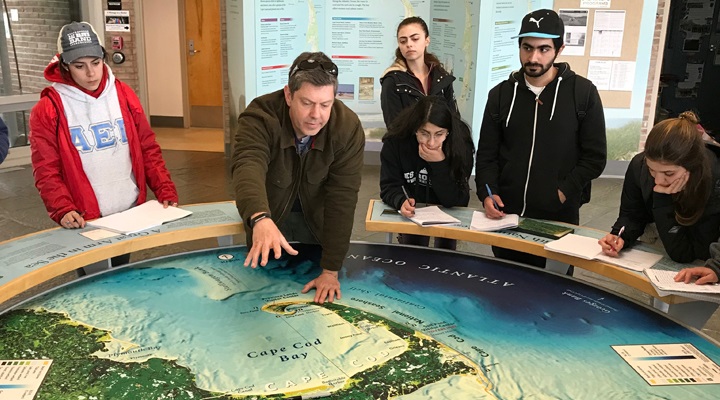 Dean of Arts & Sciences Rick Oches and students discuss the geology of Cape Cod beaches. Photo by David Szymanski.
Students Analyze Data to Study Geological Changes on the Cape Cod Shoreline
A group of Bentley students headed to Cape Cod for a week. But forget the beach chairs, umbrellas and surf boards—they were on a mission to collect and analyze data to study the geological changes of the Cape's eroding beaches.
"Being out in the field on the Cape is where students can really learn about the environmental impacts of human development, climate change and nature's energy on coastal communities," says Dean of Arts & Sciences Rick Oches, who co-taught the one-week intensive Coastal Geology of Cape Cod course with Associate Professor David Szymanski.
The students measured subtle changes in beach topography from shoreline to dune and collected sediment samples to analyze at a makeshift lab in a hotel conference room. They used sieves to separate and weigh sand particles by size—from a quarter of a millimeter to several millimeters—and graphed the sand characteristics in different areas of the beach. To understand how sand moves differently from one part of the Cape to another, they analyzed beaches in different areas of Cape Cod, including on Nantucket Sound, Cape Cod Bay and the National Seashore alon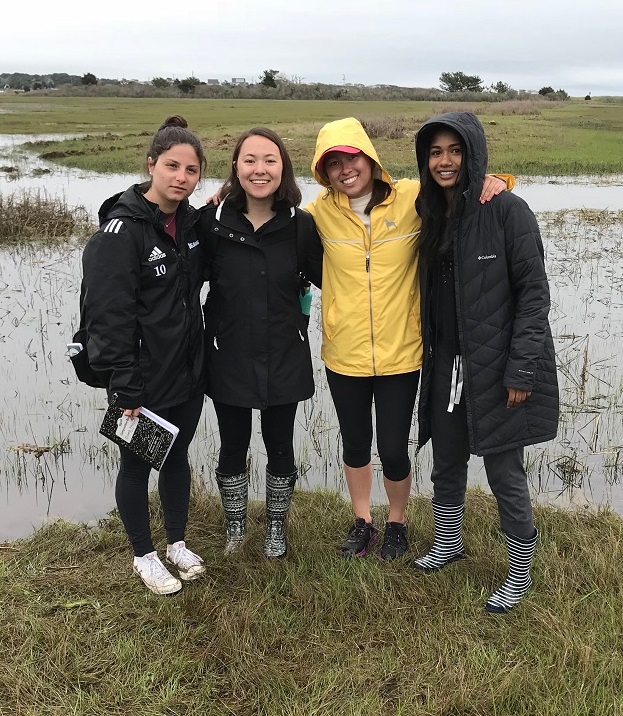 g the Atlantic Ocean.
"Each area has a different set of environmental processes and energy varies according to the waves, tides and ocean currents in each region," Oches says. "The National Seashore, for example, is most heavily exposed to Nor'easter storms that blow across the Atlantic and slam into the outer Cape. That's where coastal erosion is happening most rapidly."
Sophie Rodgers '20 was fascinated by how the effects of erosion differed from beach to beach. "The findings across the three bodies of water--that was the most interesting to me, to see the different shapes that beaches can take based on the forces acting upon them."
Read About Students Studying the Effect of Microplastics on Our Oceans
The on-location course encouraged students to think critically about the impact of decision-making on coastal development: If you invest in coastal real estate, how will vulnerability to coastal storm destruction affect the value of your investment? When considering strategies to prevent erosion, what are the costs and benefits of each scenario?
Rodgers, who is majoring in Marketing with a concentration in Earth, Environment and Global Sustainability, says the course allowed her to interact with classmates and professors on a more personal level outside the classroom. "It was a great experience to get to know professors in such a different environment. Each day, we would all have lunch together and our entire class and professors got to know each other so well. The course worked since it was all about teamwork."
Elizabeth Mitas '20 says the course allowed her to bond with professors and other students. "We did beach profiling to figure out the topography of the land and sometimes we had to go in and out of the water as the wind whipped at us," says Mitas, who is majoring in Sustainability Science. "It was tough but we laughed and were so proud when we finished. We were soaking wet and tired but I probably never would have met these people if I hadn't taken the course."
Business Combined with Arts and Sciences
The Coastal Geology of Cape Cod course, consistent with Bentley's focus on the arts and sciences in addition to business, encourages business students to engage in hands-on learning beyond the classroom and delve into academic pursuits outside the business realm.
William Twomey '19, a Finance major, said the course was unlike other classes. "It was so hands-on and collaborative, it blew my expectations out of the water. I thought it would be structured with classroom time and textbooks but we spent most of our time on beaches, in forests and marshes."
Oches, who has co-taught the course with Szymanski for nine years, says they've noticed significant changes in the coastal landscape from year to year with each group of students they've led. They watched one beachfront property in Truro erode so much that a home had to be moved. They've seen staircases destroyed by the shifting sands. And they've seen the Pamet River, a freshwater stream across the Cape, become a saltwater channel during storm surges, large enough to cut off North Truro and Provincetown from the rest of the Cape.
"That will accelerate erosion and enhance the rate of disappearance of the Cape that will eventually occur as the sea level rises," Oches says.
Twomey says the course changed forever the way he thinks about the coast. "I won't be able to visit a beach and look at it in the same casual manner that I did before taking the Cape Cod geology course."