A Passion for Cold Brew
10 Questions with Coffee Entrepreneur Aman Ailani '20
Aman Ailani '20 is the founder of SAH.OL Cold Brew, a ready-to-drink cold brew product made with only two ingredients: coffee grinds and water. A Management major with a minor in Entrepreneurial Studies, Ailani won Bentley's inaugural Shark Tank Pitch Competition and was a TedX presenter. He launched his first business, online media platform Khilari Sports, in 2018. Ailani is currently working with a regional distributor in New England to get SAH.OL Cold Brew on shelves in 20 stores by the end of October.
When did you know that you wanted to be an entrepreneur?
My family inspired me early on. Growing up, I never saw anyone in my immediate family going to work for an employer. My father has had an electronics business in Dubai for more than 40 years; my mother was a baker; and my brother started his own café. So for me, it was just a matter of time before I started my own company.  
How did you get the idea for SAH.OL Cold Brew?
Being born and raised in Dubai, I was immersed in a very rich coffee culture. Arabia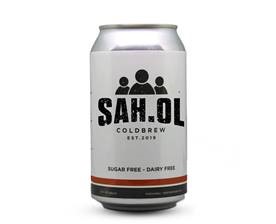 n coffee pots were in every home I visited; coffee is a symbol of hospitality in the Middle East. Surprisingly, I never took an interest in drinking coffee until my first year at Bentley. One night I was in the library studying for a midterm; I was slumping and needed something to keep me up. I got a frappe "coffee" from the vending machine, but after the first few sips I instantly felt the sugar and it wasn't long before I had a sugar crash and couldn't stay awake. I thought to myself, "This is a real problem."
Your entrepreneurial instincts set in. What happened next?
Over the following 3 ½ years, I became immersed in the world of craft coffee. I visited local roasters and bought my own cold brew maker to experiment with different roasts. I became really fascinated by the science behind it. I didn't actually launch the business until senior year when a project for the course Launching Your Business (with Professor Fred Tuffile) required students to launch their own ventures. Coffee made sense to me because I had the passion. I found vendors and got to it. 
Students Launch Clothing Line to Empower Others
The beverage industry is highly competitive. How has the experience been so far?
It's hard, but I've found that no matter how crowded the space is, consumers are always looking for authenticity and they want to support independent businesses. I use a local New England roaster and I have a very personal story connected to my brand: Being a tired college student who was looking for a better and healthier caffeine alternative. I'm amazed at how far I've come just being true to who I am and almost letting my brand become an extension of my own personality. That really makes a world of difference in a competitive space and I've been able to carve out a niche.
What makes SAH.OL Cold Brew unique?
SAH.OL has only two ingredients — coffee grinds and water. Coffee beans are ethically sourced from Central and South America. It's sugar free and dairy free. It's packaged in fully recyclable cans. Customers love to crack open a can and drink our products straight up, but a lot make their own coffee drinks using SAH.OL Cold Brew as a base. 
What is the meaning behind the SAH.OL name?
The name SAH.OL [sah-hole] is loosely based on the Irish word "saol," which means life. It ties into our mission: breathing life into community. That's really important to me because I believe that life happens in community, with the people you love. I love seeing my friends gather around with my coffee and really have a great time.
Which personal attributes have helped you launch a business?
Grit and resilience have served me well. Launching a business in the U.S. as an international student, I didn't quite have the same opportunities as Americans because of visa and other legalities. But at the same time I had this incredible opportunity, which was a great education. 
Overcoming adversity is just a matter of my mindset and bouncing back. I've had to work a lot harder and jump through more loopholes than an American entrepreneur, but I'm driven by nature, and once that's transferred to my business it's incredible what can happen. 
Being born and raised in Dubai, I was immersed in a very rich coffee culture. Arabian coffee pots were in every home.
What are some Bentley experiences that helped you launch SAH.OL Cold Brew?
Two things stand out. One is the community. This business has been the most challenging thing I've ever done, but it's also been one of the most beautiful things I've ever done. If it wasn't for my Bentley friends and teammates from the golf team who knew how to make me laugh and keep me in check, I wouldn't be where I am today. 
The second is the diversity of my Bentley education. One course that was particularly impactful was a Corporate Immersion course with Professor Erin Flynn. We consulted with New Balance over the semester and it gave me such a unique perspective of branding and media and marketing. Even though SAH.OL Cold Brew is not New Balance in any sense, we can tackle business issues in a similar way. The power of storytelling — particularly why you started a business and your mission — is something that every business should leverage.
What has been your approach to marketing?
Social media. As a Bentley student, I helped manage the Bentley Instagram account [@BentleyU], and that has given me great insight into how to leverage social media for the purpose of the brand. Also, when I pitch the product to retailers, I speak about what I love about the company. They appreciate the authenticity. 
Do you have any advice for aspiring entrepreneurs?
Believe in yourself even when others may not (at first). I was a college student trying to launch a business in a competitive market, and a lot of people couldn't see the potential that I saw. They told me that I didn't know what I was getting into and, frankly, they were right. It's been challenging and a learning process, but the biggest thing I've taken away from founding a business is that in order to be successful in life, you need to get people on board with your vision. And our future at SAH.OL Cold Brew is pretty bright.
Why Being an Entrepreneur is Easier - and Harder - than Ever