Designing a Dream
Leonardo Paul '20 and Joshua Elysee '21 create a clothing line to inspire and empower others
Above: Models wear outfits from the Jefe Clothing collection.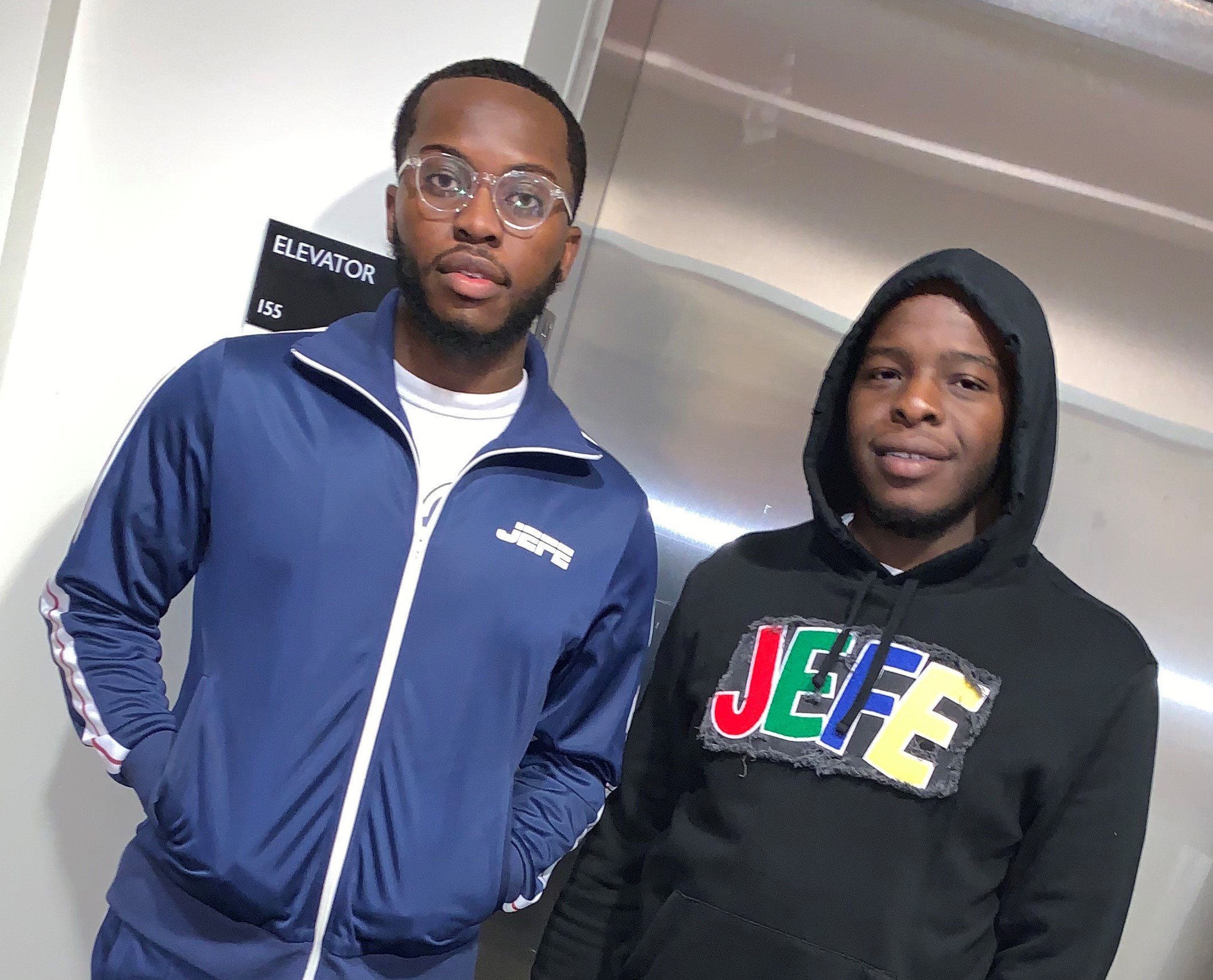 Longtime friends Leonardo Paul '20 and Joshua Elysee '21 attended the same charter school in Cambridge, Massachusetts; and neither was content wearing the required uniform. In fourth grade, Elysee paired a tie with his polo shirt. In high school, he sewed camouflage patches onto his khaki pants. On monthly dress-down days, Paul would coordinate outfits inspired by his favorite musicians, including jeans he distressed himself. But it wasn't until they got to Bentley that they discovered a shared dream to launch a clothing line that would soon evolve into Jefe Clothing.
"I had known for a long time that I wanted to set up a clothing line, but I knew I couldn't do it myself," says Paul. "When I found out that Josh had thought about it too, we just said, 'Let's do it.' We were serious from the start."
The pair spent the summer brainstorming designs: Both agreed on bold and vibrant. Elysee researched graphic design software on YouTube to learn Photoshop, Adobe and Creative Cloud. They were thoughtful about the company name: The Spanish word "jefe," pronounced "hefā," translates directly as 'boss' but has a deeper slang meaning. 
"A boss is someone who simply gives directions, whereas a jefe is more of a leader who guides people in the direction they should be going and encourages them to continue growing," Elysee says. "That message resonated with us. We want our company philosophy and our fashion to help inspire people to reach their full potential."
We want our company philosophy and our fashion to help inspire people to reach their full potential.
Jefe Clothing was co-founded by Elysee and Paul with an initial $500 investment ($250 each), which, along with another $500, was lost due to a design flaw and a snag in manufacturing. "It was overwhelming because we lost $1,000 before we even started," Elysee admits. 
But like true entrepreneurs, they pushed forward. "We learned a lot about the process, and it made for a better first collection," Elysee continues. "We didn't go through all that trouble just to stop."
The "Takeoff Collection" was released on Instagram on Sept.13, 2018 and featured 72 shirts with six designs. It sold out in two days. Their second collection, "A Cozy Winter," launched on February 23, 2019, and included a larger selection that was produced overseas. The Black United Fashion Show at Bentley that spring was a major milestone. 
"Presenting at the Black United Body fashion show gave us a large boost in recognition as we showcased clothes we'd sell in the future," says Elysee, a Marketing major. The company introduced the more exclusive high-end "Jefe By Jefe" and released a handmade Jefe by Jefe luxury rhinestone hoodie as part of its "SS Collection." 
Student Fashion Show Helps Build a Diverse Community
In addition to their eye for fashion, Elysee and Paul share a love of business that brought them to Bentley and into a community where they thrived.
"Just being around like-minded people feeds into you," says Paul, who is also a Marketing major. He easily list the skills he learned from general business courses. "GB 215, learning how to work together; GB 112 and 212, learning how to manage money; GB 214, marketing. Sometimes I sit in class thinking, 'Oh man, I can apply this to Jefe even though I'm not as big as these Fortune 500s.'"
The Jefe co-founders' talents complement each other on the job: Elysee focuses on the behind-the scenes work -- choosing fabrics, mocking up designs, booking fashion shows. Paul handles operations such as inventory, sales and deliveries. 
Reginald Fils '21: Improving the World, One Shirt at a Time
Both Elysee and Paul agree that Jefe Clothing's message of empowerment includes giving back to the community. 
"My parents are Haitian immigrants, and when they told me stories about people in their family struggling, I would take clothes out of my closet and ask them to send them to Haiti," Paul says. "Whenever I see someone who has less than me, it just doesn't sit right with me. Josh shares that same philosophy."
In August 2019, Jefe Clothing held the first annual Back-to-School giveaway of 50 backpacks and more than 200 school supplies to students in grades K-12 at the Cambridge Community Center. 
"We have an obligation to help guide and provide resources for young people, and what better way than to start off in a community that gave us so much," Elysee says of the Cambridge area where he and Paul attended K-12. "It all ties into our brand message, creating a platform where people can be inspired and empowered."
And, Elysee and Paul feel empowered when they see the effect their clothing can have on customers. "It's the best feeling to create a design and then see how well our customers like it," Paul says.
"While it can be overwhelming when people are asking when we're launching our next collection, it is also reassuring that they believe in us," Elysee adds of balancing the roles of college student and business owner. "By vouching for us, they will help empower us to become the next big brand."
Bentley Students Learn by Giving Back to their Communities