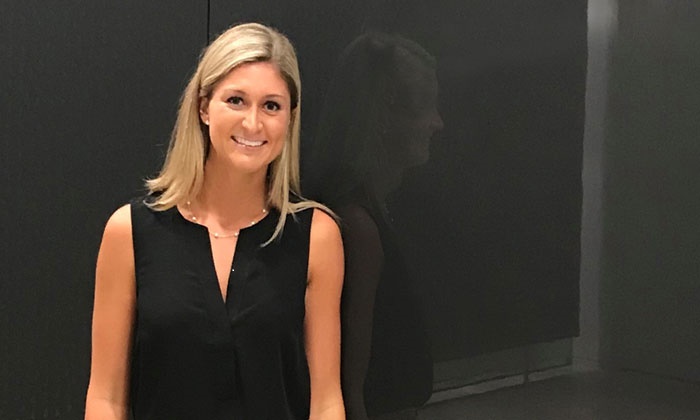 Alexandria Steinmann '18
Alexandria Steinmann '18 Networked Her Way to a Financial Analyst Job at Credit Suisse
It's no surprise that Alexandria Steinmann '18 found herself on a trading floor in New York City. In high school, she decided that investing was fun. Her uncle, a financial planner, opened a Roth IRA for her and did some initial investing before letting Steinmann make her own decisions.
"I started playing around with my money and once I started investing, I realized that I really liked it and wanted to learn more," recalls Steinmann. Today, after earning a bachelor's in Finance from Bentley, spending countless hours in Bentley's Trading Room, opening and managing two more personal investment accounts, and completing five internships, she still thinks it's fun. And as an analyst at the global financial services company Credit Suisse, she feels right at home among the traders on the floor.
"I think of the trading floor as the center for everything that's happening in the world," she says. "It there's a catastrophe or a political issue, for example, the stock market immediately feels the effects. On the floor you have to predict how people will react to certain events."
Making financial predictions may sound pressure-filled to some, but that's what Steinmann likes: The fact that she can be right or wrong, which keeps her on her toes.
A Little Preparation
As an intern at Credit Suisse, Steinmann arrived about a half-hour before most other interns so she could be as prepared as possible; it gave her time to peruse financial publications, review stock market lingo, and memorize a mathematical equation or two.
Steinmann also relied on Bentley financial and accounting courses that she took starting her first and second years, and on team projects and presentations that tested her communication skills. She also spent a lot of time in the Bentley Trading Room — even when it wasn't part of her coursework.
"I used the Trading Room to get familiar with financial software that companies were using and to network with juniors and seniors who had done internships on Wall Street," she recalls. "The stories they told excited me."
Read How One Student Combined His Passion for Finance With an Interest in Health Care 
Networking was on Steinmann's radar early, thanks to a first-year Career Development Course and her jobs in Bentley's Undergraduate Career Services department, first as a career colleague mentoring her peers and later as a student director of the advising colleague team.
"Career Services encourages first-year students to start building a LinkedIn profile, so by sophomore year I had a solid foundation of connections, including many Bentley alumni," Steinmann says. "I had friends at other schools who didn't start until their senior year."
Steinmann's early work paid off. She landed her first internship as a summer financial analyst at IOMA Group in London the summer after her first year at Bentley and in all landed five internships: as a summer analyst in the Sales & Trading Division of the Credit Suisse Investment Bank in NYC; stock broker at Weeden & Co.; financial planning intern at Ameriprise; and wealth management intern at UBS. She was also chosen to participate in the Morgan Stanley Sales & Trading Enrichment Program and the Credit Suisse Women's Top Talent Program.
It was through internships that she figured out what she didn't want to do: sit in a cubicle working on a project all day. What she did want was the liveliness of the trading floor — the constant decision-making, yelling across the floor to another broker, working side-by-side with traders.
"Even though this kind of job requires longer hours, I noticed during the internship that the days went quickly because there was always something happening," Steinmann says. At Weeden, she rotated among the derivative, program, cash, international and algorithmic trading groups.
And when it came to choosing a full-time position, Steinmann circled back to her network. "A lot of investment banks are similar, so my choice came down to the culture and the people. Every single person I talked to at Credit Suisse said how amazing the culture is — how everyone looks out for each other."
After graduation, Steinmann accepted a full-time job as a fixed income sales and trading analyst in the Fixed Income Division of Credit Suisse, where she is spending two years working on sector strategy before choosing a sales or trading role. Her career advice for students is not surprising.
"Start early," Steinmann says. "Build connections with your high school teachers and staff, your friends' parents, your college professors and alumni. It only takes 10 minutes to find out about different jobs and to find out what excites you."
Her philosophy reflects one of her favorite quotes, from billionaire investor Warren Buffet: "Ultimately, there's one investment that supersedes all others: Invest in yourself."