Pride and Progress
Bentley celebrates LGBTQ+ Pride Month with a new flag and renewed commitment to inclusion
(Above: University Police Capt. Frank Bourgeois and Residence Director Keriann McDonough with the new Progress Flag. Photos and video by Kevin Maguire.)
Members of Bentley PRIDE (People Respecting Individuality and Diversity through Education), the LGBTQ+ Steering Committee and others from the campus community recently gathered for the fifth consecutive Pride Flag raising ceremony, celebrating June as LGBTQ+ Pride Month. Like everything in 2020, however, this year was different. The ongoing coronavirus meant many who would've normally attended were watching at home via PRIDE's Instagram Live, and recent protests across the country cast an increased sense of purpose and urgency over the event.
"People of color still endure violence and discrimination when undertaking ordinary activities like shopping for groceries, jogging in their neighborhood or sleeping in their bed," said Residence Director and PRIDE Adviser Keriann McDonough. "The protests that have erupted across the country have thrust this violence and discrimination into the national spotlight. It has showcased the many ways in which people have gathered in solidarity to demand change."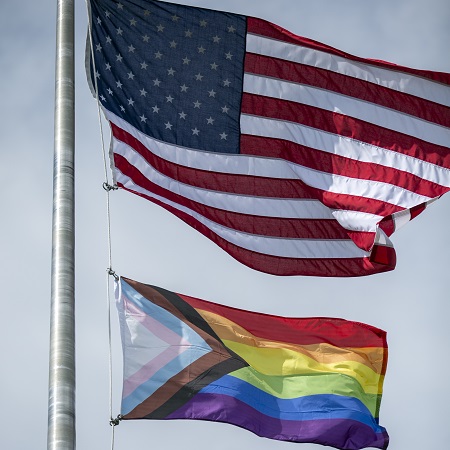 This year's flag itself was different, an adaptation of the classic rainbow flag designed by Gilbert Baker that has been used as a symbol for the LGBTQ+ community since the 1970s. This new Progress Flag builds off the rainbow design, adding black and brown stripes — to represent and uplift Black and Brown community members — and elements of the blue, pink and white trans flag to the left side in a new arrow shape. The arrow points to the right to show forward movement, and its position along the left edge shows that progress still needs to be made.
So why this flag, and why now?
"The Progress Flag was created to acknowledge that the LGBTQ+ community, like many communities across the United States, has not been an inclusive space for many people," McDonough explained. "Events in recent days have highlighted the reasons the Progress Flag was created. As we celebrate LGBTQ+ Pride Month, we must acknowledge the difficulties many in our community face due to their race.
"This is why we raise the Progress Flag," she continued. "We raise this flag to acknowledge the intolerance and injustice that queer, transgender and indigenous people of color have and continue to face in our communities. We raise this flag to show Bentley can and will be a place of inclusive excellence. We raise this flag to commit ourselves to fighting against injustice and intolerance, whenever and wherever we see it."
The event underscored the ongoing commitment to progress at Bentley. In September, Matt Banks was hired by the school's Office of Diversity and Inclusion with specific responsibility for advancing LGBTQ+ work across campus, including faculty and staff training and collaboration with the LGBTQ+ Steering Committee. This month (June), the university will host Pride-related events shifted online to allow remote participation, including Train the Trainer Ally Training for Staff and Faculty, LGTBQ+ Comedians, and a discussion with students and staff on protesting safely and alternatives to protesting to show support.
We raise the Progress Flag to let them know that Bentley proudly stands with every one of our students and that even the darkest times cannot take away our willingness to say, 'We see you. We embrace you. We stand with you.'
Due to the recent events across the country on racial injustice, some Pride Month events were put on hold to support and give the space for community members of color who need care and action. McDonough said more events would be scheduled for October in collaboration with National Coming Out Day.
"Pride is a time for community, for celebration and for visibility," said Residence Director Taylor Sprague. "While people are physically hiding their faces and avoiding crowds, LGBTQ+ folks are reminded of the many ways they have experienced the need to wear a mask and to hide. We are reminded of our community's history of significant loss due to an unknown virus. And yet, we are resilient and know that we will celebrate again soon, after the utmost care to protect our community.
"The raising of the Progress Flag on Bentley's campus is important, now more than ever before," added Sprague. "As we had to suddenly send students home mid-semester in response to the growing risk and concern of COVID-19, we are all too aware of the LGBTQ+ students who may have had to go back into the closet, who lost access to their support systems, and who may not be staying in accepting homes. We raise the Progress Flag to let them know that Bentley proudly stands with every one of our students and that even the darkest times cannot take away our willingness to say, 'We see you. We embrace you. We stand with you.'"
Diversity, Equity and Inclusion: You Belong at Bentley
McDonough was asked recently why the Pride Flag is raised on campus when so few students are there, or even at all this year, when campus has been closed due to the pandemic.
"It's more than a demonstration when all eyes are there to see it," she said. "If we do good things only when we are being watched, then we aren't being true to ourselves. So remember, no matter what is going on this world, no matter where you are, Bentley cares about you and celebrates you. We hope wherever you are, you are safe and loved."