Pride in Being Yourself
Rainbow Luncheon Celebrates Bentley's LGBTQ Community
Above: Matt Banks of the Office of Diversity & Inclusion and Minerva Nguyen '20 in the Equity Center. Photo by Kevin Maguire.
"Be yourself." The advice that Ashley Wright '20 gives to others is something she didn't always follow herself. But listening to a friend's story helped her do just that. That turning point eventually led Wright to share her own story, be true to herself, and host this year's Rainbow Luncheon at Bentley.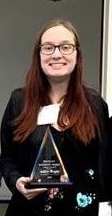 "I want to thank the first openly gay person I ever had the pleasure of being friends with: Henderson Roman," Wright told the audience about her high school classmate. "Even though he was struggling with his own sexuality and presentation at the time, his courage and strength and sheer flamboyancy gave me the confidence to open up and start to be myself."
When Wright attended her first Rainbow Luncheon three years ago, it had only been a few months since she had publicly come out as a member of the LGBTQ community. Since then, she has attended the luncheon each year. She has served as the president of PRIDE (People Respecting Individuality and Diversity through Education), a student organization that provides support and social activities for Bentley's gay, lesbian, bisexual, transgender, and queer communities. And, she didn't think twice when asked to host this year's Rainbow Luncheon. 
"This event is more than a gathering, it's a collection of people coming together to show their support for the LGBTQ community and a chance for students to see just how many allies and support systems there are on campus for our queer students," Wright says.
Matt Banks, assistant director of the Office of Diversity & Inclusion at Bentley, agrees. "The combination of storytelling and celebration helps to empower queer and trans people. It also recognizes the extremely vibrant and proud community we have for LGBTQ individuals here at Bentley."
In addition to students who spoke at the Rainbow Luncheon, Wesley Combs, an expert on LGBTQ issues facing corporations, spoke about the ways the United States has changed when it comes to LGBTQ identity.
President Davis-Blake Welcomes Attendees to the Rainbow Luncheon
While Bentley has made strides in LGBTQ initiatives during the past couple of decades, according to Banks, there is more work to be done.  "We've seen the university's passion to make our campus a better place in a way that will be affirming and welcoming for LGBTQ people, so let's work to make it even better. These are issues that the world is grappling with; they are not limited to our campus."
Banks was hired in September with specific responsibility for advancing the university's LGBTQ work across campus, including faculty and staff training and collaboration with the LGBTQ Steering Committee. Before joining Bentley in September, Banks was coordinator of LGBTQ Student Services in the Office of Multicultural Programs at Missouri State University. In addition to running the LGBTQ resource center there, Banks developed and led Safe Zone trainings such as Queering Academic Advising and Advising Trans Job Searchers. 
Wright was in her first year at Bentley when she joined PRIDE. She found solace, she says, at the group's Thursday night meetings. "My circle of peers here has helped me grow as a human being, and I will forever fondly remember the memories created here at Bentley, laughing late into the night."
Among those friends is Ha Minh Anh (Minerva) Nguyen '20, who serves as the co-president of PRIDE and also spoke at the 2019 Rainbow Luncheon. 
"PRIDE has overwhelming support and encouragement from different departments at Bentley, including the Equity Center, LGBTQ Steering Committee, Multicultural Center, Spiritual Life, SAGE [Students Advocating Gender Equality] and others," Nguyen says. "The Rainbow Luncheon is a chance for the entire LGBTQ community and allies on campus to meet up and celebrate the efforts to make Bentley a more welcoming place. My hope is that people know to love themselves, be persistent and definitely make an effort to contribute to the LGBTQ community in any way that they can."
Wright's concluding words at the luncheon did just that. "Being myself and sharing my story has never been easy — but it has brought me more comfort than I could have ever imagined and has enriched my relationships with others. My parting message to you is this: You never ever know what someone is dealing with inside their head. Be kind, be honest and most of all: Be yourself."
Respect. Diversity. Caring. Learn about Bentley's Core Values