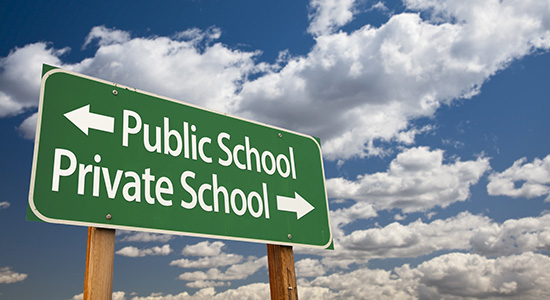 When deciding to pursue an MBA or master's degree, the school you attend is a major part of the equation. But choosing a graduate school is different than choosing one for your undergrad degree — your needs have changed, and you're more career-minded than you were going in as a freshman. When choosing a graduate program, you need to keep your career goals in mind first and foremost. That's likely why you're pursuing grad school after all.
Among the hundreds of grad schools to choose from, there are two categories: public and private. It's often wondered if one is better than the other, and both have their pros and cons. Of course, every school is unique in its own way, too.
Take a look at how public and private MBA programs compare to see which one might be better for you.
Public vs. Private
Cost
One of the most commonly stated advantages of public graduate schools is a lower cost. But be careful. While most people believe public schools are always cheaper, that's not actually the case, especially if you're comparing out-of-state public tuition, which can often be more expensive than private. There are several private business schools with cheaper tuition than public, so it's important not to rule out a school based solely on the fact that you assume it's too expensive.
One thing that is for certain when it comes to the cost of public vs. private is where the schools get their money. Public universities collect a large portion of their operating funds from federal and state governments, while private schools rely mostly on tuition and other funding to keep their operations running smoothly. This is why most public schools are able to offer lower prices.
When considering the cost of graduate school, remember that most full-time MBA programs can be completed in two years — and most schools offer part-time and evening classes, which provides students the opportunity to work full time while getting their degree. This helps with the cost of school (and allows you to apply what you're learning in a real-world environment — an added bonus). If you do your research, there are actually many ways you can creatively get others to pay for your graduate school, or at least portions of it.
Size
Another factor to consider when choosing between a public and private university is the size of the school. Generally, private universities tend to be smaller than their public counterparts. According to the National Association of Independent Colleges and Universities, the average size of private colleges in America is 1,920 students, while the average size of public universities is 43,186 students, according to U.S. News and World Report.
The advantages to a smaller school include smaller class sizes, more one-on-one attention from professors, and closer-knit student groups. The student-to-professor ratio is a lot smaller at private schools, so personalized attention is common, and something private schools are known for. When it comes to a demanding program like an MBA, the one-on-one attention and close peer relationships play a tremendous part in the success of most students. In larger schools, the classroom environment isn't as nurturing.
That said, there can be a few advantages to a larger (a/k/a public) graduate school. Sometimes bigger campuses mean more facilities, both for educational and social purposes, and more students can mean more diversity and more networking opportunities.
Academics
If you're pursuing an MBA, you're obviously serious about learning and self-improvement. Private schools are commonly known for having rigorous academic programs, and emphasize learning almost more than the curriculum itself. That said, there are many public graduate schools that are well-recognized for their strong academics as well.
A graduate program, regardless of the school, is going to challenge you intellectually. So rather than trying to figure out which school is known for better academics, take a deeper look into the particular program you're interested in at each school to see if their focuses align with what you want. In a lot of cases, it's helpful to look for alumni of the program and see if their career outcomes align with what you expect yours to be as well.
Prestige
It could probably go without saying that private schools, especially well-known ones, carry more prestige in their name than most state schools. However, the simple fact that your degree came from a private school isn't always going to mean you'll fair better in a job interview. A well-known school with a good reputation, regardless of whether it's public or private, will get your farther than a small, unheard-of school will, if you're thinking in terms of your résumé.
If you're looking at a school to make you stand out in the job market, choose one that's going to develop your skills and give you opportunities for applying your newly gained business knowledge in the real world. Interviewers will be more interested in what you learned getting an MBA than where you got it.
Make Your Decision
As you choose where to get your MBA, start with the end of graduate school in mind — think about what career you see yourself with and what area you want to specialize in. Then find a school that will help you achieve those goals. Although they have their differences, try not to discriminate against a school based on its public or private status. Instead, focus on whether or not the school has what you need. If it does, it's probably the right school for you.