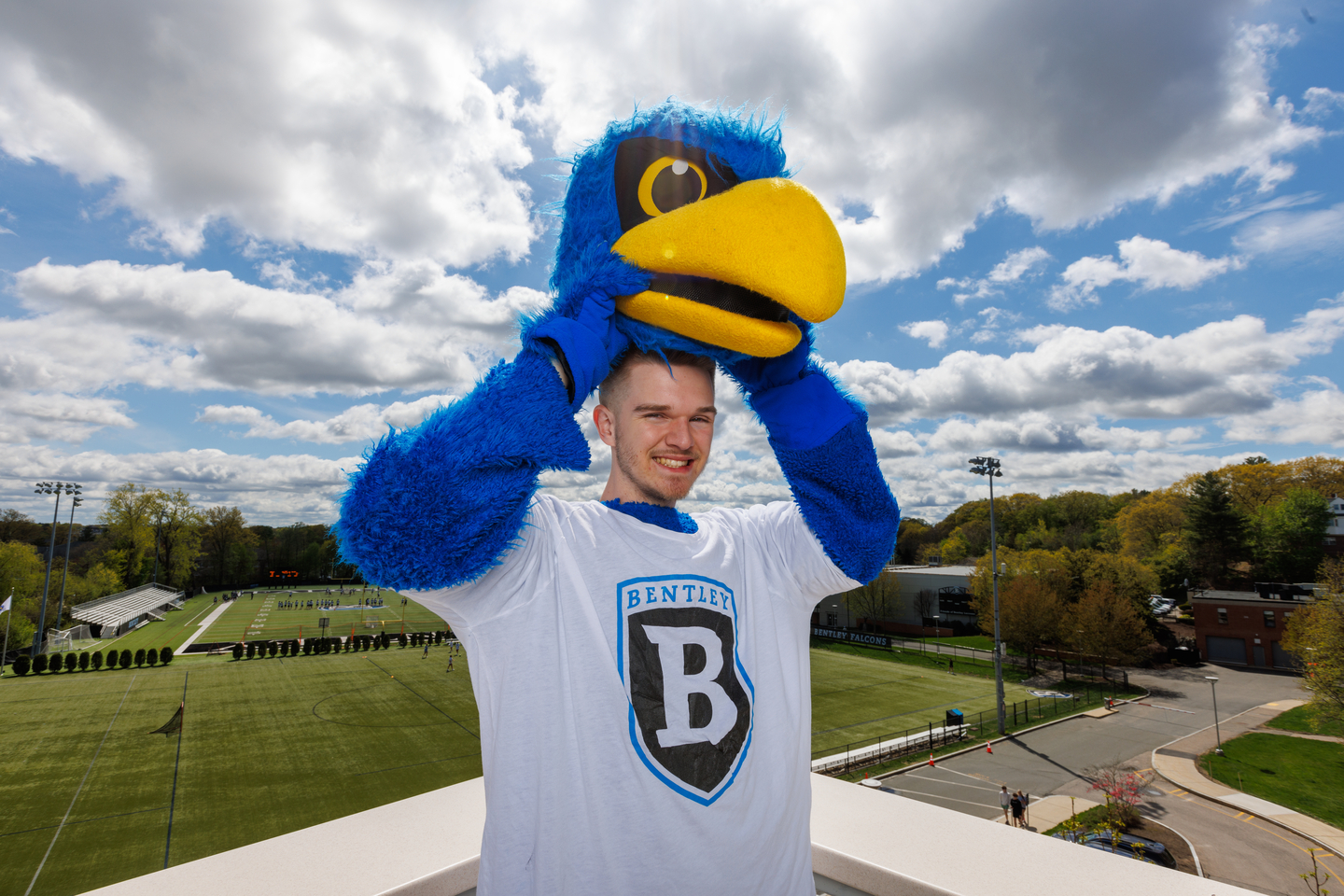 Photo by Kevin Maguire
Suiting Up for Success
Calvin Polachek '23 defers law school for a job as an NFL mascot
Calvin Polachek '23 says that most of his Bentley classmates knew him as "the guy who walked around campus in a cowboy hat." What they didn't know? That he sometimes traded the hat for feathery blue headwear as he took on the role of Bentley's beloved mascot, Flex the Falcon. The experience was so fun — and so rewarding — that, in the fall, he's deferring law school to join an NFL team as a mascot. 
"I'm excited and eager to begin a role in a professional sports organization that takes great pride in their mascot and consistently enriches the community around them," says Polachek, who spent three years as Flex. 
Polachek was just six years old when he declared his career plans to become a lawyer, not imagining, at the time, a mascot side hustle in his future. Growing up in northeastern Pennsylvania just a half-hour from PNC Field, home of the Triple-A affiliate of the New York Yankees, Polachek was either at the ball field or at a high school football game under the lights on a Friday night.  
"Sports were always critical in our family," says Polachek, who attended training camps at PNC Field and was coached by players who went on to play for major league teams like the New York Yankees, Boston Red Sox and Minnesota Twins. "There was always a game on at our house; no matter the team, we cheered them on." 
It's that kind of team spirit that has inspired Polachek's mascot performances; putting on the suit gives him a superpower of sorts. "In the Flex suit, I could do things I wouldn't otherwise do, like walk into a classroom and put my feet up on a desk or high-five random people," he explains.  
His goal — engaging people and making them feel part of the Bentley community — is central to who he is. "My family is big on southern hospitality; my grandma always had sweet tea in the fridge in case someone stopped by," says the native of Dallas, Pennsylvania. "I just want to make sure everyone is okay, that everyone is seen. I enjoy making people smile and always want to make their day a little bit better." 
I just want to make sure everyone is okay, that everyone is seen.
Economics-Finance major and former Bentley mascot
One of the hardest parts of his mascot gig? Remaining anonymous when he is out of character. "There was one volleyball player who I really connected with; we had a dance routine we did on the court before every home game," Polachek recalls. "When I would see her around campus in my regular clothes, I would think, 'there's my friend,' yet she had no idea who I was." 
In addition to not breaking character, another challenge for mascot performers like Polachek is the physicality of wearing a heavy costume while being in constant motion. "Being a mascot is not an easy job; the costume can get hot, and you've always got to be on your game." 
But that didn't turn off Polachek to the idea of taking time to be a professional mascot performer before pursuing a legal career. He interviewed with teams like the Atlanta Falcons and the Minnesota Lynx (Women's National Basketball Association) before accepting a position with an NFL team that — per mascot code — he cannot name. 
Polachek shares what he says is one of the top skills of being a good mascot. "You need to know how to read a room. That's super important when you're losing a game, for example, and need to figure out how to make a better and more positive environment for the fans." 
But to do that without speaking — another written rule for mascot performers — requires creativity. "As a mascot you always have the same expression on your face, no matter what's happening around you," Polachek says. "Your face can't change to show sorrow or happiness, so you have to find ways to express yourself through your hands or other motions like slapping your head if you're surprised or upset about something."
That kind of expression can have a big impact, as evidenced by Polachek's most meaningful Flex moment. "I saw a student sitting alone crying outside of the library and I knew I had to go over," Polachek recalls, adding that he shuffled slowly toward her with his falcon head hung low. "I hugged her, and she opened up and told me that her mother had just passed away from cancer. Though I couldn't share this with her, my mom also has cancer. That was one of the longest hugs I've had, and it's something I couldn't have done if I wasn't in the Flex suit. She said it meant the world to her and it was so comforting to me, too."   
Human connections are important for Polachek, whether he's wearing a mascot suit or a tailored classic business suit. "The networking I got through Bentley, just talking to different people and hearing about their backgrounds, was one of my top takeaways. I come from a very rural part of the country, so understanding people is one of the critical skills I learned at Bentley, and while studying abroad at Copenhagen Business School in Denmark." 
An Economics-Finance major, Polachek's long-term goal is to practice corporate law after he completes law school. He has deferred acceptances to Georgetown University, University of Michigan, University of North Carolina and Villanova to first pursue his recently accepted NFL mascot position. So for now, he says, "I want to use my experience in the athletics space to continue making a difference in local communities."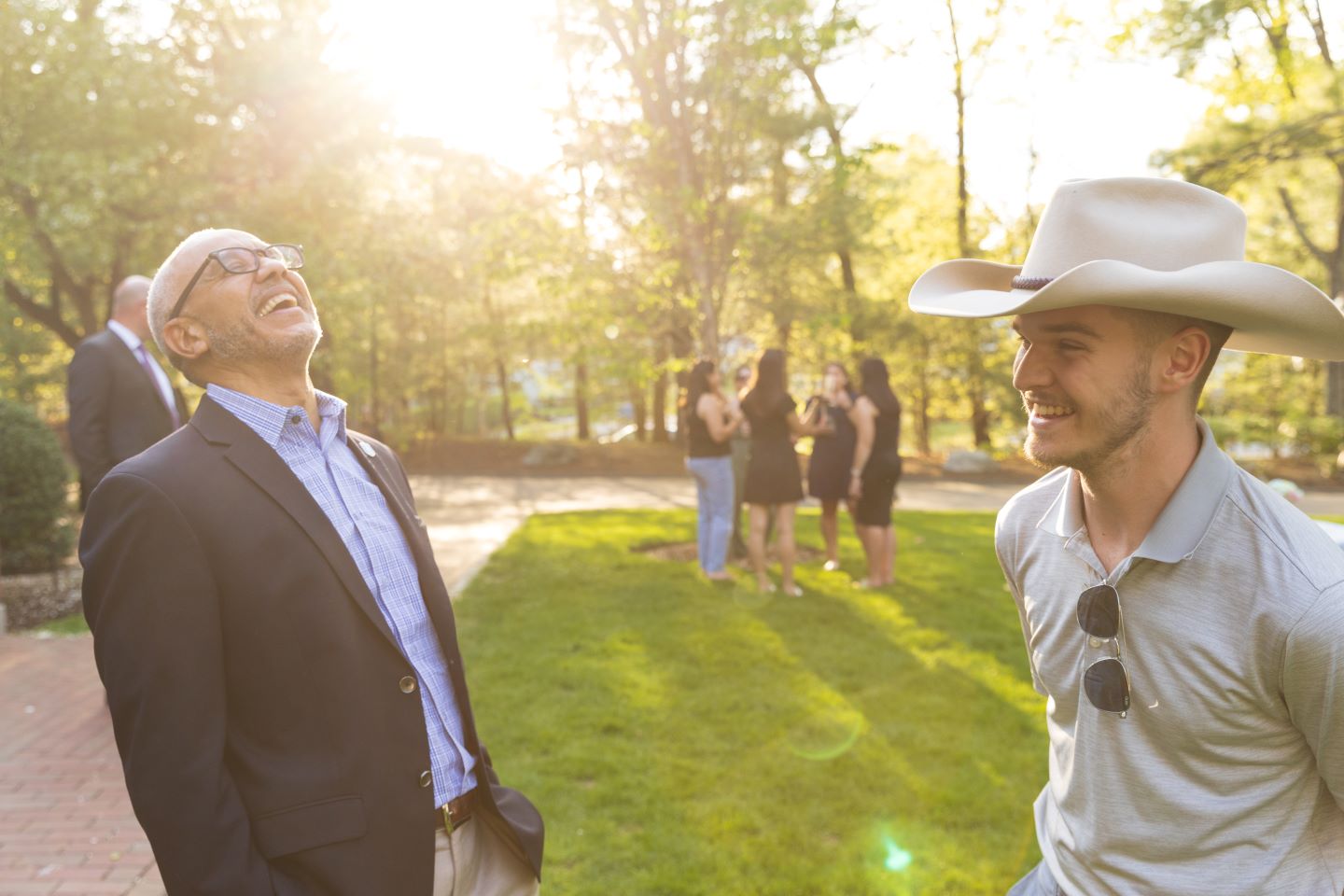 RELATED: Jailen Branch '21, MBA '23 impacts Bentley Athletics and beyond