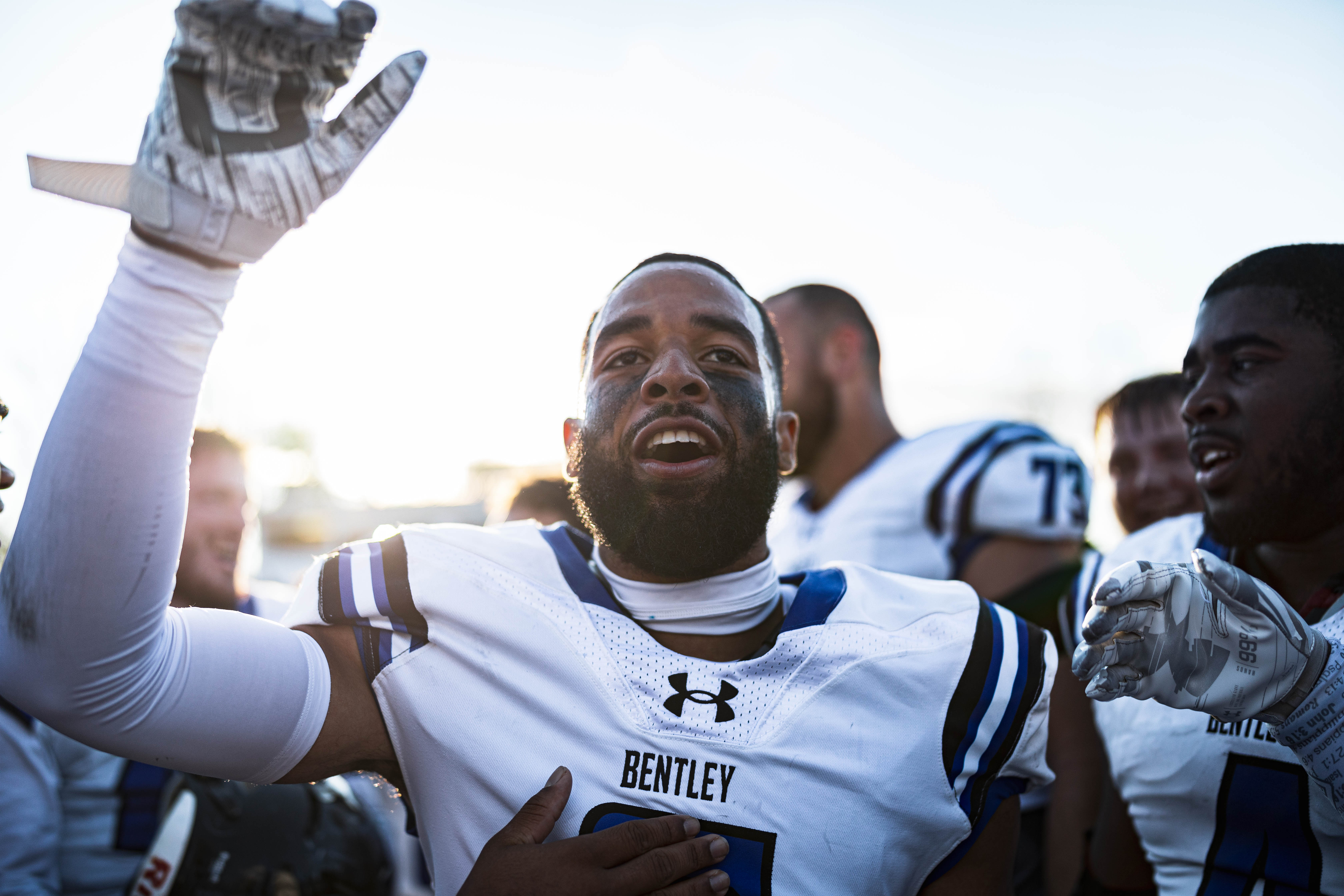 Photo by Edward Monigan IV '24
Jailen Branch '21, MBA '23 Makes a Play Beyond the Football Gridiron
When Jailen Branch '21, MBA '23 was looking at colleges where he could play football, he first set his sights on large Division I schools. But when it came to decision time, he relied on some advice that would prepare him to dream beyond the NFL. 
"My father always told me to trust my gut, that football isn't always going to be there," says Branch. "So I had it the back of my mind to attend a school that would set me up with a backup plan for a career beyond professional football."  
His decision was based not only on his father's advice, but also on a feeling he had during an overnight visit to Bentley, where he spent time with members of the Falcons football team and knew he had found his home. Finding family was easy for Branch — whose mother and godparents also attended Bentley — and, as it turns out, the university is where he could accomplish both of his dreams. Just months before Branch was set to complete his second Bentley degree — an MBA that followed an undergraduate degree in Management — the defensive back had declared for the 2023 NFL draft. 
I had it the back of my mind to attend a school that would set me up with a backup plan for a career beyond professional football.
Jailen Branch '21, MBA '23
Management major and MBA graduate
"Through hard work I was able to garner some interest from professional teams that reached out to me," Branch says, recalling how representatives from teams like the Chiefs, Commanders, Chargers, Giants and Canada's Hamilton Tiger-Cats visited campus to watch him play. "It was surreal because it's something you always dream about, but when it happens, it's kind of like 'whoa.'" 
With some local buzz regarding his name and the backing of scouts, Branch was allowed to participate in pro days at Harvard and Holy Cross to showcase his talents in front of scouts. "It's like an audition: They see how fast you run, how high you can jump, how many times you can bench press 225 pounds, and then how you move and track the ball during field drills," Branch explains of the process. 
Though he was close to getting a mini-camp invite and even receiving a contract with the Winnipeg Blue Bombers, he was not [as of this publication] drafted or signed by a pro team. But Branch has no regrets. "I am so grateful for the opportunity to even be on the scale for consideration to get a mini-camp invite or free agent contract. I know I gave it my all."
RELATED: Bentley student-athletes achieve 99% graduation rate
GOAL-GETTER 
The NFL draft is among the many athletic accolades that Branch has accomplished: In addition to being a two-time team captain, he is a three-time All Northeast-10 honoree and a Division 2 All-Region honoree. He ended his Bentley football career with 115 tackles, 26 pass break-ups, six interceptions, and two sacks. In September 2022, Branch was named to the 31st Allstate AFCA Good Works Team, which recognizes football student-athletes for outstanding contributions outside the sport. Branch won in part because of his co-founding of Bentley Black Student Athletes, a student organization to elevate Black voices within the university's athletics community. 
"I always wanted to be the best in football, and I've garnered a lot of awards," Branch says. "But being the first-ever at Bentley to be a part of the All-State Good Works team is amazing. It means a lot that I got recognized for my actions — particularly creating a support network and family bond for Black student-athletes. It's very humbling."
It's also one of his many accomplishments off the field. Branch's academic accolades include President's List, Dean's list, NE-10 Conference Academic Honor Roll and National Football Foundation Hampshire Honor Society member. "My No. 1 proudest Bentley accomplishment is graduating with an undergraduate degree in three-and-a-half years, especially with everything that we we've been through with COVID and a lot of other obstacles in the way." 
In addition to finding strong mentors in his football coaches, Branch says that Catie Noons, athletics compliance and student development coordinator, "led me in the right direction to help me learn about logistics when it came to course planning." Assistant Dean of Academic Support and Advocacy Leslie Doolittle, he says, "was like a second mother to me. I could talk to her about anything." Lecturer in Management Susan Vroman, he adds, played a big part in his decision to major in Management.  
"The skills Professor Vroman taught me about relationships and communication translated to the football field as well," says Branch. "There's a big difference between a manager and a leader who influences people and helps guide them in the right direction. That was something I wanted to take back to the team right away."
RELATED: Student-athletes and alumni share lessons from the field, court and ice
It is not surprising, given that Branch took his role as captain seriously. "I had to make sure my own game was tight, because you can't influence other people if you're worrying about yourself," he says, noting advice he received from Bentley's former head football coach Bill Kavanaugh. "Coach Kav always used to tell us to take care of our own 20-square-feet before worrying about someone else's. So as an underclassman, I made sure I was on top of my game in every possible situation, like being the first one to practice and the last one out.  
"As I grew older and proved myself, my words got louder," he continues. "I emphasized each player's role toward a common goal and pushed us to grow and develop as a team so we could perform better on the field and have better outcomes. I built strong relationships and trust." 
Branch applied that same kind of commitment to a summer 2022 internship as a project manager at York IE — a strategic growth and investment firm for technology companies founded by fellow Falcon Kyle York '05 — where he coordinated a Bentley Athletics and York IE internship partnership that enabled four fellow Bentley student-athletes to gain work experience in their specific fields of study. His approach to the future reflects his mindset when he was trying to prove himself during his first year as a Falcon.  
"I always look in the moment and ask, how can I help the team? How can I help myself get better trained to be the best I can be?" Branch says. "Because in life and on the field, you have to give it your all."
RELATED: Lucas Vanroboys '23 helps student-athletes connect with brands