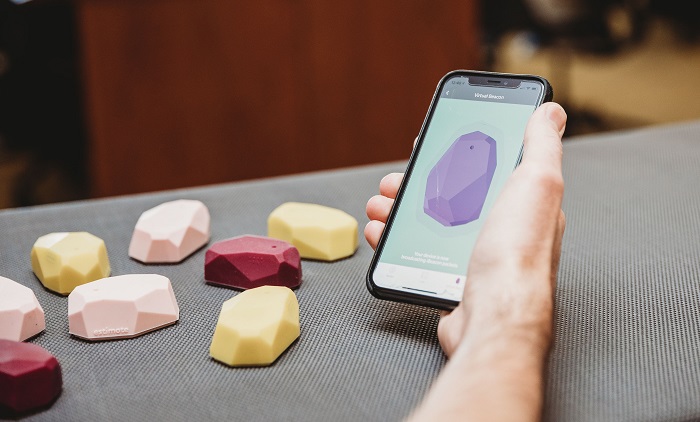 Bluetooth-enabled beacons like these were placed around campus. Photos by Joy LeDuc.
Students Design a Bluetooth Beacon System That Turns Mobile Phones into a Campus Tour
Imagine you're a student wandering around a college campus with your parents trying to figure out whether to apply. You're wondering: Will I like the academics and clubs? What's life on campus really like? Can I see myself going to college here?
A group of Bentley computer information systems students set out to answer those questions using a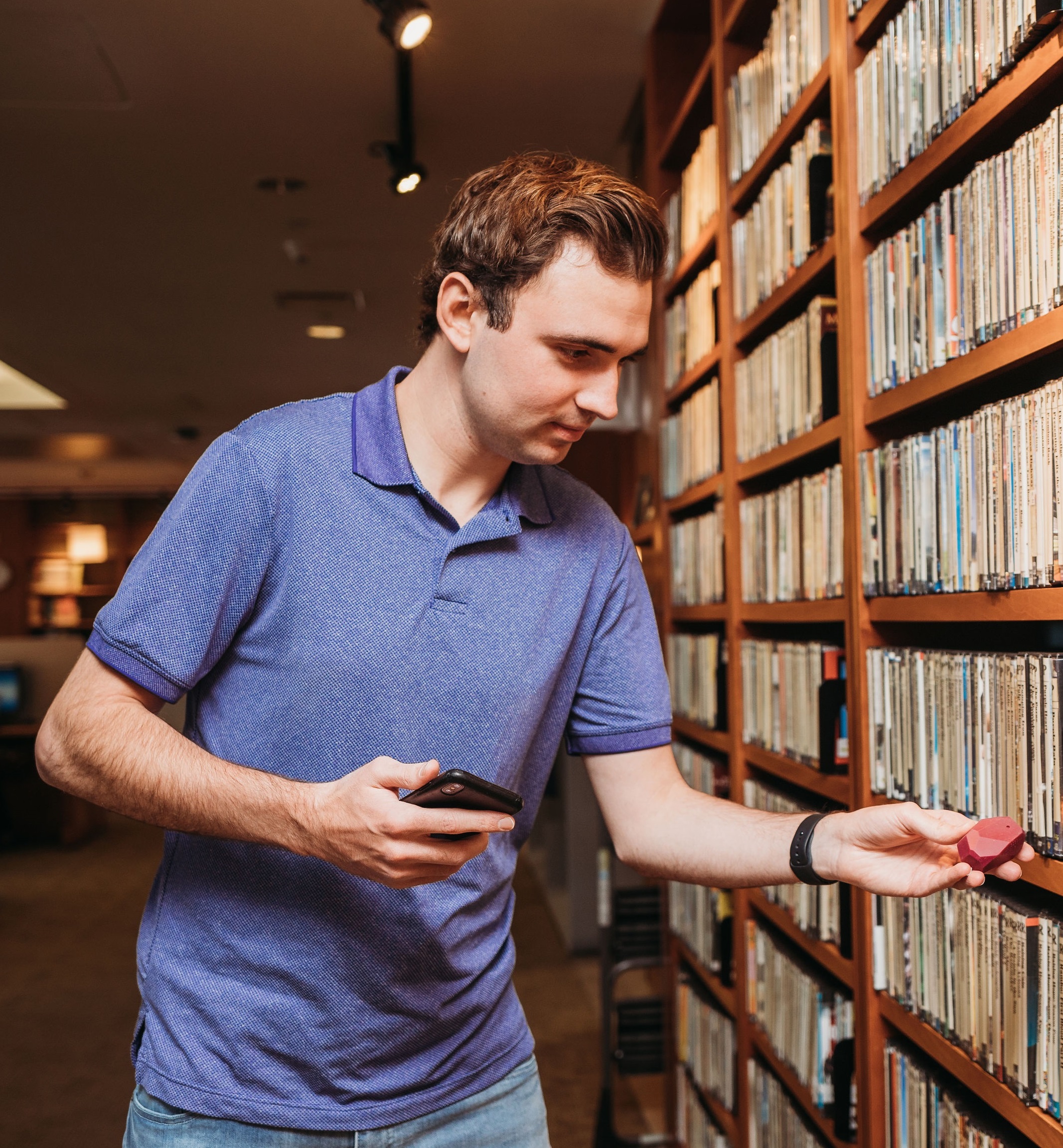 technology that prospective college students know all too well: their mobile phones.
Students from the university's Computer Information Systems "Sandbox," who take on cutting-edge technology projects and tutor fellow students, created a self-guided tour that allowed visiting families to use mobile devices to connect to Bluetooth-enabled beacons placed in various locations around campus. The beacons connected to web pages filled with short videos, trivia questions and other information that provided an authentic, "student-eye view" of academics, clubs and overall life at Bentley.
On Prospective Students Day, when many considering Bentley visited with their families, visitors installed the app on their devices to check out the self-guided tour that the students had created. Once they fired up the app, as the prospective students and their families approached each beacon around campus, they received notification of nearby events and information related to that location. The pages created by the students were viewed nearly 1,000 times.
In creating the beacon tour, Bentley students took advantage of what's known as "the physical web."
Learn More About Bentley's Computer Information Systems "Sandbox"
Jake O'Connell '19, one of the beacon tour's student creators (pictured, above), says the physical web refers to interactions we have with inanimate objects around us through our mobile phones. "A good example is a painting in a museum," O'Connell says. "The painting would be equipped with a Bluetooth beacon, a small device that uses Bluetooth to send messages to devices within range of the signal. This message can take many forms but most often, as in our campus tour project, it's a web page URL."
Under the guidance of Mark Frydenberg, a senior lecturer in Computer Information Systems and director of the "Sandbox," O'Connell and other students calculated the optimum number of beacons to place around campus and designed a webpage to go with each one. The students worked with the university's Admissions Office to place information, photos and videos on the pages that would be most interesting to campus visitors.
On the day students and their families visited, the Bentley students used Google Analytics to track which beacons and locations were most popular among visitors, providing the Admissions team with valuable insights into the visitors' behavior and interests while touring campus.
For O'Connell, a Computer Information Systems major and president of the university's Programming Club, the Bluetooth beacon tour was more than a cool technology challenge. It was also a research opportunity that resulted in a published paper, an impressive accomplishment for an undergraduate student. O'Connell, who was the paper's lead author, and Frydenberg presented their research at EDSIGCon, a top conference on computing and IT education, in Norfolk, Va. The paper received a meritorious writing award at the conference and will be published in an upcoming edition of Information Systems Education Journal.
Read the Paper, "Building the Physical Web: A Campus Tour Using Bluetooth Low Energy Beacons"
O'Connell says the beacon project gave him real-life experience in coming up with and carrying out a complicated data project. "The hands-on portion of the project showed me that theory does not always directly translate to a tangible project with real users," he says.
And with his sights after graduation set on a career in data science, O'Connell says he'll likely use those skills again. "While the physical web does not directly translate into data science, it's important to consider in the data collection and wrangling portion of the data analytics supply chain," he says. "We can't analyze and provide insights on data that we don't have, and beacons are one medium we can use to collect data."