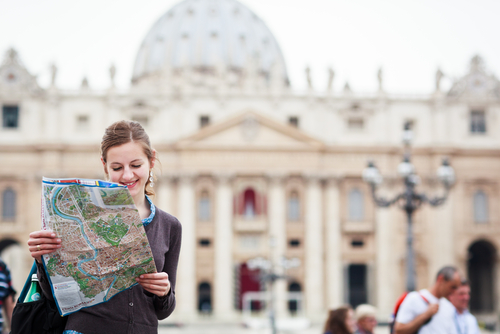 Though technology has drastically changed how we travel, one thing remains the same: tourists still value the printed brochures available around the world. In fact, once they reach their vacation destination, tourists say brochures are their number one resource and they rely on them more than websites. It might be hard to believe when everyone is constantly attached to a smart device - but these are the findings of a new survey conducted by Bentley University's Center for Marketing Technology (CMT) and commissioned by the International Association of Visitor Information Providers .
Travelers made it clear that even with constant access to online information, they still value printed brochures
and take action based on what they read. The findings include:
7 out of 10 tourists and visitors pick-up brochures at their travel destination
 
The influence of brochures from a display stand (69%) has edged ahead of web sites (68%) when a tourist arrives at their destination
 
95% of visitors had their travel plans influenced by information from a brochure
 
83% plan to visit a business or attraction highlighted in a brochure, map or travel guide
 
78% of visitors consider altering their travel plans as a result of a brochure
 
53% of travelers use brochures to plan their trip before they arrive at their vacation spot
"What's compelling about this survey is that even though there is a wide range of sources tourists are using to plan their vacations, once they've arrived on-site, printed brochures and guides are the first place they turn to be persuaded as to which attractions to see and which businesses to patronize," says Ian Cross, Director of the CMT. "Visitors trust the printed information, find them informative, user friendly and easy to share with their friends and family on the trip. "
The survey included responses from 1,732 visitors at seventeen locations in North America, Europe and South Africa. To see the full Hospitality Visitor Information Survey, visit: http://www.bentley.edu/centers/cmt

Bentley's Center for Marketing Technology is on the cutting edge of marketing, research, technology and strategy. Students, educators and business partners have daily access to the latest trends, newest technologies and in-depth research that is shaping the future of marketing practices. Corporate clients in the United States and abroad benefit from collaborations and strategic consulting projects with the CMT, while enjoying access to world class marketing expertise, experienced CMT team members and the center's cutting edge marketing technology. 
Learn more about the full survey.
Helen Henrichs, 781.891.2277, hhenrichs@bentley.edu