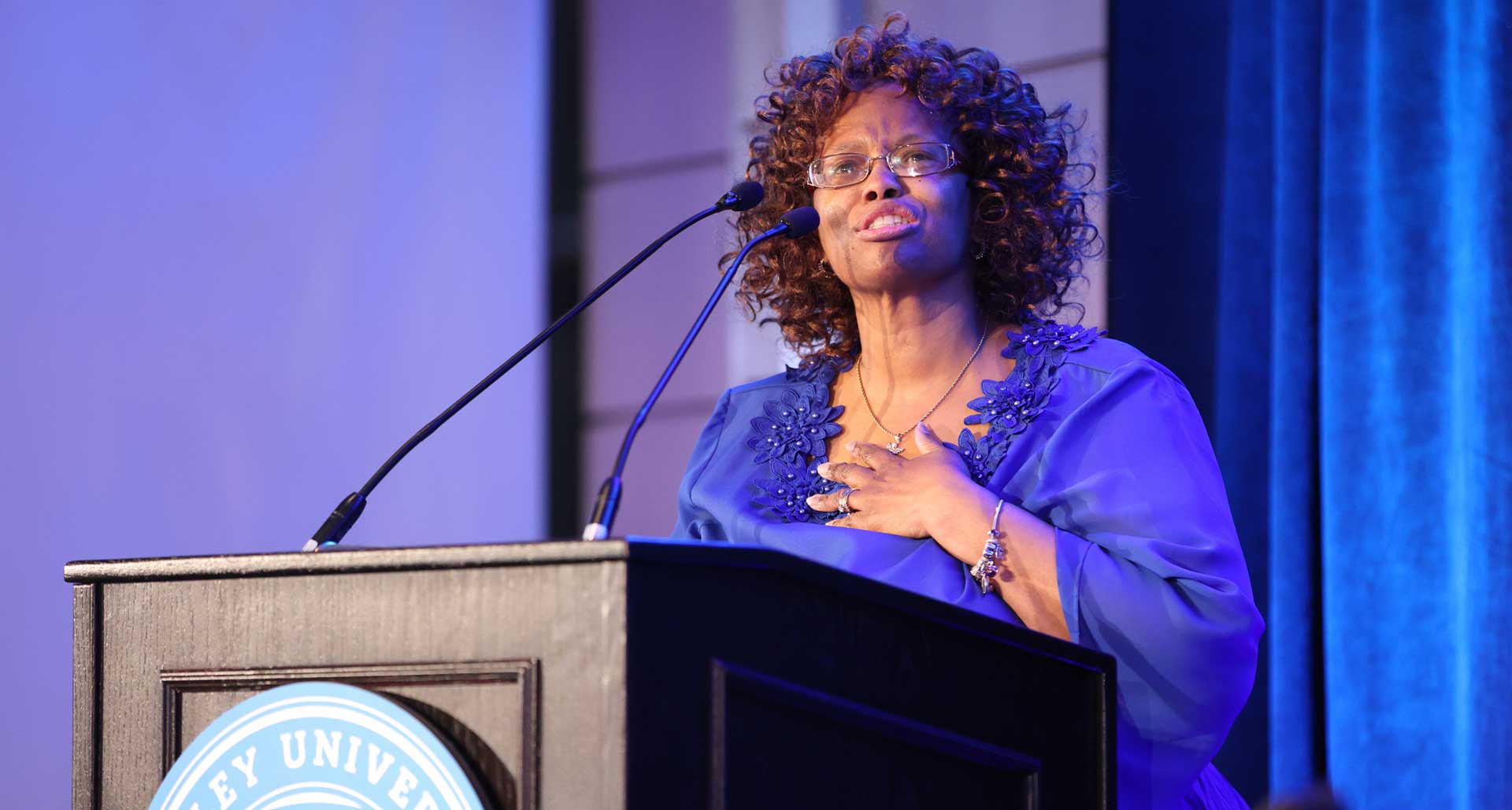 Wholehearted Service
Hundreds of Falcons attend the dedication of the Claudette Blot Multicultural Center Lounge and celebrate the woman who made Bentley home
"How do you honor somebody who has given so much, for so many years, and never asked for anything in return?"
Katie Lampley's simple question was answered with thunderous cheers and chants of "Claud-ette! Claud-ette!" on Friday, March 3, as more than 250 alumni, students, faculty, staff and friends celebrated Claudette Blot, P '12 and the newly renovated Multicultural Center lounge named in her honor. The space is the first on campus to be named for a person of color.
For almost 30 years, Blot has been a mentor, advocate and safe haven for Bentley students, particularly students of color, with the MCC in all its iterations as her home base. Designed by students for students, the lounge's new look has been a beacon of community and creativity in the Student Center since its unveiling in early February.
"This new space exemplifies what is possible when you lead like Claudette, with a spirit of service, a heart of caring and a dedication to helping those around you to be their most authentic selves," Lampley '96, vice president and chief diversity and inclusion officer, told the crowd.
A Call to Service
Big sister. Second mom. Mama Blot. Affectionate nicknames and fond memories filled the Student Center as each new Falcon arrived; some flew thousands of miles for the event.  
Despite never being one to take the spotlight, Blot shined in it, thanking her family — biological and Bentley: "I'm a servant at heart and I need people to understand that this was never for accolades. This is about making sure that our students were safe on this campus and that there were doors open for them."
Of the alumni and students she has been so proud to serve, she added, "I have four sons that I've birthed, but I have at least a thousand children."   
Anyfern González '24 took the podium on their behalf. "Claudette paved the way for students from marginalized communities to attend Bentley and created spaces at the table for us, even if that meant making the table bigger." A first-generation student, varsity student-athlete and, soon, the first graduate with a degree in Diversity, Equity and Inclusion, González recounted coming to Bentley with hesitation. Blot "promised my mother that I would be taken care of … and despite the barriers I have needed to overcome, it has been just that. You've been my rock."
González went on to share stories of Blot carving out time in her calendar for anyone who needed her, no matter the challenge, and the ripple effect of her impact: "You believed in us and continuously inspired us with your resilience. You taught us that through advocacy we can foster a sense of community while transforming systems."
President Chrite expressed similar gratitude and underscored the long-lasting impact Blot has had on the Bentley community. "Claudette had the courage to establish a foundation that is both powerful and empowering, and our commitment to stewarding what she has built is resolute," he said. In a year of unprecedented and record-breaking enrollment growth for students of color, he added, "we have work to do, but as a result of Claudette's enduring legacy, the opportunity for us to fulfill its promise is in sight and I am excited to lead that journey."
Paying the Privilege Forward
Rob Alan '91 counts March 3 as his proudest day at Bentley.
Although there wasn't a formal center for students of color when Alan came to Bentley in 1987, he credits faculty like Drs. Earl Avery and Ronald Evans for ensuring he and his peers felt they had mentors of color. As an alumnus, Alan paid close attention to how the Falcons following in his footsteps were supported, too.
For any graduate, there has to be one characteristic — just one of this institution — that you feel good about and can wholeheartedly support. For me, it's the MCC.
Bentley Trustee, Head of Global Consultant Relations at Putnam Investments
Through the years, the name Claudette Blot has been synonymous with student support. And thanks to Alan's generous investment of $250,000 to name the MCC lounge in her honor, with an additional $50,000 from Mackenzy Bernadeau '08, it always will be.
"She is perhaps the most selfless individual I know," Alan says. "Her intentionality, passion, commitment, and just undying loyalty is palpable. It was a very easy decision to support this program."
Bernadeau agrees. "Claudette ended up being that second mother," he says, pushing him like a mother would to "become better and influence others. Her love was unmatched." Bernadeau went on to play for the NFL and was recently inducted into the Bentley Athletics Hall of Fame.
Philanthropy is personal. Alan equals it to tithing: "It's designed to help those who are less fortunate, who are in need and who oftentimes can't speak and represent themselves." Receiving a world-class education from Bentley was a privilege that he benefits from every day, he says. In turn, it is his privilege to now serve as a trustee and Great Benefactor of the university.
He adds, "There are a lot of deserving students out there who just don't have access for one reason or another, and those barriers have been broken down with support from Claudette, programs like STEP (the Summer Transitional Education Program) and the MCC. For any graduate, there has to be one characteristic — just one of this institution — that you feel good about and can wholeheartedly support."
For Alan and Bernadeau, that's the MCC. Blot, too.
As the celebration wound down and the Mt. Moriah Praise and Worship ensemble warmed up to take the stage in a surprise performance, Blot had one last charge to her children: "The things I was able to accomplish were only because I had great partners on this campus. We have to keep that going. We have to pay it forward. So when you think about the things you can do for this campus and you think you can do a little bit better, you can.
"I'm living proof."
Lead like Claudette with a gift to the MCC today