Bentley Welcomes Historic Number of First-Generation Students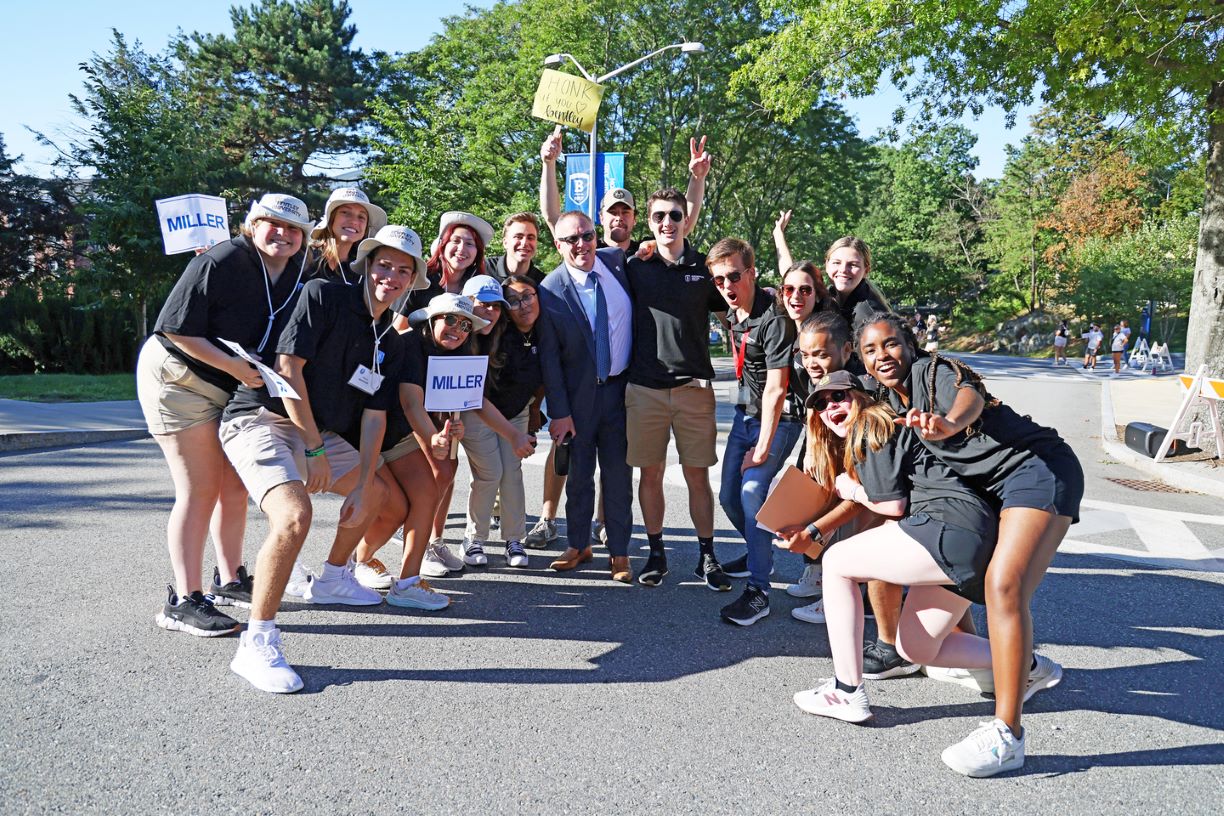 Photos by Jamie Wexler
It may have looked like a typical college move-in week — with carloads of boxes, spirited welcome cheers and high-fives from new friends and emotional good-byes with family — but the beginning of the 2022-2023 academic year marked historic milestones for Bentley with its most diverse incoming class, including 25% of students who are the first in their families to attend college. 
The week kicked off on August 29 with the MOSAIC Experience, a pre-orientation program for students of color and their allies. Remaining first-year and transfer students arrived to campus on September 1 for the university's official Orientation. It was a beautiful sunny day as hyped-up student volunteers helped carry boxes and point newcomers to residence halls. 
"As orientation leaders, we are trying to fill the Bentley campus with energy and positivity and take what we learned in training to welcome the Class of 2026 and make them feel like they belong," said Sid Goel '24, a Data Analytics major. 
Amid the trekking of clothing, laptops, shower shoes, fans and power strips, there was energetic chatter as dorm room doors were propped open and string lights and photo collages were hung. Roommates, some meeting for the first time in person, made plans to abandon unpacking to head to the Bentley greenspace — a favorite hang-out spot for students.  
Later in the afternoon, students and their families gathered in the Bentley Arena for Convocation, a longstanding Bentley tradition to welcome new students to campus in a formal ceremony.  
"On our campus, we welcome, celebrate and affirm a broad and inclusive community,"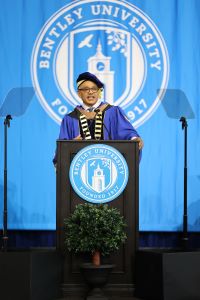 President E. LaBrent Chrite said as he addressed the crowd. "In fact, you, the Class of 2026, have the distinct honor of being the most diverse incoming class in the history of our university."  
During the ceremony, which was livestreamed for those unable to make it in person, the Jumbotron highlighted stats about the incoming class. The 1,154 students in the incoming class -- the largest in the university's history -- arrived from 34 states and 51 countries and territories; 364 identify as Black, Hispanic, Asian or Native American; 292 are first-generation students; and 12% are varsity student-athletes at Bentley.  
'We welcome, celebrate and affirm a broad and inclusive community'
"You can expect to be surrounded by a community that mirrors the pluralism of the world around you," Chrite continued. "We seek to create a community that brings together students with differences in background, belief, orientation, experience and opinion ... As you begin your journey here at Bentley University, as you define your passion and purpose, I encourage you to appreciate the transformational possibilities that result from sustained exposure to differing points of view."   
Orientation, which runs from September 1 to 4, includes informational and social activities such as a welcome for students in the Honors Program, a Q&A session with University Police, an academic resource fair, a block party, bingo night and a scavenger hunt. Programming will continue throughout the fall semester, including Falcon Field Day on September 6 and a recognition event for first-generation students in October. 
See more highlights from Bentley move-in festivities
RELATED: Bentley offers UMass tuition to first-generation students