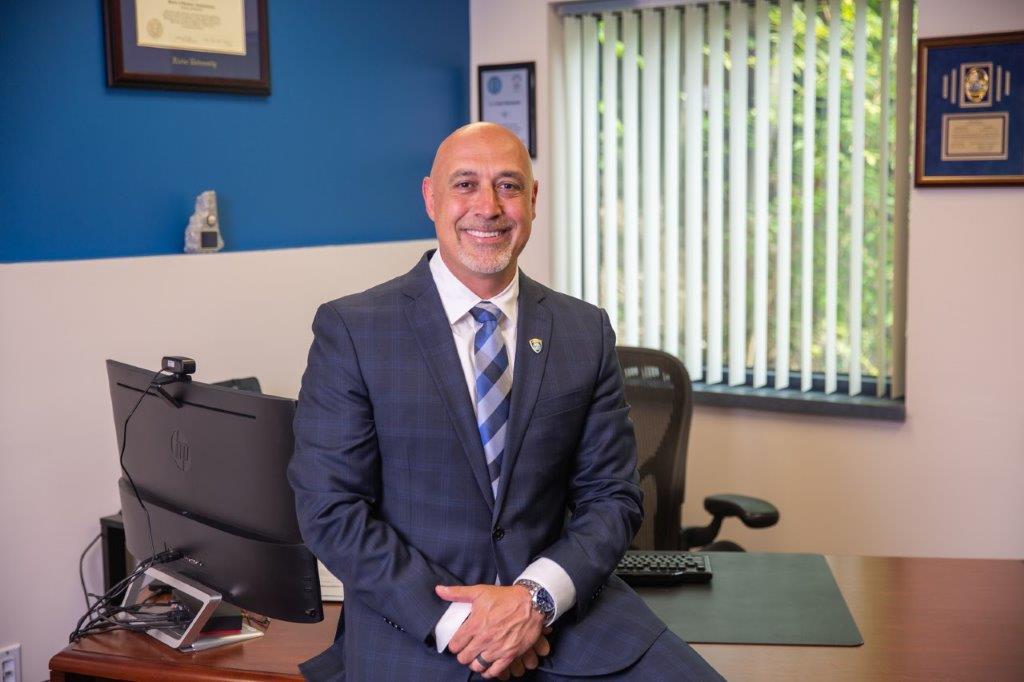 On behalf of the men and women of the Bentley University Police Department, I would like to welcome you to our website.
We are a full-service law enforcement agency certified by the Massachusetts State Police and we are also proudly accredited by the Massachusetts Police Accreditation Commission.  Our department is strongly aligned with our university and department core values, with an added focus on community engagement.  Through collaboration and communication with our campus partners and student body, we strive to provide the highest level of service to all.
As you navigate our website, you will find that our police department is woven into so much of what our University has to offer.  We are devoted to strong partnerships grounded in trust, respect, and teamwork.  We recognize that we can't maintain safety alone, so by working together, we make Bentley a safer place for all to attend, visit and work.
I am very proud of what we do and how we do it.  Our team is completely committed to contributing whatever we can to further the success of our University.  Together, we can accomplish anything.
Francis G. Bourgeois
Chief of Police
Staff
University Police officers are commissioned in accordance with the provisions of Chapter 22c, Section 63 of Massachusetts General Laws. They have full law enforcement authority, including arrest, in and upon all property owned, occupied or used by Bentley University. They patrol the campus 24 hours per day, year-round to provide a safe environment.
Administration
Francis G. Bourgeois
Chief of Police
Elona Dai
University Police Coordinator
Melissa Diglio
Manager, University Police Technical Operations
Katie LeBlanc
Security Access Coordinator
Lieutenant
David Wade
Administrative Lieutenant
Sergeants
Tobe Bartkus
Paul Callahan
Anthony DiSchino
Matthew Doucot
Leonard Imbracsio
Kevin Michaud
Glen Preston
Travis Rixford
Officers
Carlos Camacho
Alexander Ferraz
Dimitry Goin
Connor McDonough
Danielle Meroli
Bethany Nikolassy
Ravidson Ramos
Sean Ridge
Michael Rusak
Robert Sweeney
John Vickery

Dispatchers
Michael Amrock
Cristina Basile
Nicholas Giunta

Security Officers
James Ardizzoni
William Kelley
Kevin Robertson
Robert Tieri
Tony Zatoonian
Emergency Management
Bentley University has established a multi-disciplinary Emergency Management Group to prepare for and respond to any emergency condition that may endanger human health and safety, University property, or the University's ability to carry out business obligations. This group comprises professionals from many areas of the University, including University Police, and works in collaboration with the university's leadership team. The group is ready to be activated 24 hours per day, seven days per week.
The Emergency Management Group committee regularly reviews and updates the University's Emergency Preparedness Plan. The committee also discusses current trends and areas of concern both nationally and internationally, performs table-top exercises to test the plan, and is also responsible for disseminating any pertinent information to the Bentley community to assist with their emergency preparedness.
Basic emergency procedures designed to protect lives and property through the effective use of University and community resources are included within the Emergency Preparedness Plan. Since an emergency may be sudden and without warning, these procedures are designed to be flexible in order to accommodate contingencies of various types and magnitudes. It acts as a guide for University personnel and resources during an emergency situation and does not limit our response to emergencies. The plan is utilized in concert with good judgment and common sense in matters both included within this plan, and for matters not foreseen or covered by the plan. Additionally, it is subordinate to federal, state or local plans during a disaster declaration by those authorities.
The Emergency Preparedness Plan incorporates the use of the Incident Command System to facilitate interagency coordination, promote the use of common emergency response terminology and command structure, and ease the flow of information between responding agencies. The University is committed to cooperating with the Federal Emergency Management Agency (FEMA), Massachusetts Emergency Management Agency (MEMA), state and city police, fire and emergency departments, and other responders in the development of emergency response plans, as well as participating in multi-jurisdictional emergency planning exercises. This includes participation in the Waltham Local Emergency Planning Committee. 
We believe that an informed public is a safety-conscious public. All information related to the safety and security of our campus is provided in the Annual Campus Security and Fire Safety Report, in accordance with the Jeanne Clery Disclosure of Campus Security Policy and Campus Crime Statistics Act.
If you have questions about the report or campus safety in general, contact us at 781.891.2201.
We are open 24 hours per day, seven days per week, year-round.
Michael A. Callahan Police Station
Emergency Line: 781.891.3131
Business Phone: 781.891.2201
Fax: 781.891.2559
Email: ga_universitypolice@bentley.edu
Text or call us in case of an emergency with this app: Rave Guardian
Lost and Found
If you are looking for lost items you can check Foundrop to see if they have been turned in to the police department.
See our Professional Standards and Submit a Compliment or Complaint