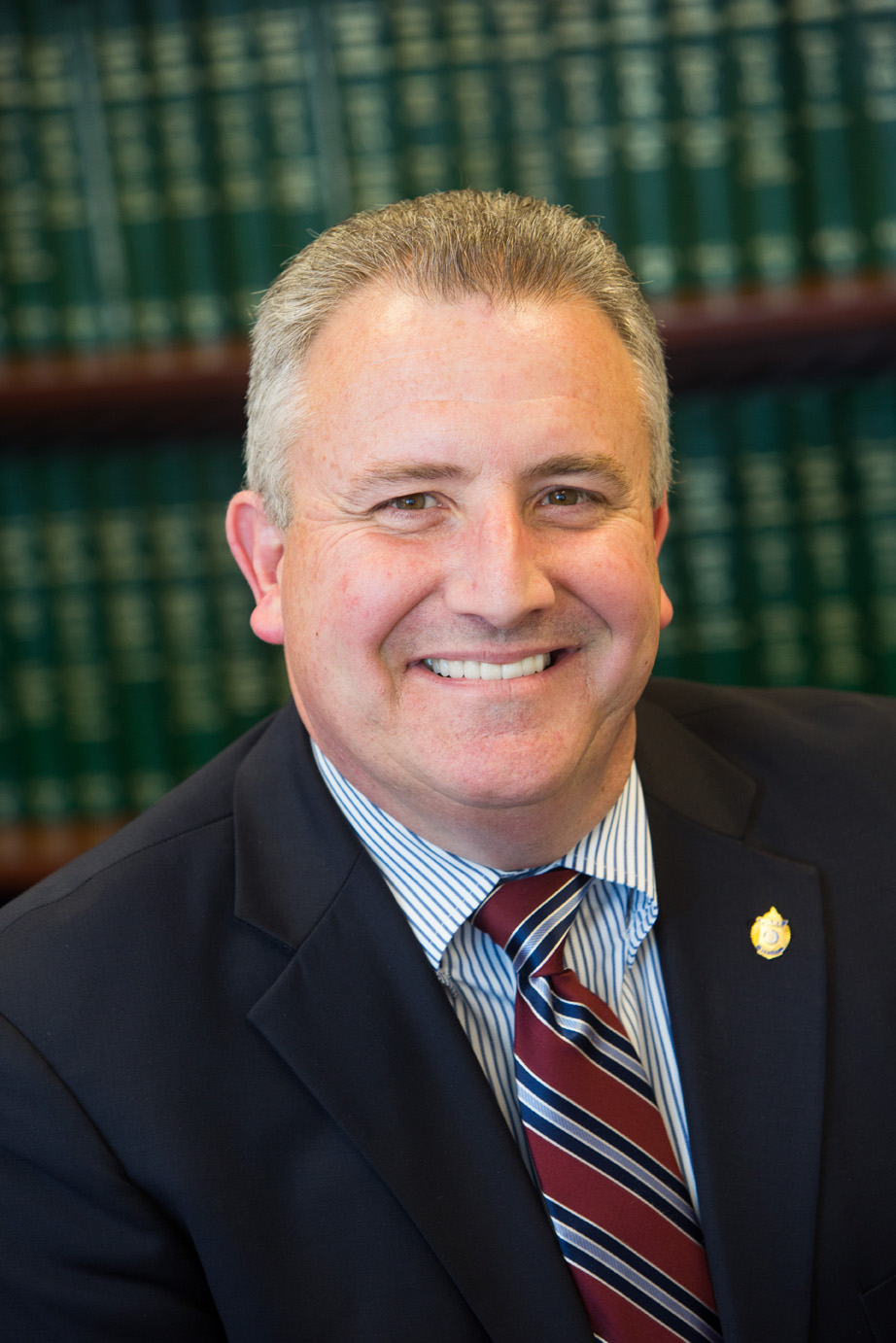 Our mission is to provide quality police, security, and related public safety services to the Bentley community, helping ensure our campus remains a safe and pleasant place in which to live work and study.
The University Police are dedicated to maintaining a safe campus atmosphere for all individuals. However, we can only achieve a truly safe campus through the cooperation of all students, faculty, and staff. Each of us must assume personal responsibility by reporting and taking precautions to prevent ourselves from being victimized.
While the reported crime at Bentley is comparatively low, we must all keep in mind that crime does exist. By working together and embracing a community policing philosophy, we can be successful in minimizing the incidents of crime on our campus.
Ernest H. Leffler
Executive Director of Public Safety
Chief of Police
See our Professional Standards and Submit a Compliment or Complaint
Staff
University Police officers are commissioned in accordance with the provisions of Chapter 22c, Section 63 of Massachusetts General Laws. They have full law enforcement authority, including arrest, in and upon all property owned, occupied or used by Bentley University. They patrol the campus 24 hours per day, year-round to provide a safe environment.
Notes in regard to continuation of duty during the current Coronavirus situation:
University Police personnel will continue to patrol the campus 24/7 and provide all law enforcement and security services during the state of emergency.
To minimize walk-in traffic at the police station, we encourage everyone to use Rave Guardian to communicate with the police department or call x-2201 to file a report or request assistance. Download the Rave Guardian Mobile App from the Apple Store or Google Play and register with your email and mobile phone number.
Administration
Ernest Leffler
Executive Director of Public Safety 
Chief of Police
Elona Dai
Senior Administrative Assistant
Melissa Diglio
Communications Center Supervisor
Dottie McGuire
Technical Project Coordinator
Operations Lieutenant
Jessica Roche
Sergeants
Taylor Collins
Carmelo Echevarria
Leonard Imbracsio
Floyd Johns
Robert Lynn
Glen Preston
David Wade
Officers
Tobe Bartkus
Matthew Doucot
Emily Evans
David Gatchell
Andrew Giebel
Robert Hain
Andrew Himmer
Danielle Meroli
Kevin Michaud
Travis Rixford
Jonathan Rose
Phong Vuong
Dispatchers
Michael Amrock
Nicholas Giunta
Bethany Nikolassy 
Sean Ridge
Robert Sweeney
Security Officers
James Ardizzoni
William Kelley
Kevin Robertson
Robert Tieri
Tony Zatoonian
Emergency Management at Bentley
Learn about Bentley's best practices and approach to emergency management. 
Emergency Management
Bentley University has established a multi-disciplinary Emergency Management Group to prepare for and respond to any emergency condition that may endanger human health and safety, University property, or the University's ability to carry out business obligations. This group comprises professionals from many areas of the University, including University Police, and works in collaboration with the university's leadership team. The group is ready to be activated 24 hours per day, seven days per week.
The Emergency Management Group committee regularly reviews and updates the University's Emergency Preparedness Plan. The committee also discusses current trends and areas of concern both nationally and internationally, performs table-top exercises to test the plan, and is also responsible for disseminating any pertinent information to the Bentley community to assist with their emergency preparedness.
Basic emergency procedures designed to protect lives and property through the effective use of University and community resources are included within the Emergency Preparedness Plan. Since an emergency may be sudden and without warning, these procedures are designed to be flexible in order to accommodate contingencies of various types and magnitudes. It acts as a guide for University personnel and resources during an emergency situation and does not limit our response to emergencies. The plan is utilized in concert with good judgment and common sense in matters both included within this plan, and for matters not foreseen or covered by the plan. Additionally, it is subordinate to federal, state or local plans during a disaster declaration by those authorities.
The Emergency Preparedness Plan incorporates the use of the Incident Command System to facilitate interagency coordination, promote the use of common emergency response terminology and command structure, and ease the flow of information between responding agencies. The University is committed to cooperating with the Federal Emergency Management Agency (FEMA), Massachusetts Emergency Management Agency (MEMA), state and city police, fire and emergency departments, and other responders in the development of emergency response plans, as well as participating in multi-jurisdictional emergency planning exercises. This includes participation in the Waltham Local Emergency Planning Committee. 
We believe that an informed public is a safety-conscious public. All information related to the safety and security of our campus is provided in the Annual Campus Security and Fire Safety Report, in accordance with the Jeanne Clery Disclosure of Campus Security Policy and Campus Crime Statistics Act.
If you have questions about the report or campus safety in general, contact us at 781.891.2201.
We are open 24 hours per day, seven days per week, year-round.
Michael A. Callahan Police Station
Emergency Line: 781.891.3131
Business Phone: 781.891.2201
Fax: 781.891.2559
Email: ga_universitypolice@bentley.edu
 
Anonymously Report an Incident