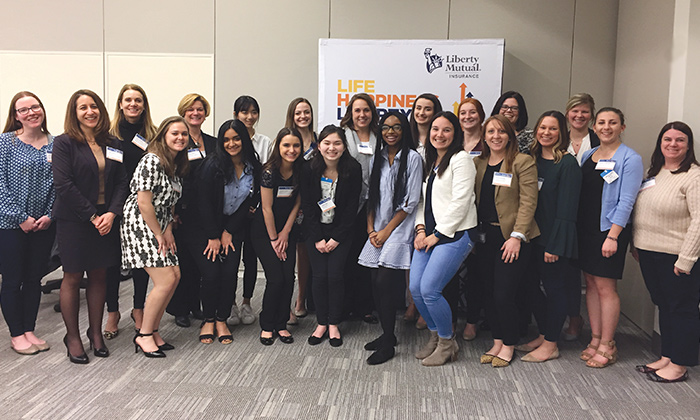 Women's Leadership Program Builds Skills, Confidence
Bentley sophomore Kayla Bellody (below) was 12 years old when she rallied friends to weave and sell bracelets, raising money for iPads that would help children with autism better communicate and learn. She was an officer in four different high school clubs. She represented her school at the Massachusetts Hugh O'Brien Youth Leadership Conference.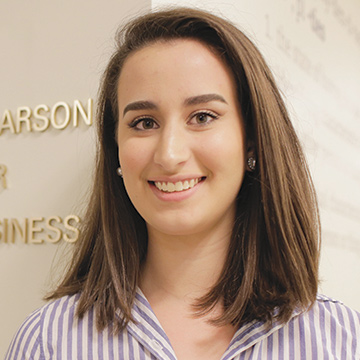 Despite the strong track record, Bellody knows she has more to learn about leadership. And a program at the Gloria Cordes Larson Center for Women and Business (CWB) might be her ticket to the C-suite.
"I've never been one to doubt my abilities because of my gender or think that I am placed at a disadvantage," says Bellody, who was selected to participate in the Women's Leadership Program as a first-year student. "But in just a year, this program has made me stronger and more confident in my skills to accomplish what I want in life. I'm also surrounded by supportive, like-minded women."
The group includes 42 sophomores and 72 first-year students in the program, which launched in fall 2017 through a $1 million grant from Liberty Mutual. Over four years, participants focus on understanding potential barriers for women in the workplace and strategies for self-advocacy and inclusion, strengthening their leadership and communication skills, and building meaningful relationships with mentors.
FACTS OF LIFE
The weight of research points to gender inequities as a fact of life in the modern workplace. From the start of their careers, women face challenges that limit opportunities for advancement. Contributing factors include unconscious bias and a lack of sponsors who will go to bat for their female colleagues, according to a report by McKinsey & Company and LeanIn.org.
CWB initiatives such as the Women's Leadership Program look to change the dynamic.
"Students come into this program with confidence, but I've already seen them become more self-assured in their interactions with peers and alumni who come to campus," says CWB Program Director Anna Babbi Klein. "From the start, we work on skills and knowledge that empower young women."
STRENGTH IN DIVERSITY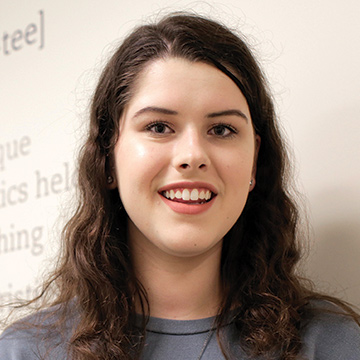 Companies like Liberty Mutual recognize that diversity in leadership and on teams presents a competitive advantage.
"Without the insight that employees bring from a wide range of backgrounds, we will be limited in our ability to successfully innovate and compete in the global market-place," says Liberty's Dawn Frazier-Bonhert, senior vice president and chief diversity and inclusion officer.
The push for inclusion has an advocate in Kristen Novit '22 (right). "I'm a strong believer in social justice and equal opportunities for everyone," says Novit, whose high school résumé includes National Spanish Honor Society president and American Sign Language Club officer. "The CWB Women's Leadership Program gives me an opportunity to engage in meaningful conversations and think critically, so I can better articulate my ideas and use my voice to advocate for equality.
"I've already met so many incredible women; I'm inspired by their passions and stories."
---
Support the advancement of young women like Kayla and Kristen. Make a gift to the CWB today.