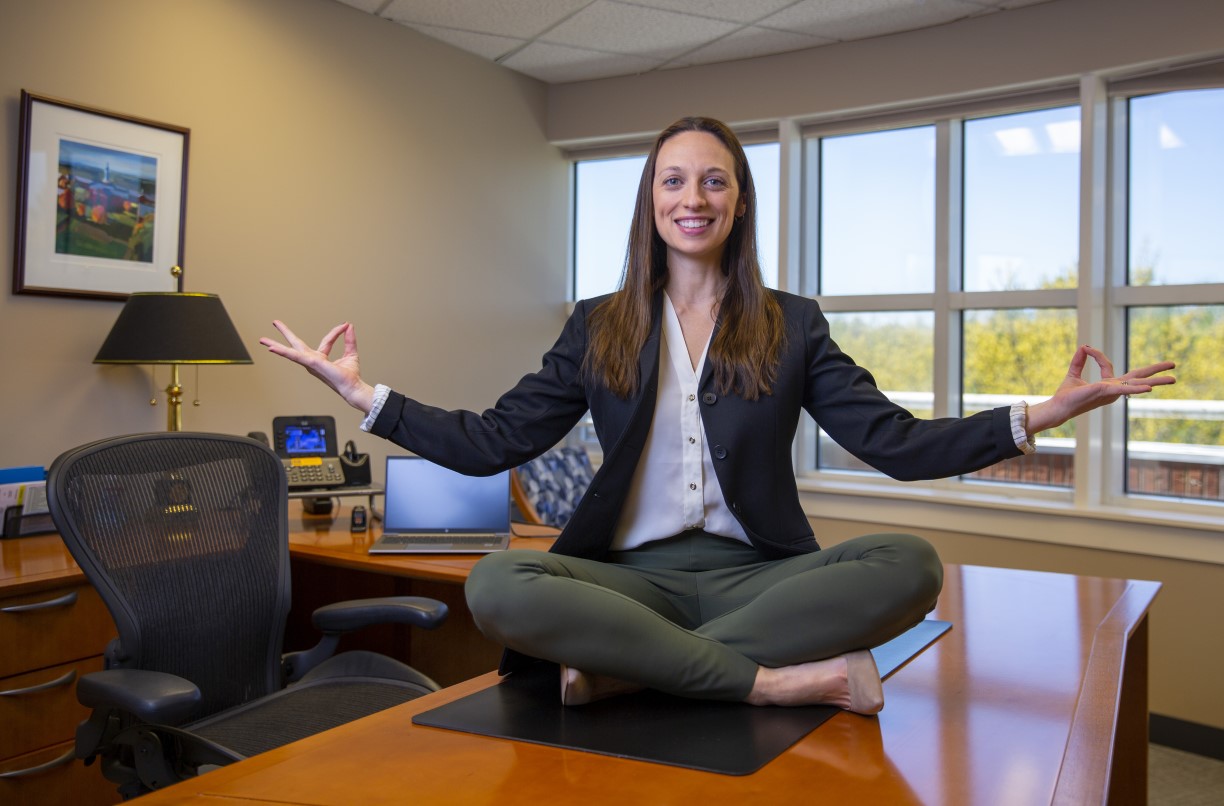 Bentley alumna Jen Palmer '07 MBA '11 says yoga can alleviate anxiety, improve mental clarity and focus and even boost creativity. (Photos by Kevin Maguire)
Working From 'Om'
Why practicing yoga can make you a better manager
"If you can't manage yourself, you can't effectively manage others," says Valerie Sullivan. An adjunct lecturer in Management, Sullivan views this seemingly simplistic maxim as key to supervisory success — which is why she emphasizes self-awareness, emotional intelligence and stress management in her Interpersonal Relations in Management (MG240) class.   
"Historically, we've been told there's no place for emotions in the workplace," Sullivan explains. "But businesses today are acknowledging that how employees feel about their work environments can affect their bottom lines." Since "we can't shut off who we are and how we feel" in the office, she says, we need to learn how to harness our emotions in positive ways. And while all employees can benefit from learning stress management techniques, it's especially important for managers. 
So how can supervisors improve their emotional well-being? For Sullivan, one answer is yoga. An ancient Hindu spiritual practice, yoga consists of a series of physical postures and breathing exercises intended to balance body and mind. (Its name derives from yuj, a Sanskrit word meaning "union.") To help her students learn more about the professional benefits of yoga, Sullivan has, for the past three years, invited a guest lecturer into the classroom: Jen Palmer '07 MBA '11, a certified yoga instructor, entrepreneur and Bentley graduate.   
RELATED: CWB calls on corporations to prioritize emotional wellness
"FIND YOUR INHALE" 
The founder and CEO of Universal Power Yoga, Palmer understands firsthand how yoga can enhance both physical and mental health. Beyond increasing strength and flexibility, she says, yoga can alleviate anxiety, improve mental clarity and focus, and even boost creativity: "My best ideas have come to me on a yoga mat." 
That's because yoga produces what Palmer calls a "flow state" by synchronizing breath and movement. "In our technology-driven world, we're losing th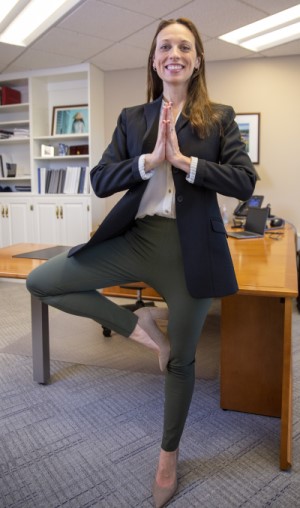 e ability to focus," she explains. "But with yoga, we become fully grounded in the moment. When we're 100% focused, mentally and physically, on what we're doing in the present, we aren't wasting mental energy thinking about the past or worrying about the future."    
The key to this mental clarity is pranayama, or mindful breathing: slow and steady, engaging the diaphragm, intentionally balancing inhalation and exhalation. Deep breathing has been shown to increase oxygen levels in the blood, reducing heart rate and lowering blood pressure.
"Our breath is a powerful tool," Palmer says — and it's one that can be easily employed in the office. "If you find yourself feeling frustrated, overwhelmed or irritated, the best thing you can do is 'find your inhale,' or center your breath. Intentional breathing will help you become calmer and grounded, making you a better decision-maker and leader." After all, she notes, "it's hard to inspire people if you're angry."    
Yoga also helps improve body awareness, which can have a major impact in the workplace. "Most people live from the neck up," Palmer explains. "But body language is incredibly important, especially in a business environment." Indeed, studies have proven nonverbal communication is often more important than spoken words in conveying confidence and credibility. Yoga poses, or asanas, not only help release tension and improve posture, she says, but foster awareness of the signals our bodies may be sending; "As a manager, you really need be aware of how you're carrying your body."  
RELATED: Why workplace wellness programs can perpetuate gender inequities
TRANSLATING PASSION INTO PROFIT 
In addition to introducing yoga as a professional tool, Palmer's classroom visits provide students with the opportunity to speak with a successful business owner. "I've found that my students really love having guest speakers who are also accomplished leaders," Sullivan says, and Palmer's experiences have proven particularly compelling.  
Despite growing up in a family of entrepreneurs, Palmer never anticipated starting her own business one day. Instead, as a Corporate Finance and Accounting major, she embarked on a career as an internal auditor after graduation. A self-professed perfectionist, Palmer says she struggled with work/life balance and took up running to help manage job-related stress. One day, while training for the Boston Marathon, she seriously injured her knee during a practice run. She took up yoga to help her with her recovery; practicing asanas soon led to a personal — and professional — epiphany.   
"Quite simply, yoga called to my soul," Palmer explains. She became certified herself and began teaching classes on the side, while also daydreaming about opening her own yoga studio one day. She was sitting in her office on April 15, 2013, when she learned that two bombs had exploded near the finish line of the Boston Marathon — the very same race she had been training for. "I realized then that life is too short, and I owed it to myself to pursue my passion." 
Today, Universal Power Yoga operates studios in Norwood and Wrentham and will soon open a third location in Westwood. While Palmer admits that becoming a business owner hasn't been easy, she credits her Bentley education with providing the knowledge and skills necessary to achieve success. "Nearly half of all yoga studios closed during COVID because they didn't have the ability to pivot," she relates. But thanks in part to what she learned during her MBA program, "our company began offering virtual classes within 48 hours" of Massachusetts going into lockdown. 
Ultimately, though, it's the lessons derived from yoga itself that have proven most valuable. "It's so easy to get caught up in debilitating emotions — catastrophizing, perfectionism, irrational thinking," Palmer says, particularly when you're launching a new business. "But yoga helps me channel more positive energy, keeping my heart and mind open to possibilities." 
RELATED: Explore health-related research from Bentley faculty