Designing Your Course in Brightspace
Brightspace provides an exciting new platform to help you enhance your course and provide a more engaging and improved student experience. Brightspace offers a course hub where you can present and deliver your content in a more visually engaging way, moving beyond acting as a simple content repository. Designing your course site effectively is the first step to better leverage the capabilities of Brightspace and to providing students with a better course experience.
Learning Design on Campus
This team is focused on providing faculty with the pedagogical tools and knowledge necessary to continue the spirit of teaching excellence that has shaped our institutional history. The members of this team support Bentley faculty in designing and assessing courses to maximize student learning through their expertise in learning experience design, evaluating learning outcomes, inclusive pedagogies, multimedia course elements and online course development.
Our Philosophy
By working with our team, faculty will be encouraged to embrace the spirit of discovery outlined in our pillars of Learning Design. Collectively these pillars aim to provide learners with a thoughtful, effective and transformative learning experience.
DE&I Statement
The Learning Design Team at Bentley University is an inclusive group focused on supporting all learners. We focus on designing accessible learning materials and course content and incorporate principles of universal design for learning in our daily work. We encourage and help faculty to include diverse, equitable, and inclusive course content. The team is committed to supporting faculty as they develop, implement, and align welcoming learning environments and instructional strategies. 
Our team is committed to ongoing learning, growth, and development in the areas of diversity, equity, justice, and inclusion.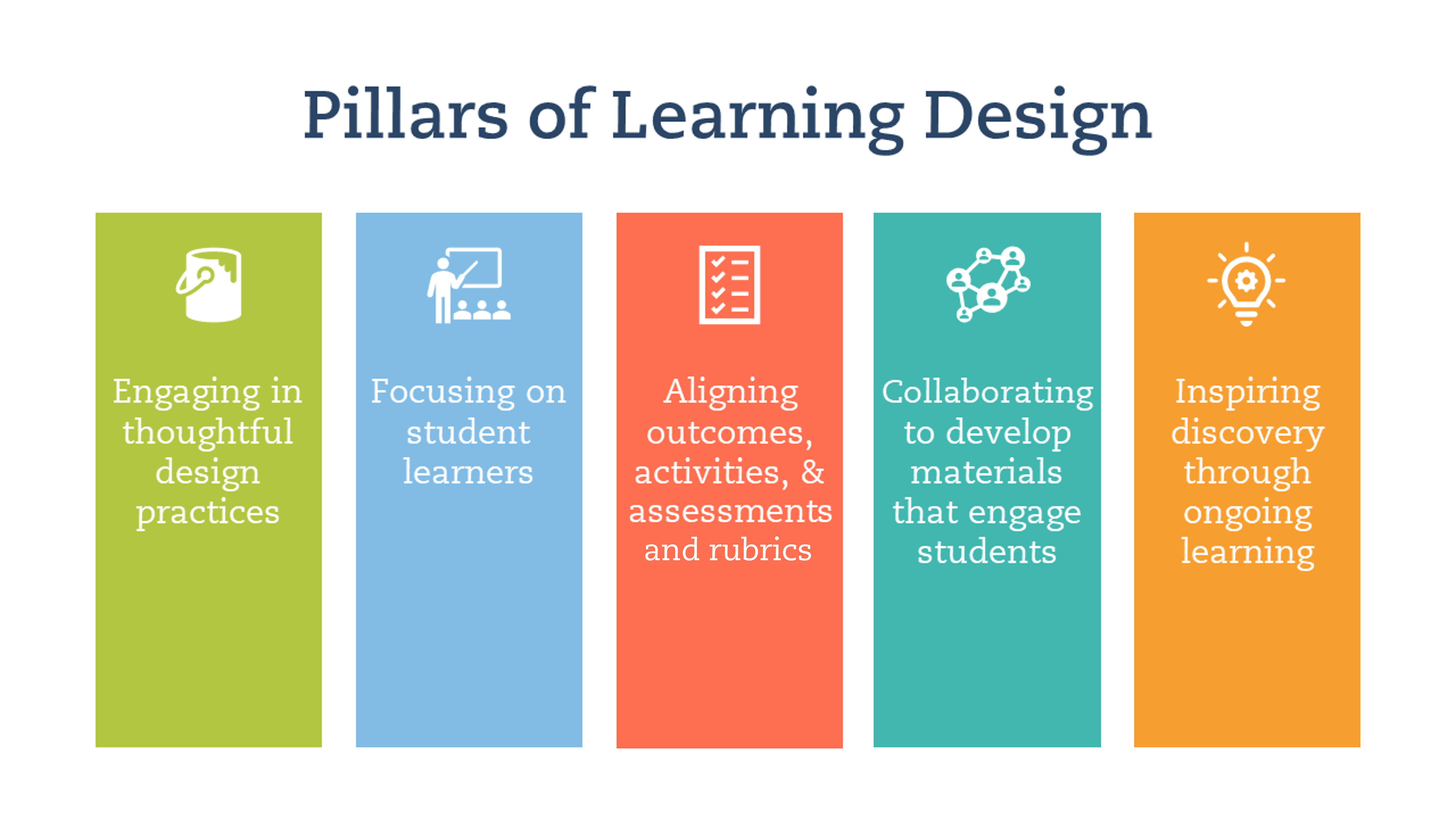 How We Can Help
Design
Our team specializes in all facets of course design. Examples of where we support faculty include designing your course in the learning management system, Brightspace; optimizing your hybrid classroom experience; and inclusive pedagogy. While we offer workshops for all faculty in each of these topics, we also work with faculty 1:1 on individual courses.
Enhancements
Providing engaging content in your course can enhance the student learning experience, as well as the teaching experience. Our team has expertise in Digital Storytelling, which includes interactive elements and animations. We also have an in-house expert in creating and recording new video and audio content, as well as state-of-the-art equipment. Additionally, more faculty are moving toward a flipped classroom experience, where students interact with content outside of the class, and then attend class prepared for discussion. We can assist you in enhancing your course through the lens of inclusive instruction.
Alignment
Ensuring that the activities and assessments included in your class are aligned with your goals and learning outcomes is important to student success. We achieve this by supporting faculty in developing measurable learning outcomes; planning their course assessments; and developing and utilizing rubrics.
Other
Our team supports faculty with creating and maintaining their profiles in Faculty Success, and coordinates and manages the Promotion and Tenure application files.
Learning Design Resources
Our most commonly used resources that faculty use to support their work in the classroom
Need a project?
Fill out this form to let us know the scope of your project.
Contact Us