Bye-Bye Blackboard
By now, you have probably heard that Bentley has adopted D2L Brightspace as our next-gen modern learning management environment. This new environment has replaced our current learning management environment, Blackboard. In case you missed the announcement or would like to know more about our transition and timeline, please check out our D2L Brightspace announcement pages
Faculty LMS Announcement Student LMS Announcement
Please note that as previously announced, Bentley's Blackboard learning management environment was retired on June 30, 2023. Prior to that date, faculty, staff, and students could still log in to Blackboard to view and download content and data from past courses. After June 30, faculty, students and staff do not have access to materials and student submissions directly on Blackboard.
Blackboard shut down after...
June 30, 2023
days
Hours
Minutes
Seconds
Summer Courses in Blackboard vs. Brightspace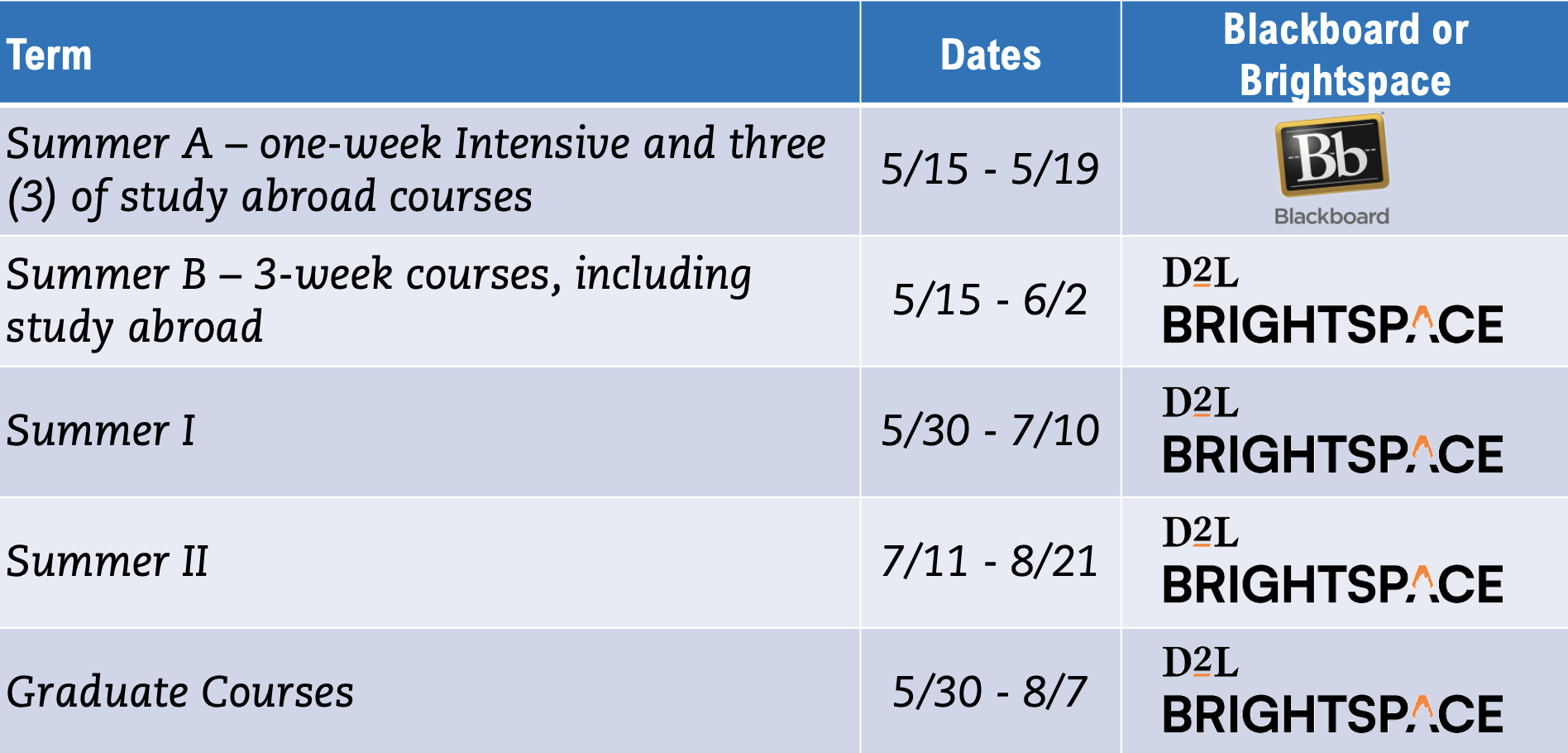 Getting content out of Blackboard (faculty)
As we transition to D2L Brightspace, we would like to provide important next steps that we are taking to preserve your Blackboard course content and a few recommended steps you should take to backup and archive your course content from Blackboard.
What we are doing
More information

Migrating Blackboard course sites from Summer 2022 onwards into Brightspace:

Migrated courses will not contain any student enrollments or student data, but will contain course content, including uploaded files, tests, quizzes, exams, and assignments. Your Kaltura videos will remain intact and will be available in your media library.

Your Summer 2022, Fall 2022, and Winter 2023 courses have been migrated. Your Spring 2023 courses will be migrated by June 15th.

Archiving all Blackboard courses in a read-only Blackboard Archive format:

This Blackboard archive will include complete courses including student data, but only be accessible to ATC staff. We will be able to work with you to retrieve data that is housed in these archives on an as-needed basis.

An online form to request access to an archived course after June 30 is available here.
Our recommended steps for you
More information

Download your course content from your courses' content collections

Each course in Blackboard has a content collection that houses all of the documents and file attachments that you uploaded as part of the course. Each course's entire content collection can be downloaded as a single zip package. This file can be housed on your local computer.

Download your course Grade Centers into an Excel spreadsheet

The Grade Center for each course can be downloaded as an Excel spreadsheet for retention of student grades on your own computer. The spreadsheet will show scores/grades but will not include copies of student submitted work such as assignments and tests.

Download student-submitted papers, tests and discussions

If you want to retain copies of student work, you can download student-submitted papers (as zip packages) and tests (as Excel spreadsheets)

Download your test item pools as QTI files

Blackboard test item pools can be download as QTI (Question and Test Interoperability) zip packages which can be imported into a wide variety of other learning management systems, including Brightspace. Please note that only a test item pool downloads as QTI, individual Blackboard tests do not.

(Scroll down to the QTI section)

Download archive copies of your course sites

While we will be retaining Blackboard archive files in storage in accordance with Bentley's data retention policy, you may also wish to store a copy of your course's archive file on your own computer. These archive files can be restored back into Blackboard (with student data) or into Brightspace (without student data) but cannot be opened from your own computer, so this should be viewed as an extra archival backup, not as a way of gaining access to your course materials after you no longer have access to Blackboard.
Getting content out of Blackboard (students)
As we transition to D2L Brightspace, we would like to provide a few recommended steps you should take to backup and archive your course content from Blackboard.
Saving your course work and course content
More information

Downloading your submitted and graded papers (with and without instructor feedback):

You can download the papers you have submitted to Blackboard assignments, either in their original formats or with your instructor feedback attached as a PDF.

Access your submitted and graded paper through Tools --> My Grades. Click on the Assignment name. On the Review Submission History screen, click on the Download icon to download your submitted paper.

Downloading file attachments:

Files such as PDFs and PowerPoints that your instructors have uploaded to their Blackboard courses can be downloaded for you to keep on your personal computer.

Access the individual files in your course content, and manually save those on your computer.

Copying your grades:

While there is no way to download a version of your Grades in Blackboard, you can highlight the information on the My Grades page and paste them into an Excel spreadsheet if you wish to keep a record of them. Please note that this will not be considered an official grade record.
Timeline