Annette Choy '22 Finds Her Voice
Her new book explores bias in the U.S. court system
For Annette Choy '22, a business law course during her first semester at Bentley had a profound impact. Choy began research into racial profiling in the court system and soon realized how deeply ingrained were the problems with the nation's justice system.
The more she researched, the more impassioned she became. She felt empowered after watching Innocence Files, a Netflix documentary series that exposes a series of wrongful convictions. Still, she wasn't sure how to personally make a difference until watching coverage of the outcry at the murder of an unarmed Black man by Minneapolis police in May 2020.  
"Before the protests following George Floyd's murder, I still didn't know w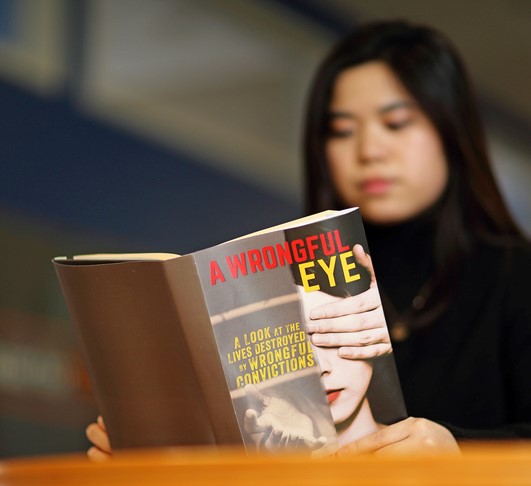 hat I could do as a young student," Choy says. "But when I saw people coming together to speak out, I realized that you're never too young to start advocating for what you believe in and fighting for social justice. I found my voice."
Choy was particularly moved by the stories of wrongful convictions she learned about in her research: Stories like Huwe Burton, a 16-year-old from the Bronx, New York, who was convicted of his mother's murder after being coerced into making a false confession. And Patrick Pursley, a new father from Illinois who spent two decades in prison for murder due to flawed testimony from a ballistic expert.
The stories were so moving that Choy decided to compile and share them. After two months of research gathering data and making cold calls, she connected with the publishing company New Degree Press to publish the book. A Wrongful Eye will be published in spring 2021.
"Having this opportunity to write a book is so special to me," Choy says. "I've been inspired by people who are willing to share traumatic personal stories in order to prompt change. They are so strong."
Aside from her book and a law minor at Bentley, Choy is immersed in her Computer Information Systems major. She discovered a passion for technology during her first semester, after taking an Introduction to Information Technology and Computer System Concepts course that piqued her interest. An externship at Deloitte Consulting gave her an in-depth comprehensive introduction to the world of technology consulting.
"I was able to work with Deloitte consultants, which taught me so much about what that kind of career is like and the kinds of projects they work on," she says.
Through Bentley's Women's Leadership Program, Choy says she was inspired to look for opportunities that help women develop strategies for leadership advancement and self-advocacy. 
The Gloria Cordes Larson Center for Women and Business
Her favorite program was a seminar about unconscious bias in the workplace. "It was particularly impactful as I am going into a male-dominated field. Just being surrounded by other women and having that network of women mentors -- and learning about gender bias -- was eye-opening for me. Having that support system has been really important."
Choy recently accepted a full-time job offer from PwC as a technology consulting associate, which will begin after her graduation in May. In her new role, she will provide training and help clients integrate the Salesforce customer relationship management platform into their operations.
By then, she'll have another title, too – "author" – after her book is published in April.
I realized that you're never too young to start advocating for what you believe in and fighting for social justice.