Bentley Black Student-Athletes
BBSA formed to understand, recognize and appreciate contributions of Bentley Black student-athletes
When asked about the attitudes of Bentley University's Black student-athletes last summer, football defensive back, co-captain and Management major Jailen Branch '22 said, "Prior to George Floyd, Bentley was all talk. There was a great deal of talk, statements, and speeches, but no action. Being a student of color at this predominantly white institution, I can speak for myself and others that we felt a lack of support as our voices weren't really heard."
His thoughts were echoed by Haley Bernhardt '23, a junior majoring in Business Economics and a women's soccer player. "Before George Floyd, issues of race and social justice were never really discussed among people on campus. Issues like that were always seen as too controversial to discuss."
As the 2021-22 academic year draws near, there has been significant change in their viewpoints. A primary reason has been the formation of the Bentley Black Student-Athletes, a group known as BBSA and inclusive of all the university's Black student-athletes.
Branch and Bernhardt are among the organization's leaders, serving as president and vice president, respectively.
"It's an organization created for the Black student-athletes by the Black student-athletes," said Vaughn Williams, who was named Bentley's third director of Athletics nearly a year ago. "It was a part of our Racial Justice Action Plan."
According to Alvin Reynolds, Bentley's associate director of Athletic Diversity and Inclusion as well as the BBSA's advisor, the process to create BBSA was started a year ago. After many meetings and discussions, and much preparation, the group decided to form an executive board and move forward.
"Our goal is to create an environment conducive for students, administrators, faculty members and citizens of the Waltham community to understand, recognize and appreciate the contributions made by Bentley Black student-athletes," said Reynolds, who is in his fourth year as an assistant football coach with the Falcons.
Steps like this are important because it works to diversify not just the athletic department, but Bentley as a whole.
Vice President, Bentley Black Student-Athletes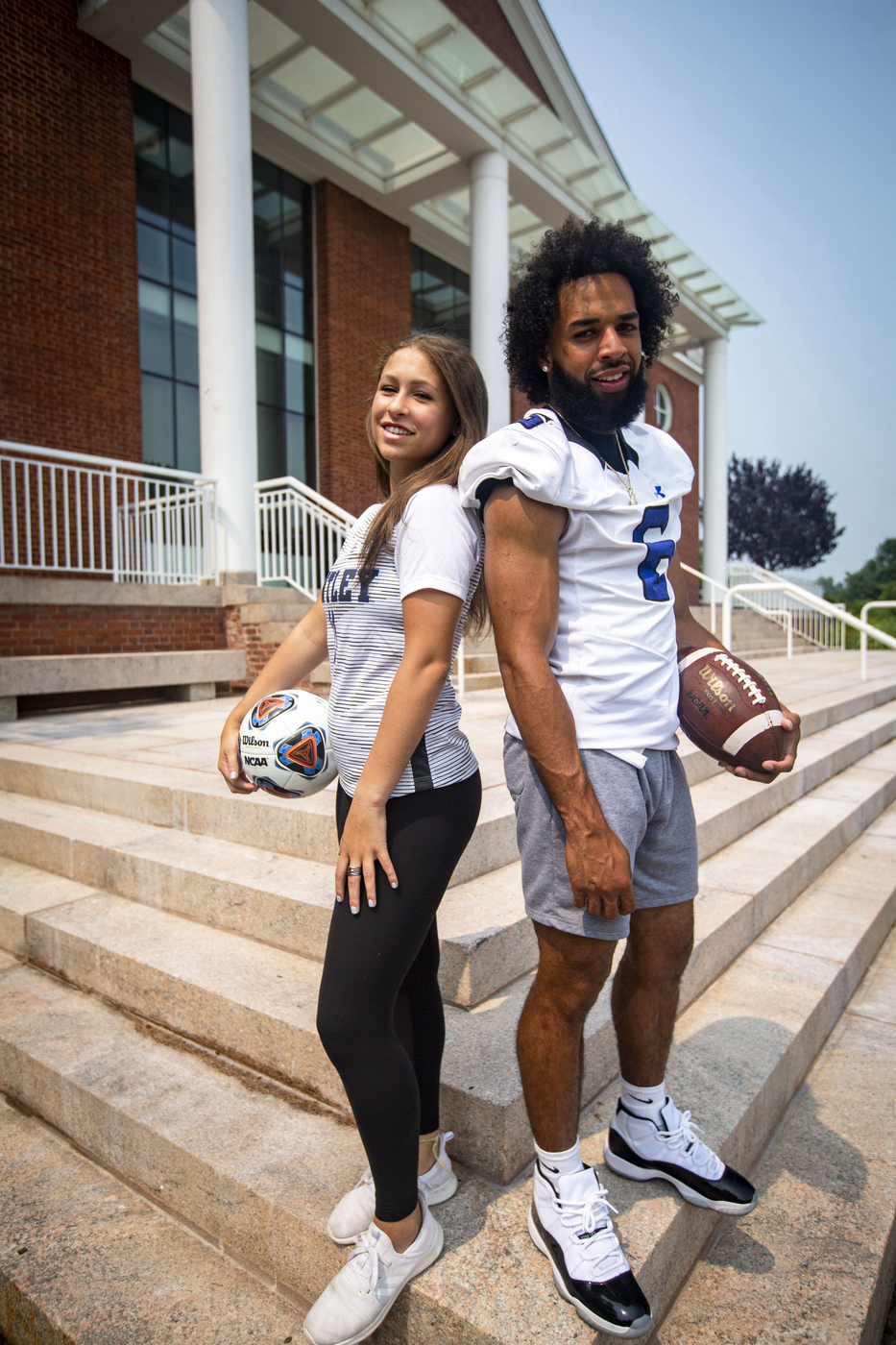 "I think the Bentley Black Student-Athletes organization is important in changing the image of Bentley athletics," said Bernhardt. "By coming together as Black student-athletes, we will be able to have a stronger collective voice. 
"It will also make the environment more diverse and inclusive so that more and more Black student-athletes will feel welcomed because they see people at the university who look like them," continued Bernhardt. "Steps like this are important because it works to diversify not just the athletic department, but Bentley as a whole."
Branch sees the addition of BBSA as laying a foundation for a better Bentley in the future. "I want students of colors, especially athletes, to have a better college experience than I have had. I have seen the ins and outs over my time here and I think I have the ideas and the persistence to help push this institution forward for us Black student-athletes. 
"In addition, I want to help break the stereotype that Black athletes are just athletes and not students. I want to show we are just as smart and capable as our peers. I want people to know that Black athletes are not always just about playing a sport. We can excel on the field, court, track, ice, but also in the classroom and in the world as leaders as well."
"The work continues for Bentley athletics and obviously, Bentley University," said Williams. "We're committed to getting better and creating an inclusive environment that can deal with the diversity that we're trying to pursue."
 
Breaking Barriers with Bitcoin and Basketball
Bernhardt sees BBSA as nothing but a positive, one that will have a major effect on the Bentley University of the future. "I want to see this group change the image of Bentley athletics and allow Black student-athletes to have a voice and power in numbers. By doing this, we can make the athletic department more diverse by making it more appealing to athletes of color who are applying to schools."
With fewer than 50 Black student-athletes on a campus that enrolls more than 5,200, Branch feels that BBSA will give a voice to a group that is underrepresented. "You won't feel alone as BBSA will create a family that you can rely on and that will support you on this campus and in life.  Everyone who is a part of the organization has a great deal in common, so with this group, we can come together as one so our voice is louder and heard and not drowned out by the rest of the population."
Bernhardt, who would like to pursue a career as a lawyer with the NAACP, also has hopes that other institutions will follow Bentley's footsteps. "I would also love to see this type of group become more common at other institutions once they see the steps Bentley is taking. It would be awesome if we could pave the way for other Northeast-10 schools to do something similar because I think having a group like this on a campus is very important."
Branch praised the leadership and guidance from Reynolds and Williams. "I couldn't be any more appreciative of Coach Reynolds and Vaughn. Since our athletic director's arrival on campus and Coach Reynolds earning the title of associate director of Diversity and Inclusion, change has been more visible than ever before, especially for a student like myself. There is still a lot of work to be done, but with these two, the sky is the limit for student-athletes of color at Bentley University."
The excitement is not limited only to the student-athletes it affects, but also shared by Williams and Reynolds.
Williams commented, "I think this is in some ways a historical start for the new organization in Bentley athletics and it might not be the last one. I am looking forward to seeing all the good things, the legacy, that this group leaves and we can add on for any Black Bentley student-athletes that come beyond them. I'm excited about it!"
BBSA E-BOARD
President: Jailen Branch '22; Vice President: Haley Bernhardt '23; Secretary: Isaac Martin '23