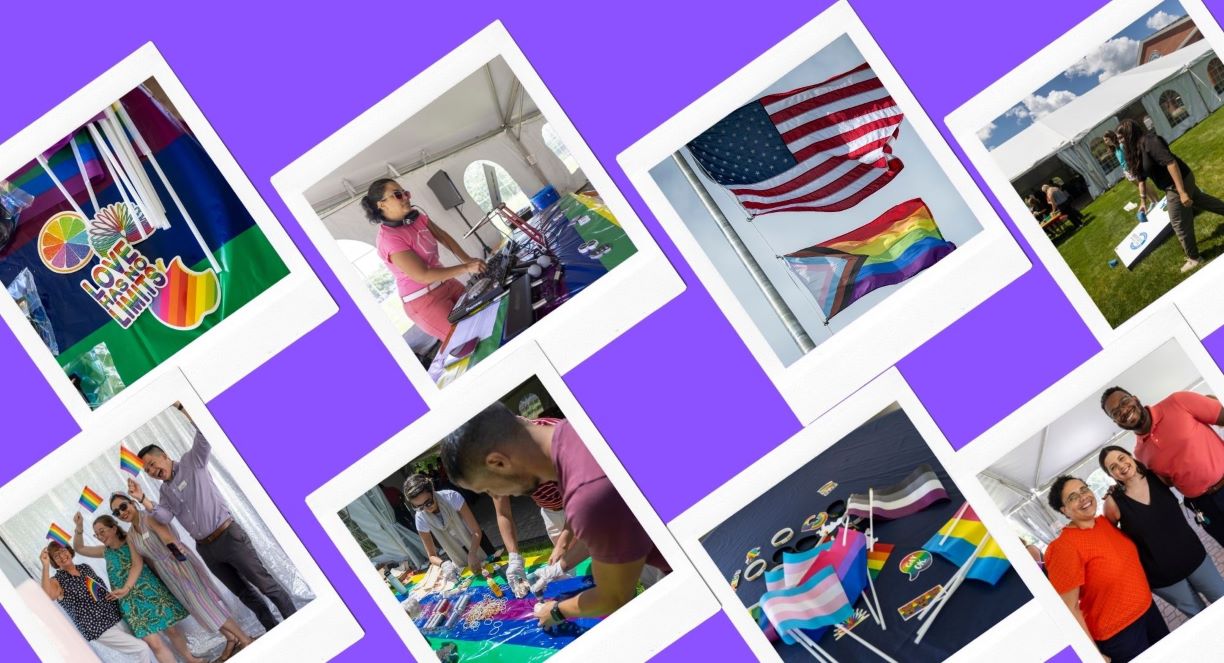 Photos by Kevin Maguire
Bentley's First Pride Month Block Party Celebrates LGBTQ+ Community  
Colorful pride flags waved in the summer breeze under a tent on upper campus as about 100 people gathered for Bentley's first-ever Pride Month Block Party. The function, hosted in partnership by the Office of Gender and Sexuality Student Programs (GSSP), the Multicultural Center and the Office of Diversity and Inclusion, was the result of a collaborative effort to create a campus-wide event to celebrate and support the LGBTQ+ community. 
"When we were thinking about an event to close out Pride Month, we wanted to create a space where we could come together to create a joyous moment as we celebrate the LGBTQ+ community," GSSP coordinator Nana Adu says of planning the Pride Block Party. "Inspired by an ongoing theme of 'community,' we also wanted to make sure that folks felt comfortable inviting family members and friends to the event. The Pride Block Party provided an opportunity to do that."  
Adu, who managed the event, says that she intentionally chose queer and Black-owned businesses (in honor of Juneteenth) to provide food and entertainment, which included a buffet provided by ZaZ Restaurant, desserts by 7ate9 Bakery, an art exhibit by Right to Left Studio, music provided by DJ Skooch and a photo booth by Boston Photobooth Rental.   
We wanted to create a space where we could come together to create a joyous moment as we celebrate the LGBTQ+ community.
JOYOUS MOMENTS
Bentley faculty, staff, students and their friends and families felt the sense of community that resonated throughout the event.  
"I am proud to work at an institution that invests in celebrating all of us in the Bentley community," says Christine Lookner, associate dean of student equity and inclusion. "I loved seeing folks' families and partners and even incoming students in a space that was truly intersectional and celebratory."  
"These kinds of events are so important because they bring the Bentley community together to show that we embrace all sexual identities and gender identities — and it allows us to do so in such a fun way!" says Vibha Vishwa '23, a Management major and student ambassador in the Office of Undergraduate Admission. 
Lizzy Mastromonaco '24, also a Management major and student ambassador, says the block party "was a great way to show our support and be allies."
The event presented a time of reflection for David Kelly Truong, assistant director of employer relations & recruiting in the Pulsifer Career Development Center. "Working in higher education has always been a dream of mine because I never took for granted how welcomed I felt in my undergraduate days. The block party and other events Bentley hosts demonstrate that the university advocates for and supports students, faculty and staff of all backgrounds and cultures."  
Kelly Truong also found it inspiring to connect with colleagues. "With this event, I was able to interact with colleagues across campus and feel compassion and care for each other. This is what I identify as inclusion in the workforce: It is more than just having a team read a book, having faculty-specific training or having resource groups — but having get-togethers to socialize, educate and understand the differences in our world."  
Meg Ward, associate director of learning and development and engagement strategies in the Office of Human Resources, found that same kind of connection. "Events like the Pride Block Party are so important for creating space, engaging with colleagues and celebrating the LGBTQ+ Bentley community."
Let's Get Creative
A tie dye activity adds color to the block party festivities. Artist Jennifer Johanson of Right to Left Studio poses with mom Lynne Johanson, program assistant of the Bentley Service-Learning and Civic Engagement Center.
Photo Booth Fun
Members of the Office of Gender and Sexuality Student Programs, the Gloria Cordes Larson Center for Women and Business, Office of Diversity and Inclusion, Pulsifer Career Development Center and University Advancement show their department pride taking turns in the photo booth with colorful props.
Let's Get Festive
Dionne Daniels, assistant director of Cronin Office of International Education, gave kudos to Adu for organizing and planning the block party. "I especially appreciated the food from ZaZ Restaurant; their baked mac-and-cheese reminded me of my southern roots!"
She adds, "Seeing the Bentley community and their families and friends gather outside to celebrate PRIDE was a memorable moment for me. The event is another example of how welcoming the campus community is to everyone."