Choosing Service
Yawkey fellow Erin Desimone '21 on being a force for others
(Photo above: Desimone, second from right, at a conference with Waltham High School students, part of her work with Waltham Partnership for Youth.)
During her first semester at Bentley, Erin Desimone '21 "fell in love" with the service work that was part of her IT101 course. Working with the America Clicks! program, Desimone taught computer literacy to students in Waltham elementary schools.
"I had done community service in high school and liked it, but I had no idea I would end up becoming this involved and falling in love with it so much," Desimone says. "The elementary students were so excited to see us every week, and I was so excited to see them."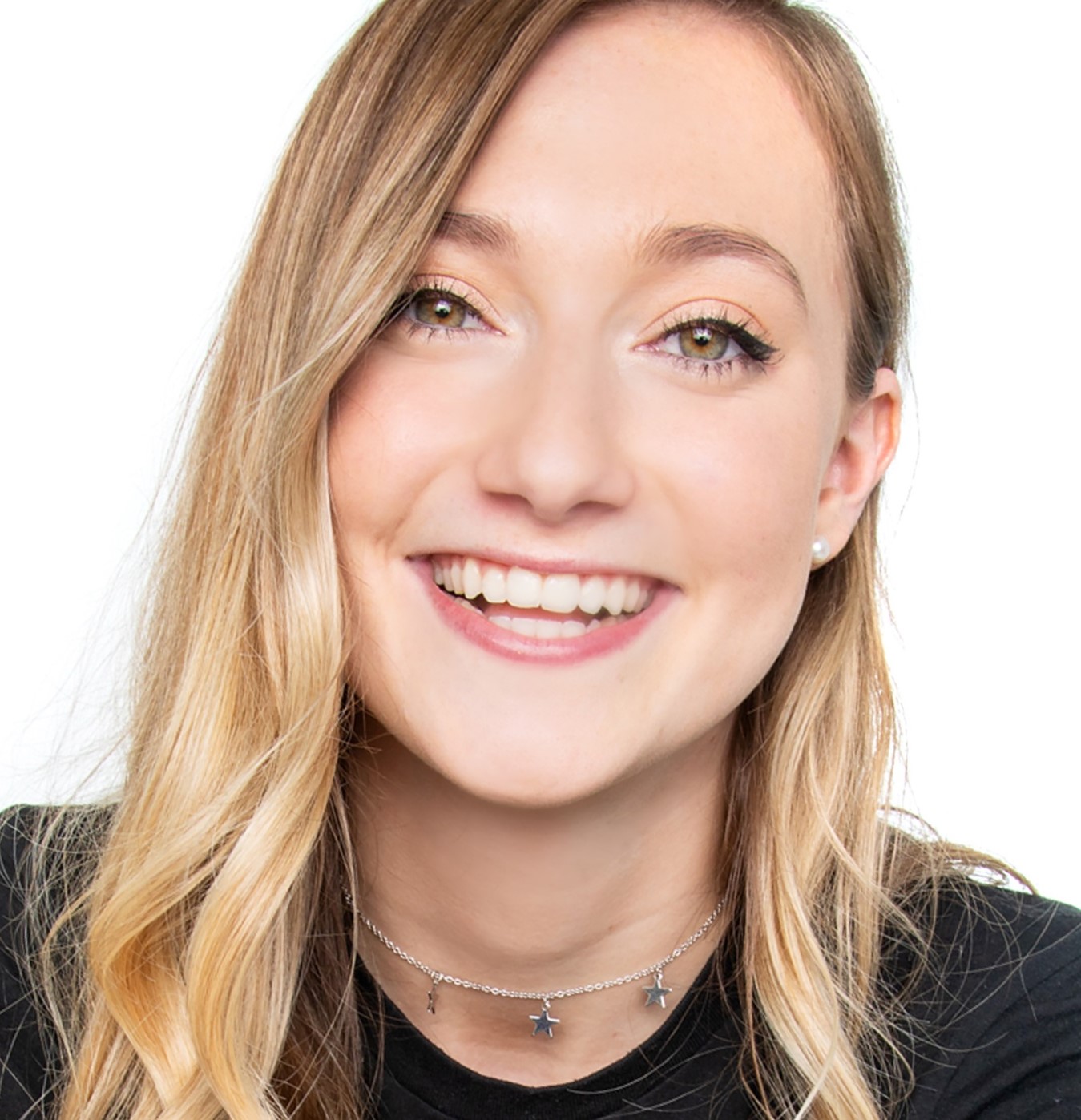 The work was challenging because the young students had varying levels of computer literacy. Desimone says some students, as old as fifth grade, had never used a computer before. "The various skill levels due to income inequality meant some students could use computers at home, but most families didn't own one. It was up to the Bentley students to tailor the experience to the student and their skill level. I would have someone on my right teaching someone how to log into a PC, while on my left a student was learning how to add equation functions in Excel."
Desimone most enjoyed the relationship-building and mentoring. "It is beyond motivating to come into a room of smiling children who are excited to spend time with you. You end up spending 10 weeks with them, and over the course of that time they become comfortable with you and share stories and experiences. Some of the Waltham students can't imagine what it's like to go to college, and the Bentley students act as realistic role models for them."
Service will always be a part of my life.
Clearly something "clicked" with Desimone when it came to service. So when an email came across her desk about an opportunity to intern at a nonprofit through the Yawkey Fellowship, she decided to apply and was accepted into the inaugural class. Managed by the Bentley Service-Learning and Civic Engagement Center, the program was made possible by a grant from the Yawkey Foundation.
Desimone's internship was at Waltham Partnership for Youth. An Economics-Finance major, she started by reorganizing their accounts and running accounting reports. "They also needed help with social media," she says. "Their target audience was teens so they wanted someone younger to revamp it."
The next semester, Waltham Partnership for Youth hired Desimone to work with their Trailblazers high school student volunteer group, which focuses on educating, advocating and creating policy change around substance use and mental health.
"I created a website for their coalition that focuses on vape education for high schoolers," Desimone says. "The website included resource education, ways to get involved and current stats. I teamed up with the Trailblazer group to spread the word and hear about the vaping culture at Waltham High School."
Business as a Force for Positive Change
In her junior year, after returning from studying in Dublin, Ireland, Desimone started a new program with Waltham Partnership for Youth called the Career Success Institute. The program helped with resume and cover letter prep for the high school students who wanted an internship through WPY's initiative "Ready, Set, Job."
"Given the successful career development Bentley prides themselves on, I thought this program would be extremely successful," says Desimone, who leveraged resources from Bentley's Career Development course (CDI). "I saw it as something beneficial that Bentley students could help with."
Desimone recently accepted a full-time job at FactSet as a client solutions associate in New York. One of the biggest draws to the company, she says, is the service work they do in the community. 
"During my internship there over the summer, we did a virtual service project where we helped map buildings on Google maps in developing countries to help COVID relief workers target areas with people living in them," Desimone recalls. "Service will always be a part of my life. I will only work for companies that embody that ideal, and I plan to be on nonprofit boards in the future."