'Do Not Fear Challenges and Disappointments'
Commencement 2023 remarks from NCAA President and former Massachusetts Governor Charlie Baker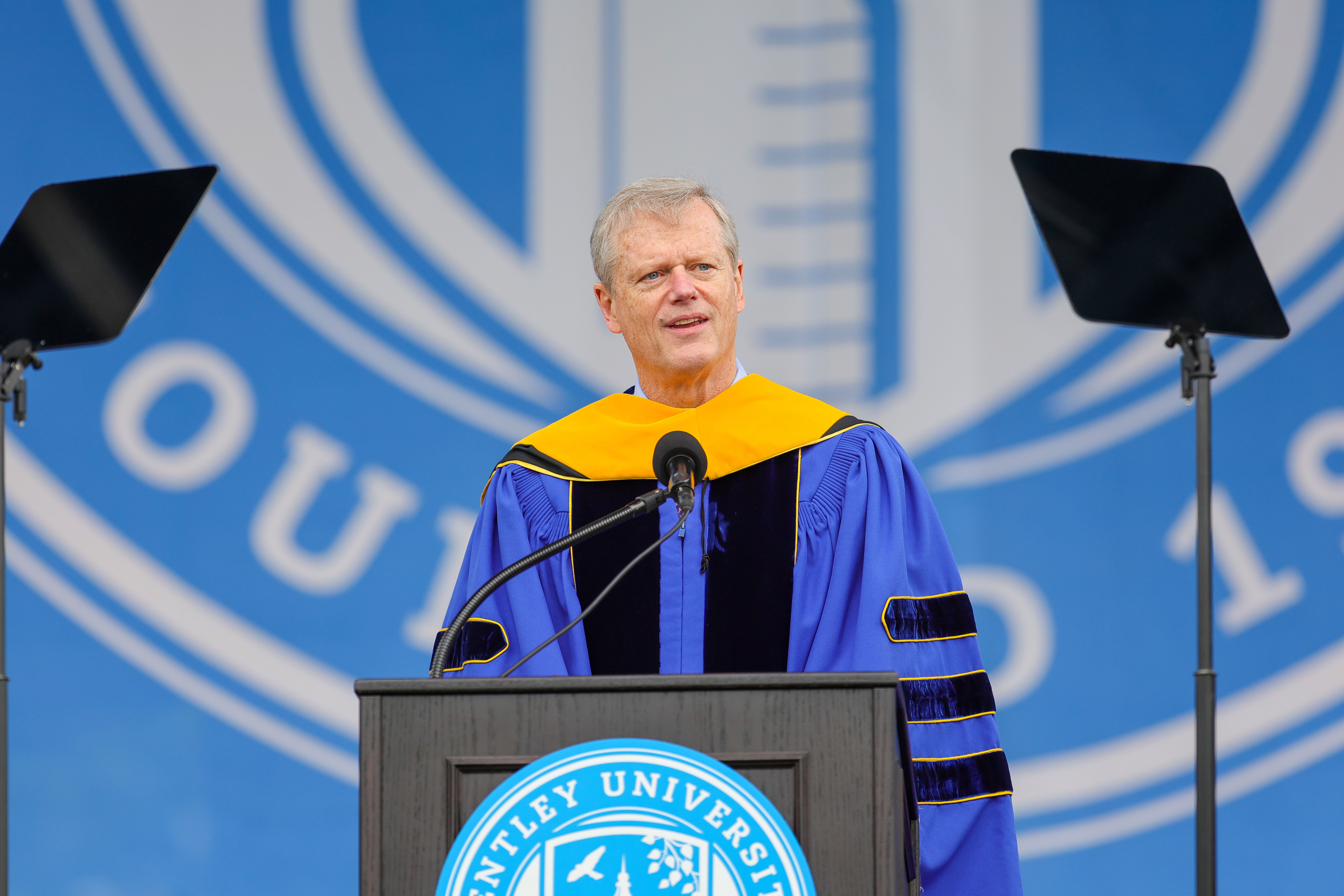 Photo by Damian Strohmeyer
Good morning. Thanks very much for giving me this opportunity to speak with you today. Before I begin, I want to take a minute to congratulate the Class of 2023. You entered Bentley in the fall of 2019, and your collegiate experience has been one that will hopefully never be repeated. Your discipline, creativity, resilience, kindness and grace were all put to the test, time and time again. And your success and presence here today proves, beyond any reasonable doubt, that you are an exceptional group of young people. 
I've been to three of my own graduations: high school, college and graduate school. I have no idea who spoke at my high school graduation. German Chancellor Helmut Kohl spoke at my college graduation. I do not remember what he said. And General Motors CEO Roger Smith spoke at my business school graduation. I do not remember what he said, either. 
So I recognize the extremely high bar I have to climb over to say something you all might remember. 
Let me start with this: Your lives will continue to be filled with choices and challenges. The choices you make will play a big role in the challenges you face, and how you handle them. First, please try to make good choices! 
Second, be a good listener. You learn more when you listen, even if you don't always want to hear what's being said. This will also help you with Rule #1: Try to Make Good Choices.
Third, appreciate that life is a team sport and that purpose usually comes from shared commitments. Again, this will also help you with Rule #1. 
Are you detecting a theme yet? 
With respect to the choices you will make, let me tell you a story … 
No one would have expected my grandmother and grandfather to choose one another. They met at an airfield in France during World War I. She was with the Red Cross, and he was a National Guardsman. She was from Massachusetts and a graduate of Smith College. He was from New York City and never went to college. 
But they made a connection, and after the war, they wrote to each other. Not emails. Not texts. Not phone calls. No picture sharing. They simply wrote letters for months. 
After a while, he wrote to her and asked her to marry him. She wrote back and said no. 
He was crushed. 
It turned out her mom and dad weren't wild about their daughter marrying some stranger from New York City — probably a Yankees fan! — who didn't have much of a life story, or the resources to come visit and ask for her hand in person. All good points in the early 1920s. 
But the more she thought about it, the more she thought he was the one for her, and she did something that was a bit shocking at the time. She ignored her parents and wrote back to my grandfather and asked him if his marriage proposal was still on the table. 
He said it was. 
They got married, and settled just outside of New York City, where he was working first as a salesman and then eventually as a director of personnel at a men's clothing store. 
They raised three children and my grandmother spent countless hours volunteering for the Red Cross and substitute teaching. Life was good. 
Through a series of unfortunate events, my grandfather lost his sight in his mid-60s, and then became pretty physically disabled. My grandmother couldn't take care of him by herself, so they moved back to her hometown in Newburyport, where she had tons of family and a lot of support. 
As kids, we spent hours and hours with them — and in fact, my grandfather taught me how to love the Red Sox. He used to listen to every game on a battery-powered transistor radio, and I would sit with him, soaking in the sounds of the ballpark behind the chatter of the commentators. 
Listening to a baseball game with someone who is blind is completely different than listening to it with someone who can see. He never got distracted. He was totally focused on what he could hear. And the sounds coming out of that radio filled the small living room we sat in on game days to the brim. 
Honestly to this day I thought it one of the most amazing experiences of my life. 
My grandmother remains one of the smartest people I have ever met. When I was in high school, I asked one of my history teachers if she could come guest lecture. She started her remarks by saying, "My grandfather was born before George Washington died" — and then she was off. A personalized, interactive discussion of U.S. history, woven together with direct connections between historic events and family folklore. My classmates couldn't get enough of it. 
My grandfather died in 1971 — one year before their 50th wedding anniversary — and my grandmother died in 1982 at the age of 96. 
I tell you their story because they made an unusual choice. They chose each other. They were an odd couple for their time, and they never had much money. But they built a purposeful and beautiful life. 
They had big challenges. But they played the hand they were dealt with kindness and optimism, and they played it together. 
This is important. Every hand will come with surprises and disappointment. Yours will, too. 
Who will play that hand with you? It's one of the biggest and most important choices of all that you will make. 
Do not fear challenges and disappointments. Growth is often about getting comfortable with being uncomfortable and learning from difficult moments.
NCAA President and former Massachusetts Governor
Second: Be a Good Listener. 
When I ran for Governor the first time in 2010 and lost to former Governor Deval Patrick, that hurt. 
In fact, I was still pretty sore when a young man called me and said he was organizing the First Robotics competition at the Agganis Arena at Boston University. He wanted me to come speak to the teams that were participating in the contest to kick off the morning. 
I reminded him I had just lost the election, and questioned him, "Why me?" 
He paused for a minute and then said, "I think you're perfect. I want you to talk about why it's OK to fail." 
My first thought was, he was very lucky he wasn't standing in front of me! 
And my second was to hang up. But I'd been raised by my parents to hear people out. And I heard him out and in time, I thought the story he was asking me to share was a good one. So I went and I told it, and to this day, I still run into people who were there who tell me they were glad that I did. 
This whole thing about listening that several people have talked about, it's real. My mom was a Democrat, and my dad, who is now 94, is a Republican. As far as I can tell, I think they cancelled each other out in almost every election. Maybe even mine! 
Growing up, the dinner table at our house was a constant conversation. I had friends who lobbied to come by just to watch. Nobody's motives or character were questioned when my mom and dad went back and forth on the issues of the day. Nobody threw anything. But people had plenty of opinions. 
There was only one rule. You had to listen more than you spoke. And when you spoke, you had to demonstrate some appreciation for what the other person was saying. 
In their house, being part of the team meant appreciating more points of view than just your own. And demonstrating it respectfully on a regular basis. 
My parents were great partners, to each other and to those around them. And as my mom always said to me when I was young, "You have two ears and one mouth for a reason!" 
Be a good listener. You will learn. You will grow. And you may just marry someone who doesn't always agree with you! 
Finally, find purpose. There is a lot of talk about happiness these days. I think happiness is fleeting, and chasing it misses the bigger picture. What really matters — and what sustains happiness — is purpose. 
Purpose comes from being "in it" — whatever "it" might be — with people you care about, and who care about you. Marriage. Friendship. Work.  Community Service. Play. Child-raising. Coaching. Teaching. Cheering. Volunteering. 
Note that I didn't mention politics. 
I found tremendous purpose in public service, but it pales compared to 35 years of marriage, three children, and the neighbors and friends who bucked us up for years before I did anything in government — and have been there to do the same throughout my time in office and beyond. 
I'm 66 years old. That's 787 months and 23,912 days. I've had good days and bad ones. Good months and bad ones. Good years and bad ones. But that is not what I remember. What I remember — what I cherish most of all — are the people I have had a chance to share my time with, the relationships that I've been able to develop and how those people have made me feel. 
I've tried desperately hard not to let them down. To be there for them. To set a good example. 
My dad always felt he won the lottery when he met and married my mom. And while he hated the Alzheimer's disease that ruined the last 10 years of her life, he found joy in caring for her when she got sick. It gave him purpose. 
Make good choices. Be a good listener. Appreciate that life is a team sport. And find purpose in the things you choose to do. 
Yes, those are clichés. However, that doesn't make them wrong. It just makes them old. Like me! 
Let me close with this. When my daughter graduated from college just before the pandemic, I wrote her a letter. Here's a part of it … 
"Every life is about choices and challenges. You choose your friends. You choose your path. You choose your attitude. Over and over and over again, you will choose. The challenges, whatever they may be, will be there no matter what choices you make. But the choices you make can determine the kinds of challenges you will face, and the arsenal of support and guidance that will be there to see you through them.… Do not fear challenges and disappointments. Growth is often about getting comfortable with being uncomfortable and learning from difficult moments. My life's journey has had many disappointments — but I learned from those experiences, and I had your mom and my network of friends and colleagues to help me see my way through it. I love you, Dad." 
I wish you all well. Believe it or not, your graduation is just the end of the beginning. The next chapter, well that belongs to you. Try to make good choices. Listen; the world will be calling. And find great partners to make your world a better place. 
Good luck and God bless! 
'Stay True to Your Own True North'
'Give Your All to the Moment'
Read the Full Commencement Coverage