NCAA President Charlie Baker Tells Bentley Graduates 'Life is a Team Sport'
2023 Commencement celebrates 1,523 graduates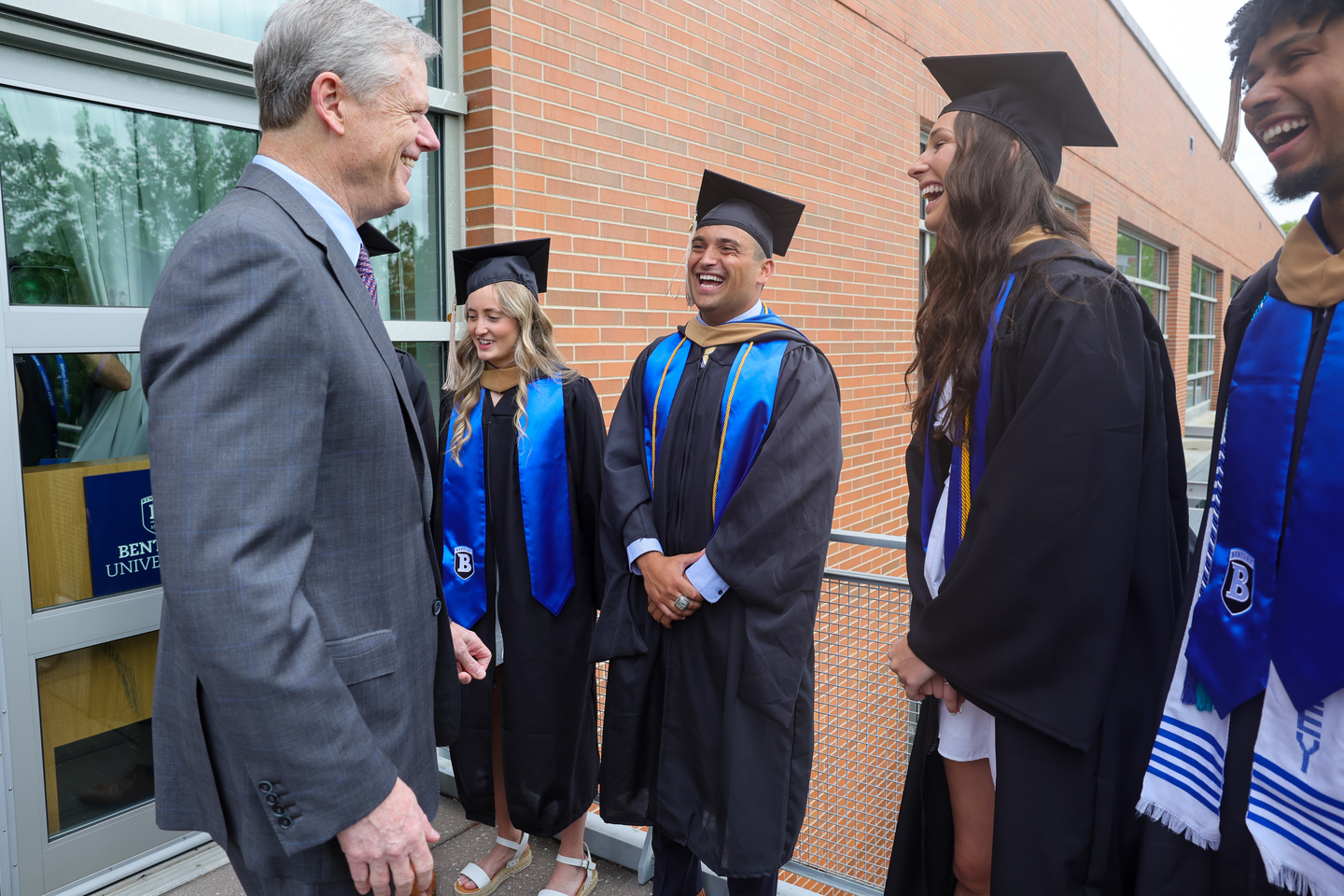 NCAA President Charlie Baker talks with Bentley University student-athletes before the commencement ceremony. Photos by Damian Strohmeyer
The crowd erupted in celebratory cheers as the undergraduates of the Class of 2023 processed onto the Bentley football field for the university's 104th undergraduate commencement ceremony. Waves, smiles and hugs were in abundance as students took their seats and watched congratulatory messages from family and friends worldwide appear on the oversized screens before the ceremony began. Decorated graduation caps added extra pomp and circumstance to the festivities with colorful hand-crafted messages like, "The best is yet to come."
Approximately 7,000 people attended the ceremony to celebrate the more than 900 graduates, and a livestream connected hundreds more loved ones who were unable to attend in person. Charlie Baker, president of the National Collegiate Athletic Association and former Massachusetts governor, delivered the commencement address, his first since becoming head of the NCAA in March. 
Commencement 2023 in photos
Bentley 2023 Commencement Recap
Bentley President E. LaBrent Chrite welcomed the crowd and commended graduates for their ability to adapt to an economic marketplace and society that are ever changing. "Emergent and ubiquitous technologies will continue to disrupt how we work and interact, and the chasms across our society seem unlikely to dissipate anytime soon. Despite the changes and uncertainties, I remain hopeful in our collective futures because I remain inspired by the communities of young adults — like you — who will soon assume the mantle of leadership and who have not lost the capacity to be outraged at unfairness and injustice." 
The president emphasized the necessity and potential for business to do good and shared his confidence in the graduates to do just that. "Our hope is that while here you have realized the transformational possibilities that result from sustained exposure to differing points of view. We have intentionally exposed you to ideas and experiences that will enable you to discern between what is right and what is easy, and to recognize that with the privilege of the education you've just received comes a responsibility to a greater good." 
He concluded by encouraging graduates to focus their professional goals on finding purpose. "Once you identify meaning — your own true north — I can assure you that happiness and success will follow; and more critically, it will endure."
'Stay true to your own true north'
In his remarks, Baker pointed out that his father is a Republican and his mother was a Democrat and said that helped teach him from a young age the importance of considering different points of view. "Be a good listener," he said. "You learn more when you listen — even if you don't always want to hear what's being said." 
Baker also encouraged graduates to create a strong support system of family and friends around them. "Appreciate that life is a team sport, and that purpose usually comes from shared commitments."
Appreciate that life is a team sport, and that purpose usually comes from shared commitments.
NCAA President and former Massachusetts Governor
He told the story of his grandparents' enduring relationship, which began when they met at an airfield in France during World War I. "They chose each other … they built a purposeful, beautiful life," Baker said. "They had big challenges, but they played the hand they were dealt with kindness and optimism – and they played it together. 
"This is important," he continued. "Every hand will come with surprises and disappointment. Yours will, too. Who will play that hand with you? It's one of the biggest and most important choices of all that you will make." 
Sharing an excerpt from a letter he wrote to his daughter at her college graduation, he told graduates, "Do not fear challenges and disappointments. Growth is often about getting comfortable with being uncomfortable and learning from difficult moments."
Before the ceremony, Baker, a former Harvard University basketball player, met with a small group of Bentley student-athletes to talk about their athletic experiences and plans after graduation. For six years in a row, Bentley student-athletes have achieved the highest graduation rate in the nation at 99%, according to the NCAA.
'Do not fear challenges and disappointments'
Senior Class Cabinet President Alyssa Gaeta '23 encouraged fellow graduates to build relationships and make memories instead of focusing on "the anxiety of accomplishment" — a continuous and sometimes hard lesson that she had to learn for herself.  
"Seizing the moment and making the most of what we are doing is essential; give your all to the moment that you are living in, because that will create happiness and memories that will last forever," Gaeta said. "Over the past few years, we have all started to learn how to lead a life of sustainable joy. We have all had to make decisions about what our future may look like. Now is the time to apply that learning."
'Give your all to the moment'
Saturday's ceremony brought to a close a weeklong schedule of traditions during which the university celebrates its seniors, including a champagne toast at the president's house, an award ceremony for seniors in the Bentley Arena, and other events where students received commencement regalia cords for academic accomplishment or participation in a student organization. 
On Friday, May 19, the university also honored PhD and graduate students in the 48th annual commencement ceremony for Bentley's McCallum Graduate School of Business, which saw a crowd of more than 3,000 gathered inside the Bentley Arena. President Chrite greeted the graduates with congratulations and encouragement and spoke of his faith in them to be a force for good in the different industries they will enter.
At the graduate ceremony, the university awarded 209 Master of Business Administration degrees and 342 Master of Science degrees in subjects including Accounting, Business Analytics and Human Factors in Information Design. Among the recipients was Bentley's first group of graduates from its partnership with Beth Israel Lahey Health, whose employees received customized MBAs in Healthcare Management. Two graduates were awarded a PhD in Business and were presented with diplomas and hoods from their faculty advisers. 
Graduate commencement speaker Stephen Kaufer, co-founder and former CEO of Tripadvisor, captivated the audience as he shared the six principles he lives by. The first — "speed wins" — is a phrase he kept taped to his office door for more than two decades.
"Whether you succeed or fail, how quickly can you learn?" Kaufer asked, citing stories of several failed efforts at Tripadvisor before the company became the largest travel website in the world. "The faster you learn, the more shots at winning you get." 
The faster you learn, the more shots at winning you get.
Co-Founder and Former CEO, Tripadvisor
Kaufer addressed a poignant question that is top of mind for many people, asking the graduates: "Anyone thinking about whether Generative AI — and ChatGPT in particular — is a threat to your current or future job? Is it something to worry about? Or are you excited about how much more productive you can be leveraging this new technology?"  
Kaufer encouraged the graduates to own their integrity as their legacy. "The one thing you can't buy is your reputation ... No matter what you do, no matter the struggles you encounter, your integrity, your reputation and whatever else you want written on your tombstone — let those be the guideposts for your life." 
Graduate student speaker Ahmed Amer, MBA '23 recognized the importance of family and friends who had supported the graduates in their studies. 
"The degree each of us will receive today is more than just a piece of paper that we will frame and hang on the wall; it is a lifetime source of inspiration and motivation for others," he said. "During times of hardship, whether you are faced with a challenge or are feeling homesick, always listen to your intuition when it whispers, 'Yes, you can.' This voice that is coming from within knows that there is no limit to your capacity for greatness. There's no barrier you cannot break."
'There's no barrier you cannot break'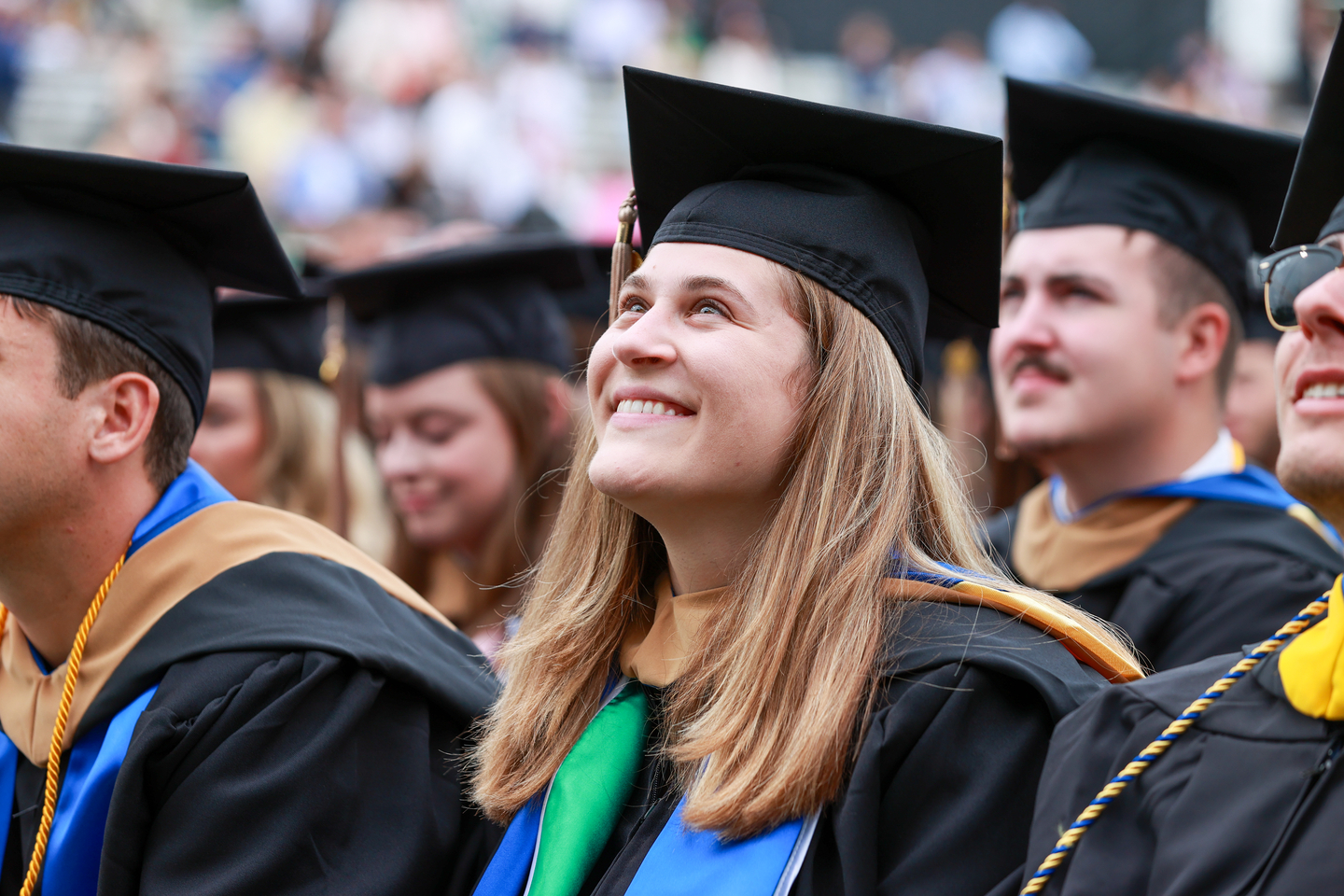 ABOUT THE GRADUATES  
The Bentley University Class of 2023 includes 962 undergraduate students representing 33 states and territories and 35 countries. First-generation students make up 19% of the class. The degrees include 951 Bachelor of Science degrees and 11 Bachelor of Arts degrees. Among the undergraduate degree recipients was the university's first group of Diversity, Equity and Inclusion majors. The class also includes 561 graduate students representing 29 states and territories and 42 countries. They were awarded 342 Master of Science degrees, 209 Master of Business Administration degrees, eight certificates and two PhDs in Business. Sixty-three students earned both their bachelor's and master's degrees this academic year. 
FALCONS RECOGNIZED FOR ACHIEVEMENTS 
During both commencement ceremonies, various academic awards were announced for students and faculty. Recipients of the Gregory H. Adamian Award for Excellence in Teaching were Tzarina Prater, associate professor of English and Media Studies; and Barbara Nash, adjunct assistant professor of Natural and Applied Sciences. The Excellence in Scholarship Award was awarded to Pierre Berthon, professor and Clifford Youse Chair, Information Design and Corporate Communication. Senior Lecturer in Marketing James Pouliopoulos received the Joseph M. Cronin Award for Excellence in Academic Advising and Mentoring.    
Student honoree Hannah Madison Shahrooz '23 received the Professor Robert J. Weafer Award for Undergraduate Academic Excellence. The Professor E. William Dandes Award for Graduate Academic Excellence went to Nida Nabi, MSBA '23; Dhruva Rangan '23, MSF '23; and Madison Kylie Welch '19, MBA '22.