'Stay True to Your Own True North'
President Chrite's 2023 commencement address to graduates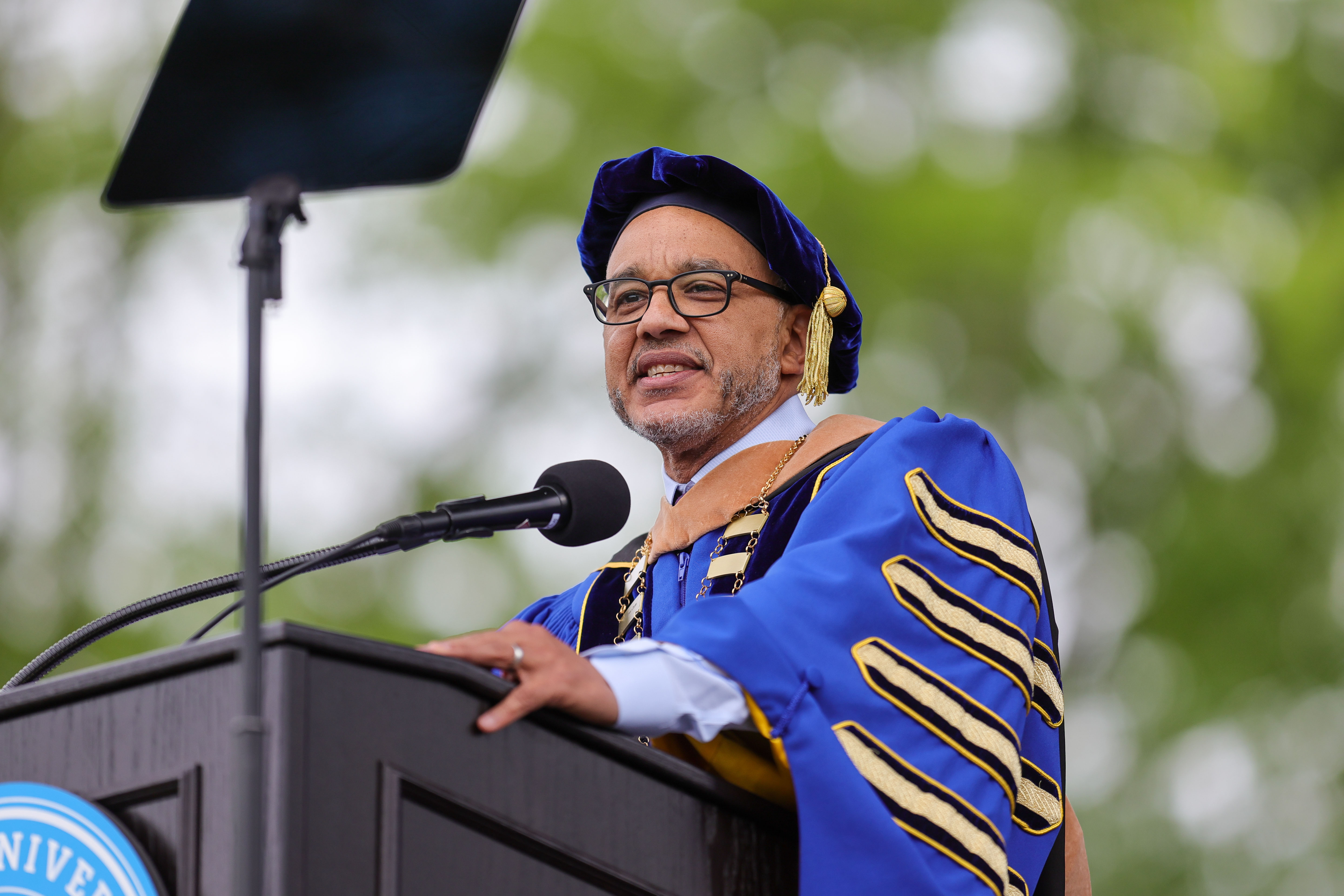 Photo by Damian Strohmeyer
Esteemed honoree Charlie Baker; members of the Board of Trustees; faculty and staff; distinguished guests; families and friends: on behalf the entire Bentley community, thank you for joining us for this very special day — the 104th Undergraduate Commencement Exercises at Bentley University. We are honored to have you here with us.  
And to the Class of 2023, congratulations on reaching this long-awaited and enormously well-earned milestone in your academic careers. Since you first gathered as a class four years ago, getting to this moment was your collective goal. Today is the culmination — and the celebration — of your years of hard work. And as we all know, you did not get to this day alone. You are here in part, anyway, thanks to the unwavering support of so many. Please take a moment to join me in thanking your friends and colleagues, but most especially your families for their support and guidance throughout your academic journey here at Bentley.  
As you prepare to turn the page on that journey before beginning an exciting new chapter, you would be well served to take a moment to recognize just how momentous this occasion is. Your class is one which endured uncertainty and countless challenges, not the least of which was a global black swan event. Just as you were settling in to your first year as a college student, the world was turned upside down. You were required to adapt in more ways than any other class in the history of our university. In adapting to this new normal, you've demonstrated your capacity to withstand the harsh and inevitable blows of any challenge that comes your way.     
And this is a good thing. After all, the economic marketplace and the broader society in which you will enter is largely defined by exponential change. Emergent and ubiquitous technologies will continue to disrupt how we work and interact and the chasms across our society seem unlikely to dissipate anytime soon. Despite the changes and uncertainties, I remain hopeful in our collective futures because I remain inspired by the communities of young adults — like you — who will soon assume the mantle of leadership and who have not lost the capacity to be outraged at unfairness and injustice.    
You have continuously shown that you are equipped with the skills, abilities, fluencies and worldview to overcome any challenges that you may face. You have a unique opportunity here in this very moment to begin making your mark and having a positive impact on society. That potential to make substantive change is why I believe so strongly in this academic community and the role of business in our society.
Focus more on the pursuit of meaning and purpose in your lives. Because once you identify meaning — your own true north — I can assure you that happiness and success will follow — and more critically, it will endure.
I came to Bentley because of my belief in the power of capitalism and business, and because a Bentley education goes beyond the traditional view of capitalism and its allocative economic efficiencies, and instead focuses on the power of business to help impact the human condition. I also came to Bentley because we have no interest in educating the mind at the expense of the heart. Mostly, I was attracted to Bentley because of my belief in you and your ability to go out and make a positive and lasting difference in the world.  
You have proven that you were up to the task, and you should be proud of how you have succeeded in the face of profound adversity. I speak for each professor, staff member and administrator at this university when I say that Bentley is proud to have had you as a member of our community.  
Our hope is that, while here, you have realized the transformational possibilities that result from sustained exposure to differing points of view. We have intentionally exposed you to ideas and experiences that will enable you to discern between what is right and what is easy, and to recognize that with the privilege of the education you've just received comes a responsibility to a greater good. I know that you are ready to make your impact on the world, and I wait in great anticipation to see how you will do so.  
Before I conclude, I'd like to leave you with one parting piece of advice on which I hope you will, at least, reflect: As you begin this next stage of your journey, I appreciate that you will be focused on attaining the right job at the right salary to ensure that you have the right income, as these are salient in the pursuit of your happiness and success. And there is nothing wrong with this. But I would ask you to perhaps focus less on directly seeking happiness and success and focus more on the pursuit of meaning and purpose in your lives. Because once you identify meaning — your own true north — I can assure you that happiness and success will follow — and more critically, it will endure.     
Class of 2023, I hope that as you transition from Bentley that you will continue to identify and stay true to your own true north. As you do, know that we are endlessly proud of you and will watch with great anticipation to see the powerful impact you will have on the world and the amazing things you will achieve. Congratulations, and enjoy your day! 
'Do Not Fear Challenges and Disappointments'
'Give Your All to the Moment'
NCAA President Charlie Baker Says 'Life is a Team Sport'
'Make Time to Help Others'
'There's No Barrier You Cannot Break'