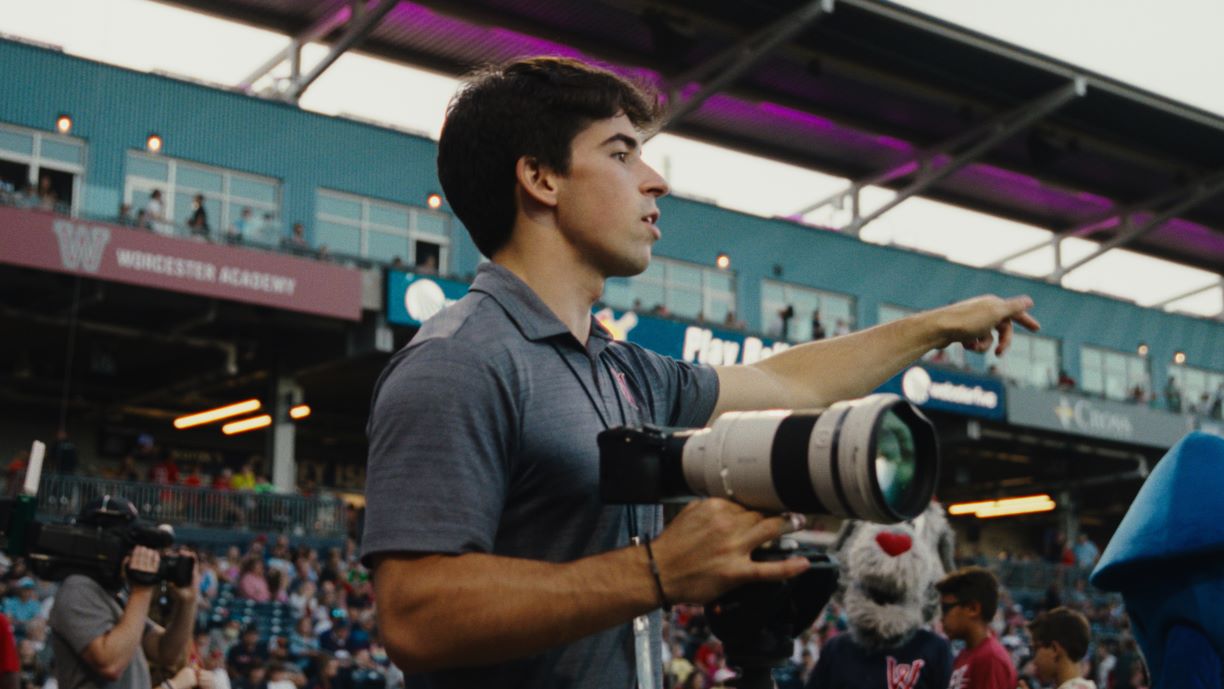 Images and video by Caleb Gowett
Home-Run Career
Edward Monigan IV '24 uses his multimedia skills to craft the story of the WooSox minor league baseball team — and his own career path
The crack of the bat. The roar of the crowd. Celebratory high fives in the dugout. These are some of the classic sights and sounds of baseball that Edward Monigan IV '24 captures as an official Minor League Baseball team videographer for the Worcester Red Sox (WooSox). But it's the heart and soul of the players and fans — and the entire Red Sox Triple-A affiliate organization — that brings true life to his creative work. 
Here, Monigan shares how his Creative Industries major and Sports Business Management minor built on his passion and set him up for the part-time WooSox role and beyond, including gigs as a creative marketing intern for Bentley Athletics and a creative camera operator for Harvard University through his freelance business, Monigan Photography.  
When did you recognize that you could make a career out of being creative? 
I was in high school when I got my first camera, and I really enjoyed going outside and taking pictures of the nature around my house. During senior year, I started sports photography for the football team and when COVID shut down games in spring 2020, athletes came to me and asked me to take photos of workouts and I was able to start building my freelance portfolio.  
Later that year I had the chance to shadow Shawn Hubbard, team photographer for the Baltimore Ravens, and meet their director of marketing — so I came to Bentley planning to major in Marketing. But when I took general business courses, I didn't enjoy the data aspect of the marketing curriculum. I looked at the Creative Industries major and realized that it would allow me to focus on the art of creating, even if it was in the corporate sense.  
Over the past three years, Bentley has really helped me unlock new possibilities for future career options in the creative field. A lot of the classes I've taken so far — The Art of Editing, Introduction to Media Production and Documentary Production — have shaped the way that I do my work and taught me industry techniques: the process of producing a film or documentary and how to be a visual storyteller, for example. I also learned how important editors are in the process, putting together the clips, dialogue and special effects. That person controls the tempo and the meaning of the whole film, and that was pretty interesting to me.  
Athletics content has become your niche. What is your creative strategy? 
I've been playing sports for most of my life, and I know how much athletes are connected to their sports – and what they go through before a game, during a game and after a game. My goal is to tell a story that shows their love for the game, including the emotional highs and lows. I really want to capture that and delve into what makes them tick when playing their sport. 
A lot of times that means that I have to open up to them; it's not a one-way street when you're talking about athletics. You have to remember them as people too, not just athletes. If you both open up to each other, there are some pretty nice moments you can capture.
What's the favorite WooSox video you've created?  
My favorite footage is from the fourth of July 2022 game — an 8th-inning three-run home run from Ronaldo Hernandez that put us ahead for a 6-4 win against Scranton/Wilkes-Barre RailRiders. It was a dream come true scenario when that ball went over the outfielder. I captured unbelievable crowd reaction and the player jumping up and pumping his fist in the air after he hit the home run. The video was viewed by nearly 500,000 people [as of this publication]. This is something I never would have imagined this early in my career. It shows the reach of social media, and seeing positive feedback like this gives a confidence boost that allows me to try new ideas and always stay fresh with the content that I create. 
What's it like to be in the heart of the WooSox games at Polar Park Stadium?  
The WooSox organization is great; I feel like I'm part of the team and they let me get up close and personal with the players. The first video I did was a weekly recap of six straight home games we had that week; I'm the only videographer, so I shot and edited the entire video. This allows me occasionally to take a step back and reflect on the work I have done to end up where I am today, especially as someone still attending college full time. 
You work closely with players and staff. As a sports fan, have you had any 'wow' moments? 
My favorite baseball player is former Boston Red Sox pitcher Nathan Evolvaldi. He was at Polar Park last year for a rehab assignment and I asked the pitching coach if I could follow Nate to the mound with the camera — something I do with all of our pitchers. Nate was on board and that was a pretty cool moment for me.  
What's it's like to be in the stands gathering fan moments? 
There's nothing like a full ballpark on a summer night; the crowd really helps me stay engaged in the moment. I edit video during the game, so if I hear the crack of the bat and the crowd goes crazy, it prompts me to grab the camera and capture them jumping out of their seats, waving towels and celebrating. Talking to fans is one of my favorite parts of the job. I love to make sure they're having a good time.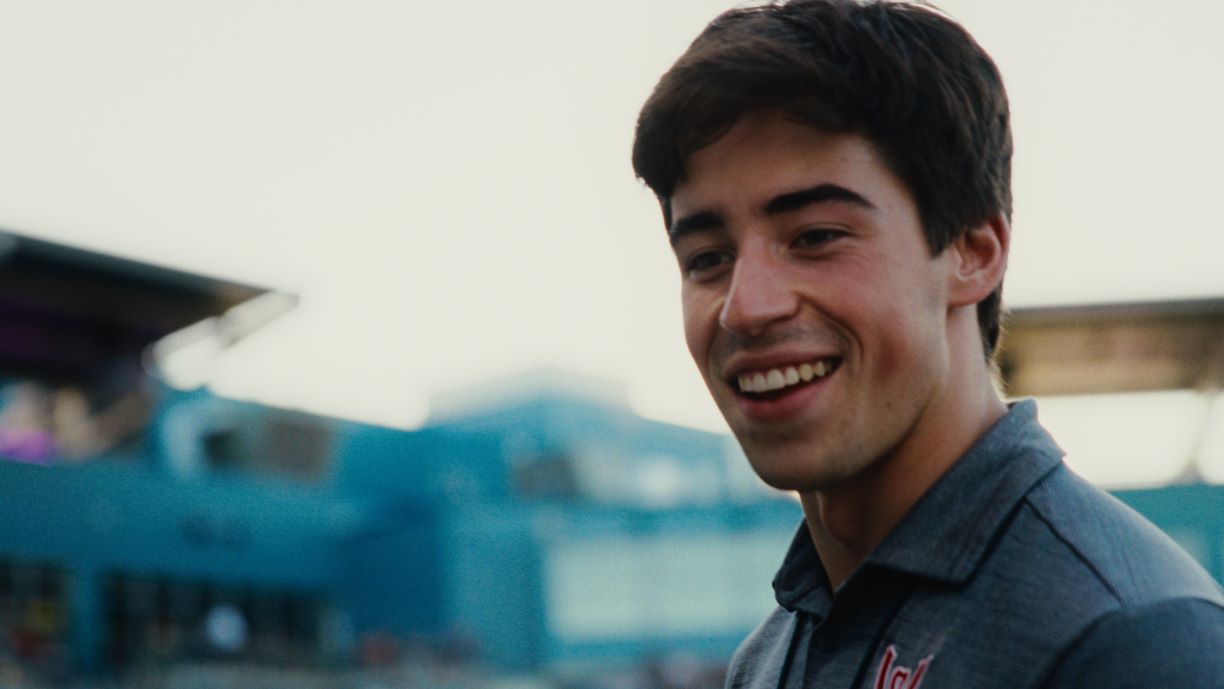 You film and edit during the game. How do you juggle that? 
When I'm editing photos and videos to post during the game, I describe it as 'nothing but crunch time.' I'll upload files from the photographer, find the audio online and align clips. Since I could miss filming a play while I'm editing, it forces me to be very fast and selective with what I do. But it's a helpful kind of stress and I love it. Being fast and decisive is critical to succeeding in the media industry because trends change on what seems like a day-to-day basis and the various organizations employing content creators such as myself have their own brand identity and vision that evolves with the daily trends sparked by social media. 
That mindset must be helpful as you manage time as a college student and content creator. 
My inner motivation keeps me going. One of the benefits of being a student and working is applying the real-world techniques I learn in my Bentley courses to my day-to-day routine working with the WooSox. But it also takes discipline. During the academic year, I'm a lead photographer for Bentley Athletics, plus I do freelance jobs at schools like Harvard. During baseball season, my focus is the WooSox. One week this season we had 13 WooSox homes games in 13 days. The way I juggle all that and get good grades is Google Calendar. I'm a very structured person and schedule all of my time, down to meal prep for the week.  
What is your dream job? 
I would love to be a team photographer for an athletics team, particularly with the NFL, and my work with the Bentley football team has given me a lot of insight. One of the best experiences that I had with them was photographing the locker room celebration after an unexpected win against Pace University in New York. But players have also let me capture more vulnerable times when they're not on the field — praying in the locker room or writing plays on their wristband before a game. Their openness has allowed me to be able to capture emotional moments to tell their full story. 
What makes you successful as a videographer and photographer? 
In many ways I'm self-taught; I have a strong internal drive to get to a higher level in my craft, and I'm not going to stop until I get there. I also thrive on the energy of the moment. It's a passion, and it's what drives my work.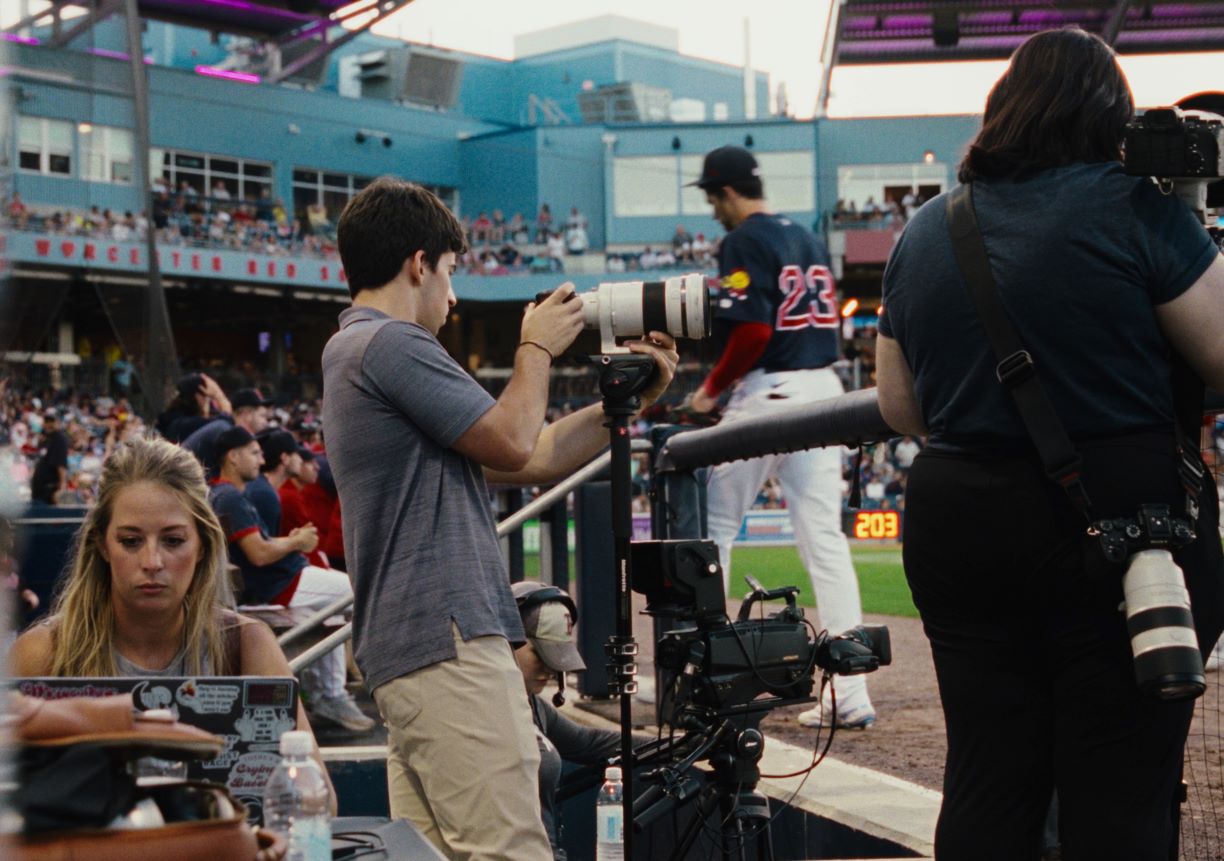 Lucas Vanroboys '23 helps student-athletes connect with brands