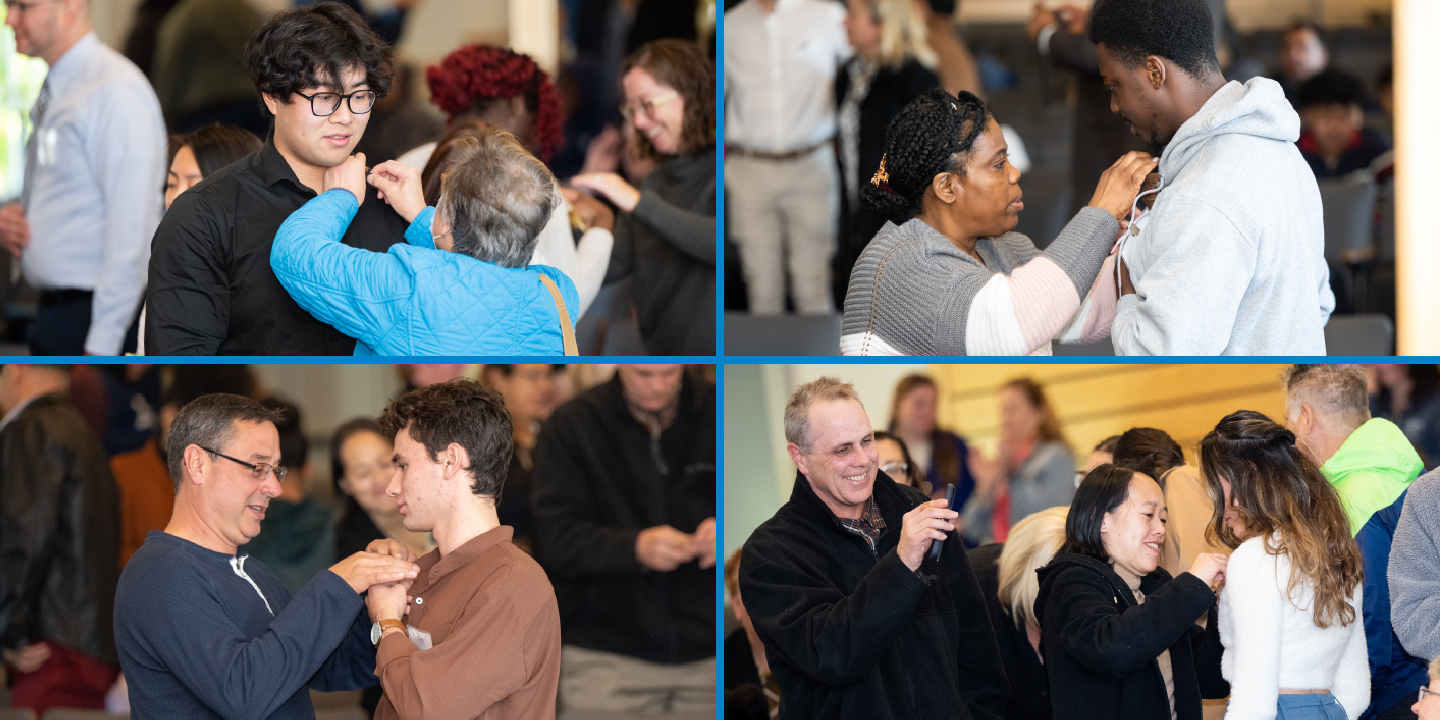 Bentley first-gen students receive their pins from friends and family members. Photos by Ashley McCabe.
Inaugural Pinning Ceremony Celebrates First-Gen Students from the Class of 2026
The event welcomes the largest number of first-gen students in university history
"You are valued — and valuable." Bentley President E. LaBrent Chrite's message to first-generation students from the Class of 2026 during a special pinning ceremony sent a poignant message about the university's commitment to their success. His remarks were shared with proud family members, friends, faculty, staff, alumni and students who joined in person and virtually for the celebration, which will become an annual tradition at Bentley.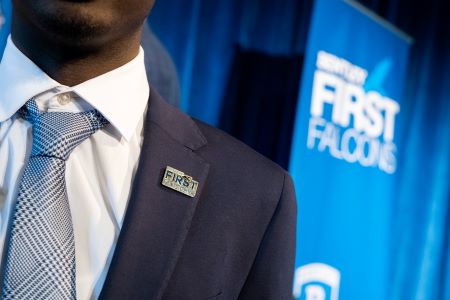 "This pin symbolizes your tremendous achievement in becoming a Bentley University student," explained Associate Provost for Student Success Jane De León Griffin, who hosted the ceremony. "If at any point during your Bentley education, you doubt your belonging within our academic community, let this pin serve as a reminder of your strength and accomplishments. This pin not only symbolizes what you have accomplished to arrive at this moment, but all you will do throughout your time at Bentley and as an alum. At the time of your college graduation, we invite you to wear this pin to celebrate where you have been and where you are headed."
Rosa Chhay '26, who is first-generation American in addition to being a first-generation college student, was among the student speakers. She told the story of how a visit to her parents' homeland of Cambodia in 2019 made her even more determined to make her family proud.  
"This pinning ceremony is not just any regular event," said Chhay, an Economics-Finance major and participant of Bentley's Women's Leadership Program. "To me, and for my family, it is a thank you. It is a thank you to Mak (Mom), Pa (Dad) and every one of my family members in Cambodia. It is a thank you to the place that my parents first called home and the current home of my family. Moving forward as a first-generation student at Bentley University, I will remember my roots and the reason why I am here." 
Chhay encouraged her classmates to be proud: "I chose this school knowing my voice could be heard the way it is right now; yours will too," Chhay told classmates. "As the first in your family on track to graduate with a degree from a U.S. institution, you already hold beautiful stories. At Bentley, I have full confidence that you will continue to write your own stories — and they will be written on the walls of this school with great pride."
At Bentley, I have full confidence that you will continue to write your own stories — and they will be written on the walls of this school with great pride.
Kendrick Agyapong '25 told his story of being inspired to go to college by a group students from the Bentley Service-Learning and Civic Engagement Center who were working at an after-school program he attended at Dana Court Apartments in Waltham. Agyapong, a first-generation American in addition to being a first-generation college student, was candid about the challenges of transitioning to college.  
"Being first-gen comes with a lot of pressure and responsibilities," said Agyapong, an Economics-Finance major and Bentley FirstGen Presidential Fellow. "Let's think about it: For many of us, our families sacrificed so much and went through many challenges just to give us the chance to receive an education. They've already done their jobs and now the baton is handed off to you to set a foundation of wealth, prosperity and intelligence for the next generations that will come after you — and I can assure you that your time at Bentley will help you accomplish that." 
Agyapong, who is a liaison for the Mankind Movement at Bentley — a group for men faculty, staff and students of color — and a member of the Bentley Sustainable Investment Group, acknowledged the role of community in first-gen success. "Something you will learn in college is that you can't do everything on your own. It's great to be independent, but succeeding in college is a collective effort, and doing it on your own will not bring you to your full potential." 
His advice for first-gen students: Ask for help when you need it and be open to new opportunities. "During my first semester, I was kind of scared to ask. I didn't want to become a burden, be judged or get rejected. It took me a while to realize that this is certainly not the case … College is your time to grow, to become the best version of yourself … I am here today because I said yes."
RELATED: Bentley offers UMass tuition to first-generation students
During the ceremony, Rick Oricchio '78 shared his story of coming to Bentley as a first-generation student.  
"I am here today because of many factors, perhaps none more important than my parents," he said in heartfelt remarks. In 2015, he and his wife Lore established the Francis and Rosemarie Oricchio Endowed Scholars Fund to support first-generation college students and to honor his parents.  
"My grandparents emigrated to the United States from Italy in the 1920s," Oricchio continued. "They came with nothing but the desire to work and put their children and families in a place where they saw opportunity and hope." 
He talked about the challenges of navigating college. "College is hard, even more so for folks like us that do not have family members that one can speak to and ask stupid questions of, get a view of the process, understand what Greek life means, understand financial aid, know how to balance various commitments. Whatever it might be, there is just so much to know." 
After graduating from Bentley, Oricchio spent more than three decades at Deloitte, including as a tax partner and chief financial officer for the Overseas Shipholding Group.  
"Understand you belong here," Oricchio said to students. "You will grow here and someday one of you will be up here."
RELATED: Read about Bentley's incoming class
President Chrite emphasized the importance of Bentley intentionally supporting first-gen students "to lift as we rise and to ensure that others have the same experience that we have."
He told first-gen students and their families: "This institution cannot fulfill its highest and best without you. The lens through which you view the world — the cumulative experiences, the resilience, the strength — is what makes us unique and powerful, and we aim to leverage it."
Following an impassioned performance by Bentley's a cappella group Off the Clock, First Falcons were presented with their pins.
Chhay's charge to her classmates captured the pin's meaning. "Today, we recognize the change you have made with just your presence on this campus; and today we also recognize the change you will continue to make."
First-Gen Resources
First-generation college students are those students whose parents or guardians have not attained a bachelor's degree at a college or university. In 2021, The Center for First-Generation Student Success named Bentley a "First-Gen Forward" school in recognition of its efforts to support first-generation college students. The university offers several resources for these students, including:   
FirstGen Presidential Fellows, a prestigious leadership-development program for incoming first-generation students that includes a financial aid package and a mentorship program with first-generation Bentley alumni.  
BentleyFirst program, which provides first-generation students from Massachusetts a private university education for the price of a state university.  
Pulsifer Career Development Center programming that is designed to create equity and access systems related to career development to ensure the success of all Bentley students, with particular emphasis on first-generation students and students of diversity. 
First Falcons Week includes time management and study skills sessions, financial aid workshops, social celebrations and a relationship-building luncheon with staff and faculty. 
Two new staff positions: Associate Provost for Student Success Jane De León Griffin and Student Success & First-Generation Coordinator Vanessa Velasquez.  
First-Gen Student Support Committee comprised of individuals across campus who work with first-gen students and includes faculty and staff from Academic Services, Defined Community in residence halls, Office of Financial Assistance, the Library, Pulsifer Career Development Center and Student Affairs.