In the Land of Fire and Ice
Students climb glaciers and snorkel in icy waters to learn about sustainability during two-week course in Iceland
Above: Students and professors stop for a photo while hiking the Falljökull glacier on Iceland's southeastern coast.
While Wall Street may be the road on the minds of many Bentley students, Iceland's Ring Road was the one 14 students visited to study sustainability in a two-week course in the Nordic island country known as "The Land of Fire and Ice" for its dramatic landscapes, volcanoes, geysers and lava fields.
"The hands-on experience with sustainability from the geological sources of renewable energy to its uses in manufacturing as well as the impacts of climate change – that's the best classroom in the world," says Associate Professor Dave Szymanski, a geologist who is chair of Natural and Applied Sciences. "And the tectonic location of Iceland makes it one of the most unique classrooms in the world to teach sustainability."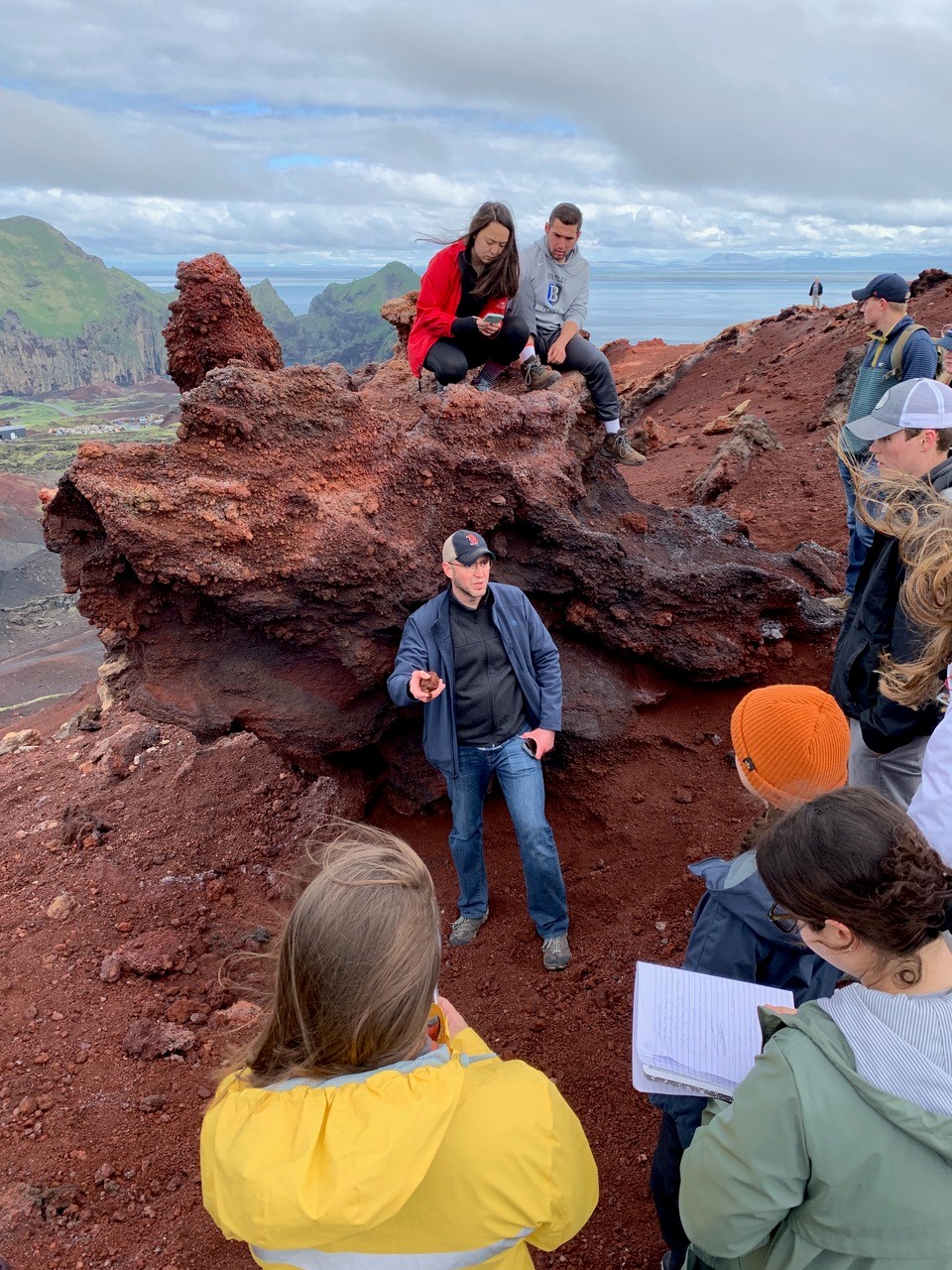 Imagine a chance for students to climb glaciers that are melting faster because of human-induced global warming, or to snorkel underwater through boundaries between the earth's tectonic plates—just two of the opportunities the students experienced in Iceland. The country's unique geology, says Szymanski, provided "an unparalleled opportunity to learn about earth systems." 
The group of Bentley students also toured an aluminum processing plant powered by 100 percent renewable energy, visited geothermal power plants and toured a sustainable hydroponic tomato farm, in which plants grow in mineral-rich water instead of soil.
"Instead of seeing a two-dimensional version of sustainability in the classroom, students learned through an immersive field experience about the tradeoffs in making Iceland's small and geographically isolated population more sustainable in a global economy," says Dean of Arts and Sciences Rick Oches, who developed the four-credit course, Earth Systems and Sustainability in Iceland, with Szymanski. The two professors led the students on the trip.
Iceland's location atop the boundary between the Eurasian and North American tectonic plates, along with being a "hotspot" where molten lava constantly rises from the Earth's crust, provides a hands-on learning experience for students unlike anywhere else in the world.
Hayden Yakola '21, who took the course, says the students' lessons focused on those unique geological conditions. "One of the days we visited both the Hellisheidi Geothermal Power Plant and the Ljosafoss Hydroelectric Power Station to learn about how Iceland gets most of its electricity and power from these sources with little reliance on fossil fuels." 
Yakola, an Economic-Finance major with an interest in sustainability, says, "Iceland is a prime example of sustainability and how an economy and country should operate, so I was excited to see not only the country's amazing geological features but also how the culture interacted with the environment."
Tiara Obey '21, a Management major, says the Iceland course strengthened her knowledge of how the earth's geologic systems work. "In these scientific fields, many concepts can be hard to visualize," she says. "I remember in past years learning about tectonic plates--how they move apart, slide and clash together, but who can actually picture what that looks like? After visiting Iceland, I can."
It's no surprise, given that she and her classmates snorkeled through a crack between two of the earth's tectonic plates. "Swimming through them helped to put into perspective for me how massive these plates are and how they slowly move over time, at a rate undetectable by the human eye."
A boat trip to the Jökulsárlón glacier made a memorable impression on both students.
"I had never seen a glacier," says Obey, a Florida native who is used to tropical views. "When I witnessed the massive sheet of ice from a tiny red rubber raft, it was breathtaking. Knowing that these geologic wonders are rapidly melting away refreshed my passion for environmental science and sustainability."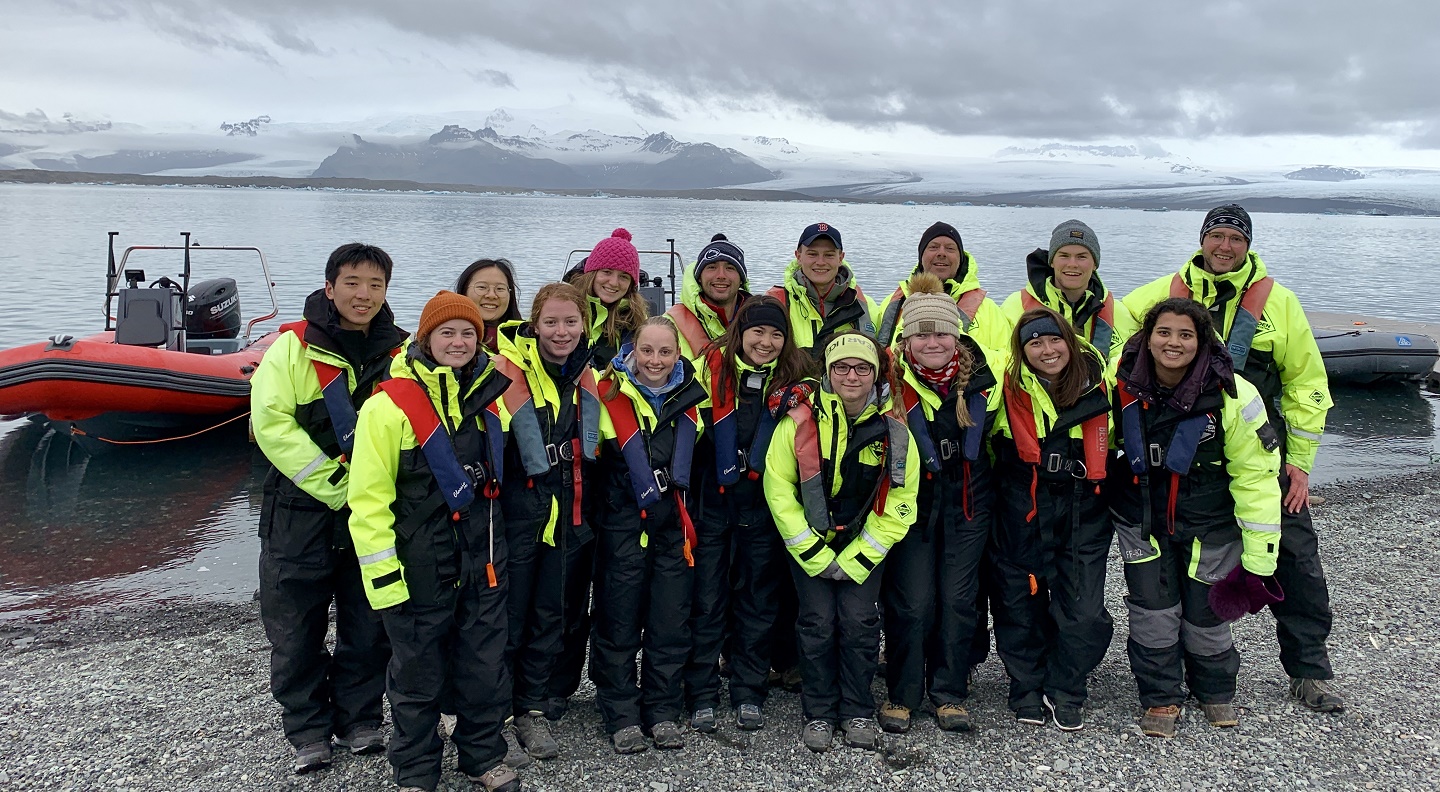 Yakola says the group navigated through icebergs to reach the base of the glacier. "A harbor seal was relaxing on an iceberg to the right of us as we stared at the size and beauty of the glacier in front of us," he says. "Two or three times while taking in the view of the glacier, the glacier would give off a thunderous boom because of the ice breaking apart."
The next day, the group woke early for a hike up the glacier. "We wore spikes on our shoes, held an ice axe, and wore a harness to clip us into ropes at a few of the steeper spots," Yakola recalls. "Standing on the glacier, we could hear the ice cracking. It was amazing to see the glacier from that angle, standing on top of it and seeing how the ice slowly flows and shapes the landscape."
Szymanski says the experience will help prepare students in their careers to think about and tackle complex problems in business and society. "In Iceland, the students saw that there are no easy solutions to sustainability problems. I saw students' thinking evolve from 'Iceland is more sustainable than other places in the world because of the abundant renewable energy resources,' to 'It's complicated, and Iceland is resource-constrained as an island nation and has to navigate complex geologic systems, too.'"
Obey says the Iceland experience will be "invaluable" to her future career. "I want to work with companies on implementing green supply chains, and this field work furthered my knowledge of renewable energy sources," she says. "I learned that understanding an area's unique geologic background is the first step in determining how to approach its sustainability challenges."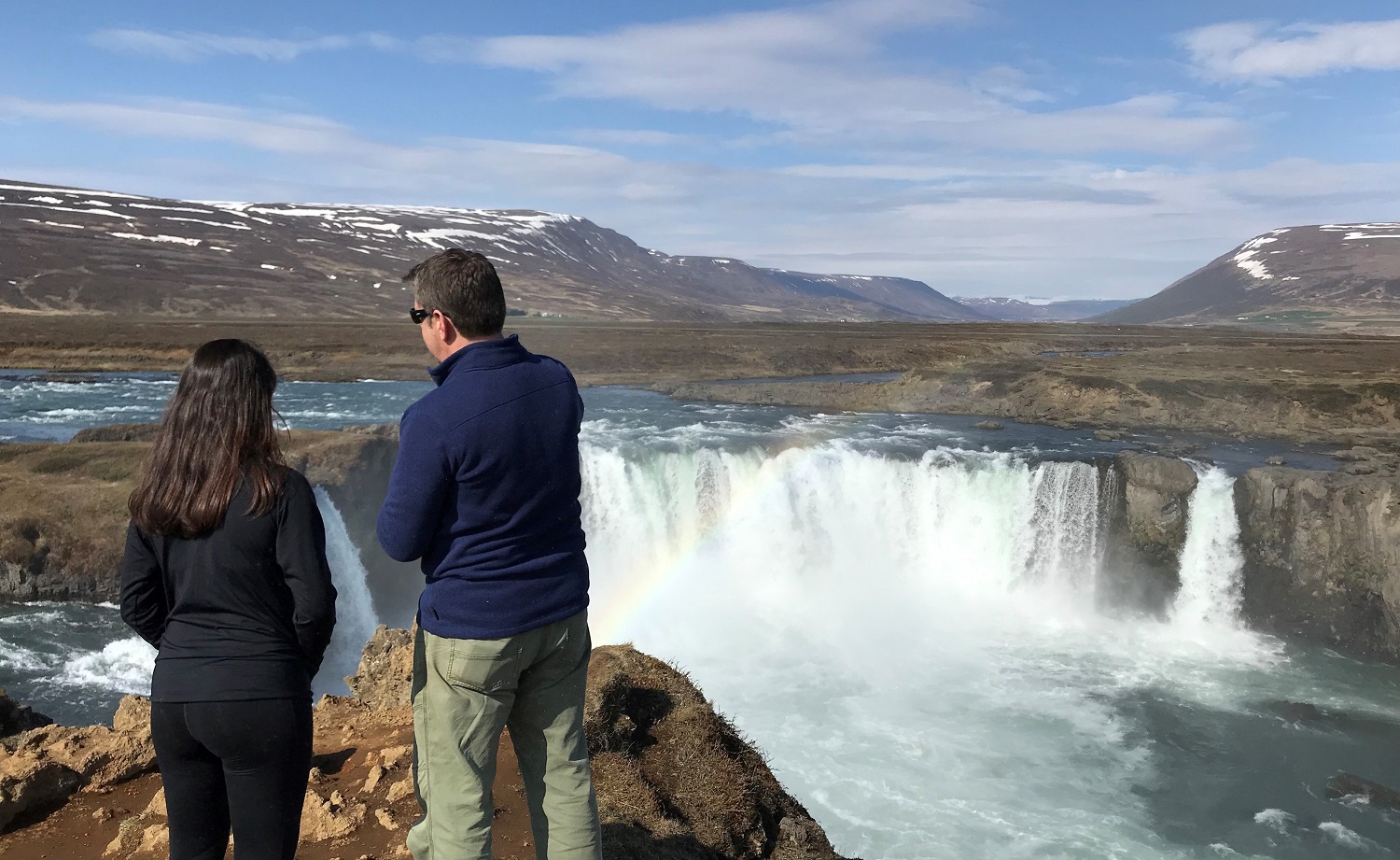 Students Visit Cape Cod to Analyze Changes to the Shoreline