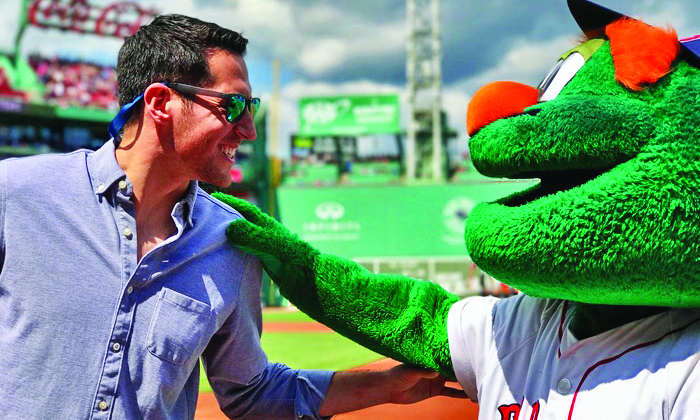 Andrew Blum '06 on being Wally
When most alumni "suit up" for work, they button up their blazer — Andrew Blum '06 included. But a few times a month, the former Marketing major turned director of physician recruiting for Iora Health trades his dress shoes for furry feet as Red Sox mascot Wally the Green Monster. Entertaining at football and basketball games as Flex the Falcon gave Blum a wing up in post graduation tryouts to be an alternate for Boston's favorite baseball cheerleader.
IF THE SUIT FITS
The summer after my first year at Bentley, I was an orientation leader, and they wanted to have Flex there when all the parents arrived dropping off their kids. They said, you need to be a certain height — and everyone looked at me. I've always been super passionate about Bentley and had a lot of school pride; this was a unique way to show it.
WINGS OF STEEL
Flex used to do a push-up for every point scored — and it was cumulative. So if the team made a touchdown you would do seven push-ups, and then if they scored another one you'd do 14. There was one game where Bentley scored over 60 points. By the end, my arms were rubber.
NEVER LET THEM SEE YOU SWEAT
To be a good mascot, you need to be passionate and have the ability to function in a very hot environment. You sweat out a good amount of body weight. But at the end of the day, the excitement and passion for what you are doing are definitely worth the wet, smelly suit.
GREAT RECEPTION
Wally is never going to get traded or sign a bigger contract, so there's a consistency to him being there. Everyone loves Wally, and wants to see Wally, so it's great to make a fan entrance when people aren't expecting it — and have your energy be as big as he is. Win or lose, Wally brings a smile to fans' faces.
MONSTER FANS
People always want Wally's autograph. At one of my first events, somebody even wanted me to sign their baby's leg. Another time, I was at a wedding where the groom had me surprise the bride when the DJ started playing "Sweet Caroline." She started swinging me around the dance floor. I was like, "Let's slow this down!" I don't want this showing up on America's Funniest Home Videos because Wally got overheated. Some of the best times are visiting kids at events for the Jimmy Fund. The happiness that Wally brings to them is truly special.
THRILL OF VICTORY
I was escorting Wally at the World Series in 2013 and got to run on the field with him as we won. After the Boston Marathon bombings that year, the whole team came together with the city to support the victims. It was just magical being out there with Wally, waving the Boston Strong flag and celebrating in front of the crowd with the team.