Up to the Test
Meet the person behind Bentley's on-campus COVID testing center
Since the start of the COVID-19 pandemic, the importance of regularly testing a population for the virus has proved to be an effective measure in reducing spread and identifying those in need of care. From competition bubbles in the NHL and NBA to hospitals and healthcare organizations, screening tests have proved to be a key tool to maintaining a healthy and safe environment.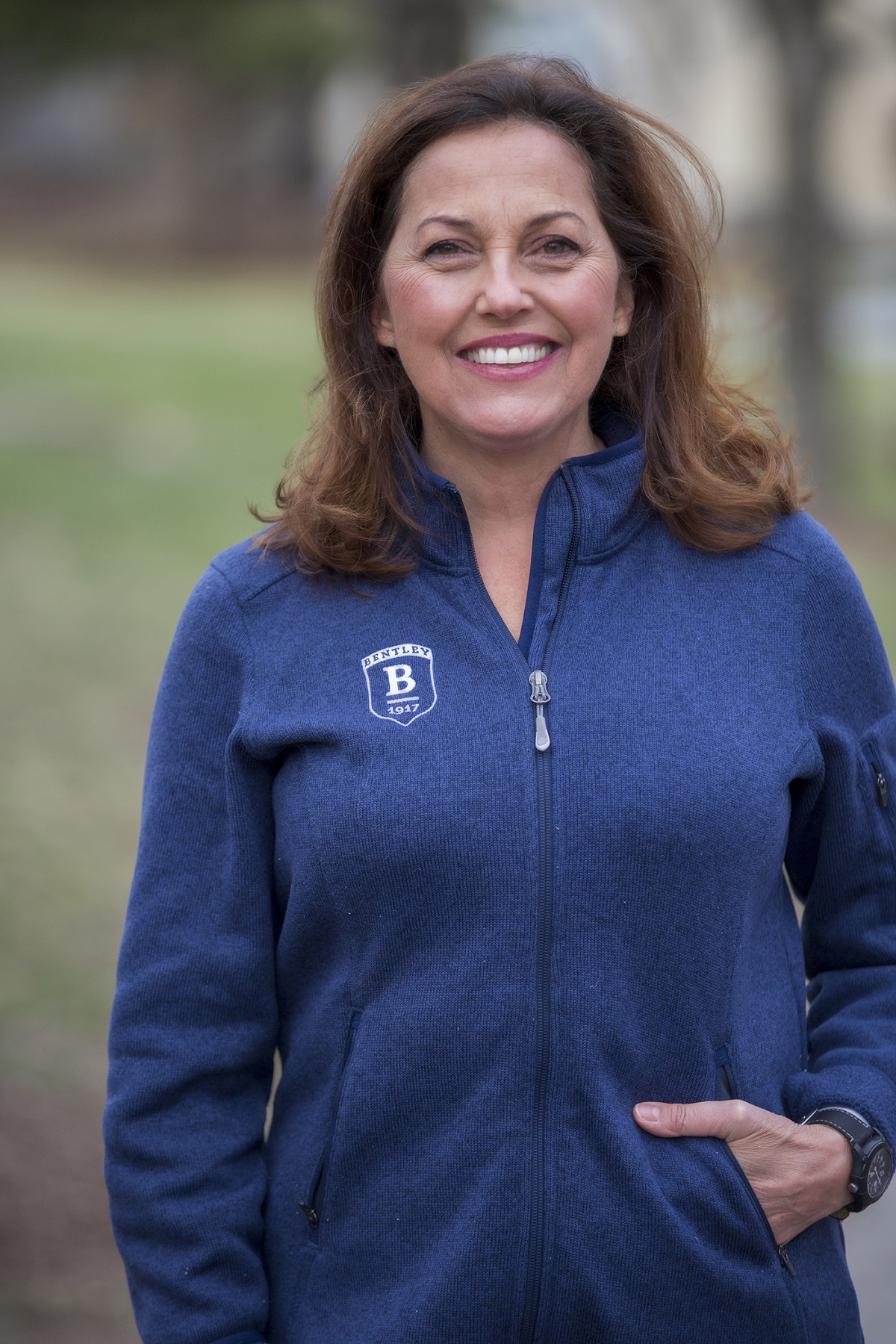 As Bentley prepared throughout the summer for students to return to Waltham, it was clear that regularly testing the on-campus population would play a crucial role in maintaining a safe community. That's when Kim Kerrigan, a part-time nurse practitioner at Bentley since 2017, answered the call to lead Bentley's weekly COVID-19 screening test program.

For Kerrigan, starting a career helping those in need happened by chance while she was a student at San Diego State University. With plans to become a marine biologist, she happened to meet a nurse practitioner on campus during a time in which the profession was still in its infancy. Unlike registered nurses, the relatively new field of nurse practitioners worked largely outside of hospitals bringing healthcare directly to communities that needed it most, like college campuses.

After learning more about the field, Kerrigan found her new calling. "Helping students remove barriers and achieve an education was important to me," said Kerrigan of her early days in the practice. "Education and health are both passions of mine. Working as a nurse practitioner helped me to merge the two in a practical way." 

After earning her master of science in nursing from UCLA, Kerrigan went on to work at Las Positas College outside of San Francisco, where she worked as a nurse practitioner and the director of student health services. There, she oversaw the creation and launch of two separate student health centers, serving 20,000 students with full clinical capabilities – experience that would serve her well as the head of Bentley's testing program.
Meet Geoff Bartlett, director of emergency management
Students were reassured to see the familiar faces of faculty and staff volunteers each day at the testing center. It definitely had an impact in the success of the program.
Head of Bentley's COVID-19 Screening Test Program
At Bentley, with five weeks to identify and set up an outdoor testing location, find volunteers and coordinate logistics with the Broad Institute, a great deal of planning needed to happen quickly under Kerrigan's watch.

"From the very first day of working with the Return-to-Campus Task Force and Emergency Management Group, I was inspired by how many people were motivated and ready to quickly jump in," she said. "So many people relied on the success of the testing program, so I knew we had the support we needed to succeed."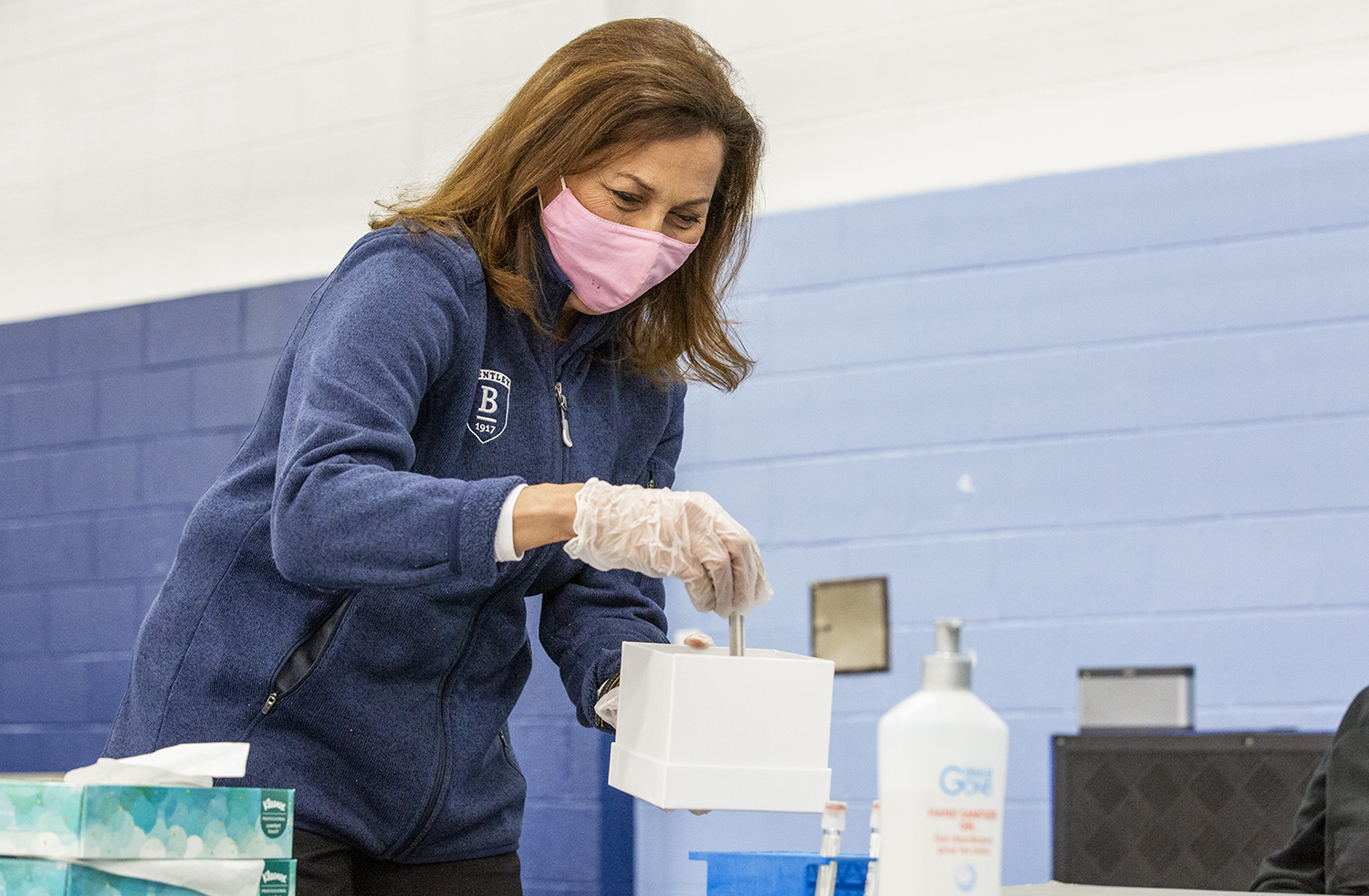 In addition to getting the testing site up and running, Kerrigan wanted to make sure that the testing process was as quick and painless as possible for the thousands of students, faculty and staff who would be dropping by each week. That's where the role of nearly 100 Bentley volunteers came into play. "Testing was scary for many at the start, and there were a lot of unknowns, but our top priority was safety and quality testing," said Kerrigan. "Students were reassured to see the familiar faces of faculty and staff volunteers each day at the testing center. It definitely had an impact in the success of the program." 

With the unpredictability of New England weather and the virus itself, Kerrigan and the testing center proved themselves equally adaptable. On one occasion, the testing center opened for an extra day of testing for more than 1,000 students after cases spiked on campus. On another occasion, the testing center relocated on short notice from the Miller Parking Lot to the Dana Center due to an unexpected drop in temperature and high winds. "All along the way, everyone was ready to drop everything and show up to help with a smile."   

Under her watch, Bentley's COVID-19 screening test center administered more than 47,000 tests this fall during the 466 hours it was open. As we look to the spring, Bentley will continue to rely on Kerrigan's leadership at the testing center to maintain a safe campus environment.