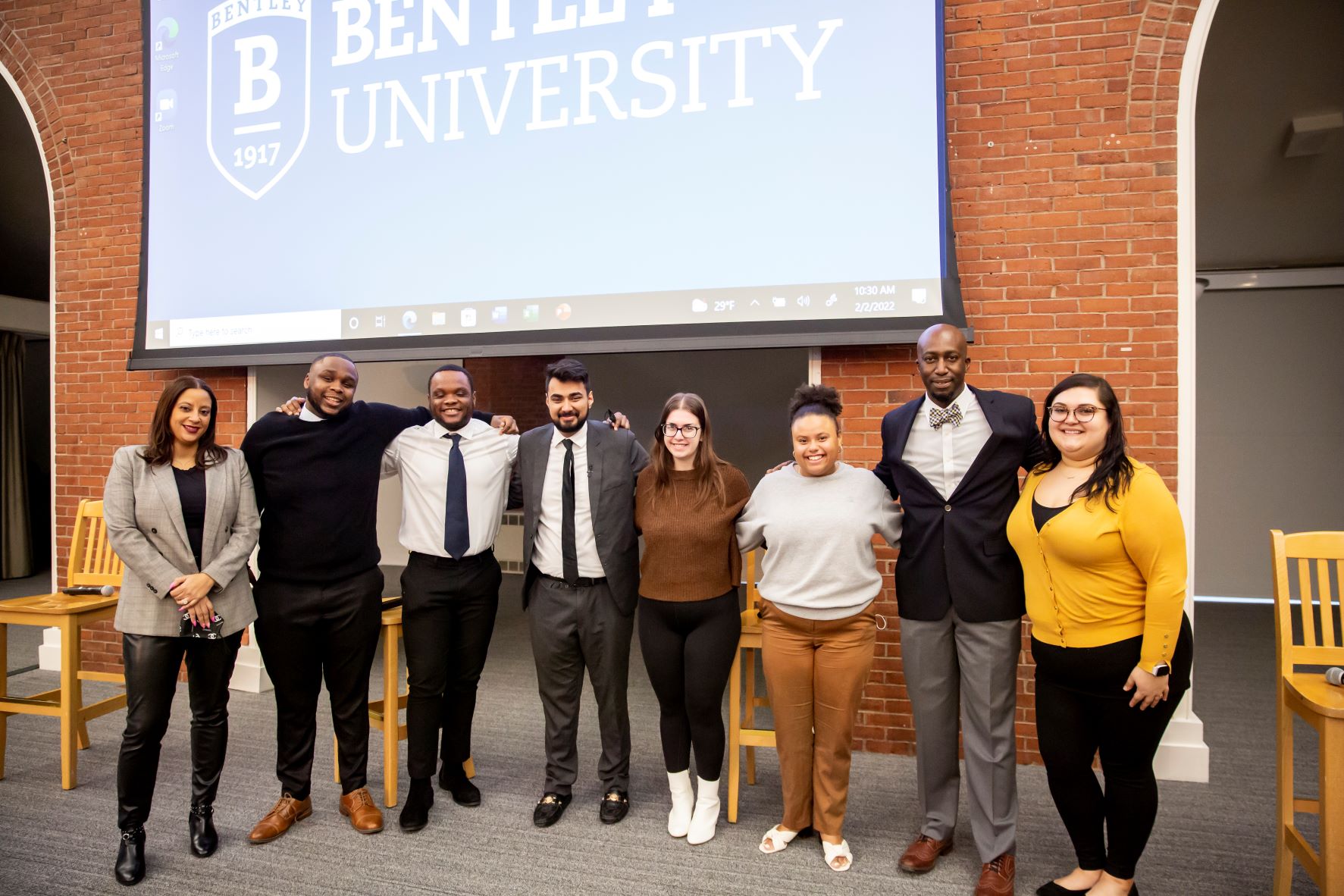 Nearly 300 Attend MLK Jr. Celebration
Tradition marks university's commitment to diversity and inclusion
Participants in this year's MLK Celebration (pictured above) included Isaura Beltre '99, MSIAM '02, Hassan Hassan '22, Mukosolu Obukwelu '22, Arafat Sheikh Rasheed '22, Samantha Applebaum '22, Ysanel Luciano '22, Eval Silvera '99 and Farrah Jazeh MBA '21.
"Access leads to impact" was the theme of this year's Martin Luther King Jr. Celebration, an important and long-running Bentley University tradition that marks the community's commitment to diversity and inclusion. Nearly 300 people attended this year's 36th annual event, which was organized through the university's Office of Diversity and Inclusion and held online due to the pandemic. 
Emcee Arafat Sheikh Rasheed '22, from Islamabad, Pakistan, kicked off the event by sharing his Bentley journey. "What I learned from this experience was that I was different: I behave differently, I sound different and I look different," said Rasheed. "What kept me going during these times was support from my peers, support from faculty and staff, and a tenacious strive to never settle for anything less than the best … I've learned lessons both inside and outside the classroom here at Bentley that will stay with me for a lifetime and pave the path, leaving a positive impact everywhere I go." 
Bentley President E. LaBrent Chrite welcomed participants and spoke of how King's vision remains strong today. "It's difficult for me to imagine a time in our nation's recent history in which the lessons of Dr. King and this year's theme, access leads to impact, would be more timely, applicable or needed," Chrite said. "I am inspired by Dr. King because his vision remains a catalyst for hope and progress across this country as a reminder of our obligation toward collective stewardship of Dr. King's legacy to take account and be accountable to our nation's inability to as yet fulfill its highest promise." 
'His vision remains a catalyst for hope'
Hassan Hassan '22 shared stories of his family immigrating to the U.S. from a small village in Sudan, leading him to Bentley where he advocates for equity through his involvement with the MOSAIC ambassador program, Africana Student Association, Mankind Movement, Multicultural Center and as founder of the Muslim Student Association.  
"Despite the obstacles that I had to face, I was able to get through it by the blessing of God and outlets such as the Bentley Summer Transitional Education Program, which are part of the reason that I'm standing here and speaking to you today," Hassan said. "It was also other students of color on this campus that made my experience that much better, and it's because of them that I know that my presence can be part of the reason that they feel heard or seen."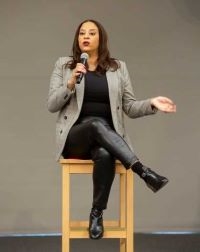 A common thread among presenters was the importance of programming and safe spaces such as the Multicultural Center, STEP (Summer Transitional Education Program) and Discover Bentley.
A panel of alumni moderated by Ysanel Luciano '22, included Lecturer in Marketing Isaura Beltre '99, MSIAM '02, Eval Silvera '99 and Farrah Jazeh MBA '21. 
"Coming here, it gives you that confidence, the leadership," Beltre said. "When I think about how I came full circle and how I ended up teaching here, every time I go into a classroom and see those two or three or four students of color, the look on their face solidifies to me that I'm doing the right thing."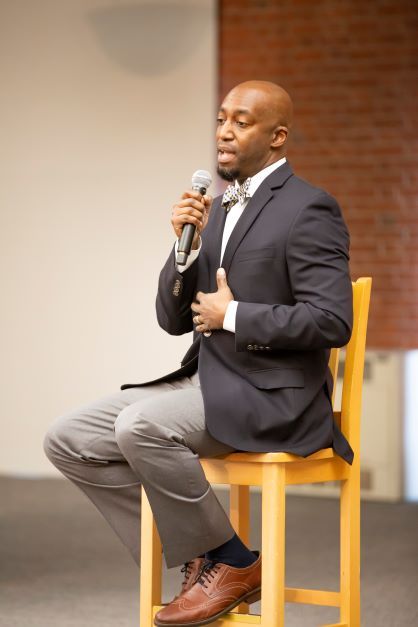 "When I think of 'access to impact,' the first thing that comes to mind is opportunity," said Silvera, who co-founded KodeConnect, which gives STEM experiences to kids from underserved backgrounds. "They [Bentley] saw something in me, and they opened that door just a little bit, gave me that opportunity. And with that opportunity, with that access, I was able to get to the point where I am today."
Jazeh, who attended Haskell Indian Nations University in Kansas before coming to Bentley for an MBA, praised the Discover Bentley program, which welcomes Black, Latinx and Native American graduate students to the university.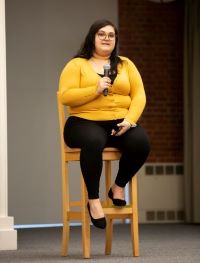 "This school just has so many different people – from different places, from different countries, different socioeconomic backgrounds – that you learn something from every single person that you come in contact with," Jazeh said. "Bentley -- and Discover Bentley specifically -- gave me access to those programs, to those resources, and gave me a sense of community." 
The MLK Celebration included a keynote address by Martina Marshall Edwards, the first African-American female trading broker for Merrill Lynch on the floor of the New York Stock Exchange.
Barbara Paul-Emile, Maurice E. Goldman Distinguished Professor of Arts and Sciences, presented an impassioned reading of her poem, "MLK Jr. Homo Spiritus: A Tribute," followed by Mukosolu Obukwelu '22, who presented the 2022 Dr. Earl L. Avery MLK Leadership Awards to Nicole Black, associate director of graduate student academic services, who was recognized for helping students of color achieve academic and personal success, and Guilda Hilaire '00, who has shared her lessons as a first-generation student as a mentor and member of the Bentley Global Alumni Board.  
The MLK Celebration concluded with a tribute to Claudette Blot, assistant director of mentorship and advising, for her continued support of students at Bentley, their "home away from home."
A tribute to Claudette 'Momma' Blot