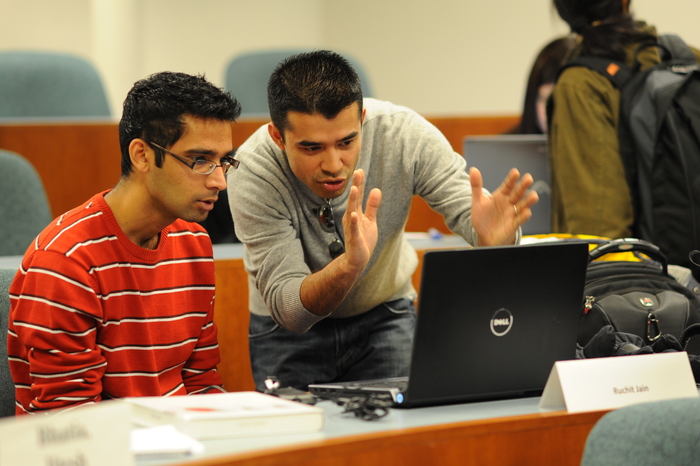 Choosing to attend grad school is a big decision. But once you've decided you want to go back to school, there are tons of other decisions to make—what school to attend, what program to join, what area to focus on. Among those decisions is whether to obtain a degree through an online environment or traditional classes.
When comparing an online MBA vs. traditional MBA, there are several things to take into consideration. We've broken those things down into four categories—flexibility, discipline, interaction, and experience—to help uncover the strengths and weaknesses of each program. Take a look at these facts to figure out which option comes out on top. (Hint: the answer may surprise you.)
Online MBA Vs. Traditional MBA
Flexibility
One of the biggest benefits of an online degree is its flexibility. Online classes give you the freedom to complete coursework whenever you choose, from anywhere you are. You don't have to live in the same city (or even the same country) to attend a university, and those with families or full-time jobs can choose when school fits into their busy schedules.
Traditional MBA programs are less flexible—you are required to attend scheduled classes if you want to receive assignments and take tests, which means you have to live on or near campus. Most schools offer both day and evening classes, so you can still pick a time that fits better with your schedule, but traditional classes are generally less convenient.
Discipline
While the freedom of online classes is a benefit, the self-motivation they require can sometimes be a hindrance. For an online MBA program, you should be able to set deadlines, prioritize your school schedule, and complete tasks without reminders from teachers or classmates. You won't have anyone checking in or feeding you information, so you need to be able to get work done on your own.  
With traditional classes, you have daily support and encouragement from professors and peers, as well as more structure and stability in coursework and classes. You still need to be diligent and disciplined, but you can rely on having a steady routine and getting help from others when needed.
Interaction
An obvious downside to online MBA programs is the lack of in-person interaction among students and staff. While you won't be totally isolated, it's just not possible to have as much interaction online as you would in a classroom. Communication is limited to email, phone calls, or online video, so you don't have immediate access to help or attention.
Being on campus for traditional MBA programs gets you face-to-face interaction with professors and classmates. Attending a physical class allows you to ask questions mid-lecture, or get clarity on homework assignments or tests immediately. You can also participate in on-campus events and student organizations to further your education.
Experience
The overall experience of an online MBA program can be rewarding—it teaches discipline, advances technical skills, and proves that you have what it takes to get a graduate degree on your own terms. You learn to create an independent study environment that works with your needs, and work to improve upon your personal and professional skills.
Traditional MBA programs are also rewarding—you meet lots of new people, have great networking opportunities, get to experience new places, and are part of a sense of community. You also get hands-on experience while learning how to work with a team and build leadership skills.
So, Who Wins?
As you can see, online and traditional MBA programs both have pros and cons (which you probably knew before reading this article). But before we say that it's up to you to decide which one is better, you should know that there is a third option—one that provides only the benefits of online and traditional programs. Sound too good to be true? Well, it's not—it's called the hybrid classroom.
The Hybrid Classroom
At Bentley, we've created a learning environment that combines both the traditional classroom experience with online flexibility. Using Saba Meeting, a web conferencing software, students can fully participate in a class no matter where they happen to be during the time of the class that week. Remote students can actively listen in on lectures, engage in classroom discussion, and participate in projects with fellow classmates—all without needing to be in class.
Hybrid classrooms are equipped with video cameras, smartboards, ceiling-mounted student microphones, and wireless microphones for professors to deliver an interactive experience for online participants. How do hybrid classes compare?
Flexibility
Hybrid classrooms are a flexible option for students with jobs, families, or traveling responsibilities who would not always be able to attend class physically. At the same time, students can—and are encouraged to—attend class in-person whenever possible.
Discipline
Hybrid classes allow you to have a schedule and routine without feeling locked in. You get the benefits of daily support and encouragement from professors and peers without the restrictions of attending class.
Interaction
One of the best parts of the hybrid classroom is that students can take advantage of online technology while fully interacting and engaging with teachers and classmates in real-time.
Experience
A study by Athabasca University revealed that online learning allows for greater explanatory and cognitive learning, while residential study improves social and procedural learning (that study here). With hybrid classes, you get to experience and improve both—giving you all of the benefits of both online and traditional.
Choose The Best Option For You
As you decide what kind of degree to pursue, keep in mind that there's more than just an online MBA vs. traditional MBA to consider. Your third option—the hybrid classroom—is an opportunity to experience the best of both worlds. Keep it in mind as you make your decision, and remember to ultimately choose what's best for you.