Self Help
PRIDE Mentorship connects LGBTQ+ students, faculty and staff
Lauren Makhlin '22 came out as a lesbian when she was 14 — by accident.
"I just started talking about a crush I had at camp and thought to myself, 'Oh, I guess I just came out.'"
In the Makhlins' New York City home, life for her went on pretty much as normal.
A decade earlier, in Asheville, NC, Dionne Daniels grew up keeping her sexual identity mostly to herself. The friends she tried to come out to weren't exactly warm to the idea of her being queer, so Daniels protected herself by turning inward.
"I took that as, 'I can't come out to anybody,'" she remembers. "'I need to suppress these feelings.'"
Makhlin, a Marketing major, and Daniels, who works in Bentley's Cronin Office of International Education, are now partners in a new pilot PRIDE (People Respecting Individuality and Diversity through Education) Mentorship program aimed at helping LGBTQ+ students, faculty and staff find and celebrate their authentic selves. Their two very different paths have come together at Bentley on a shared journey of discovery and acceptance.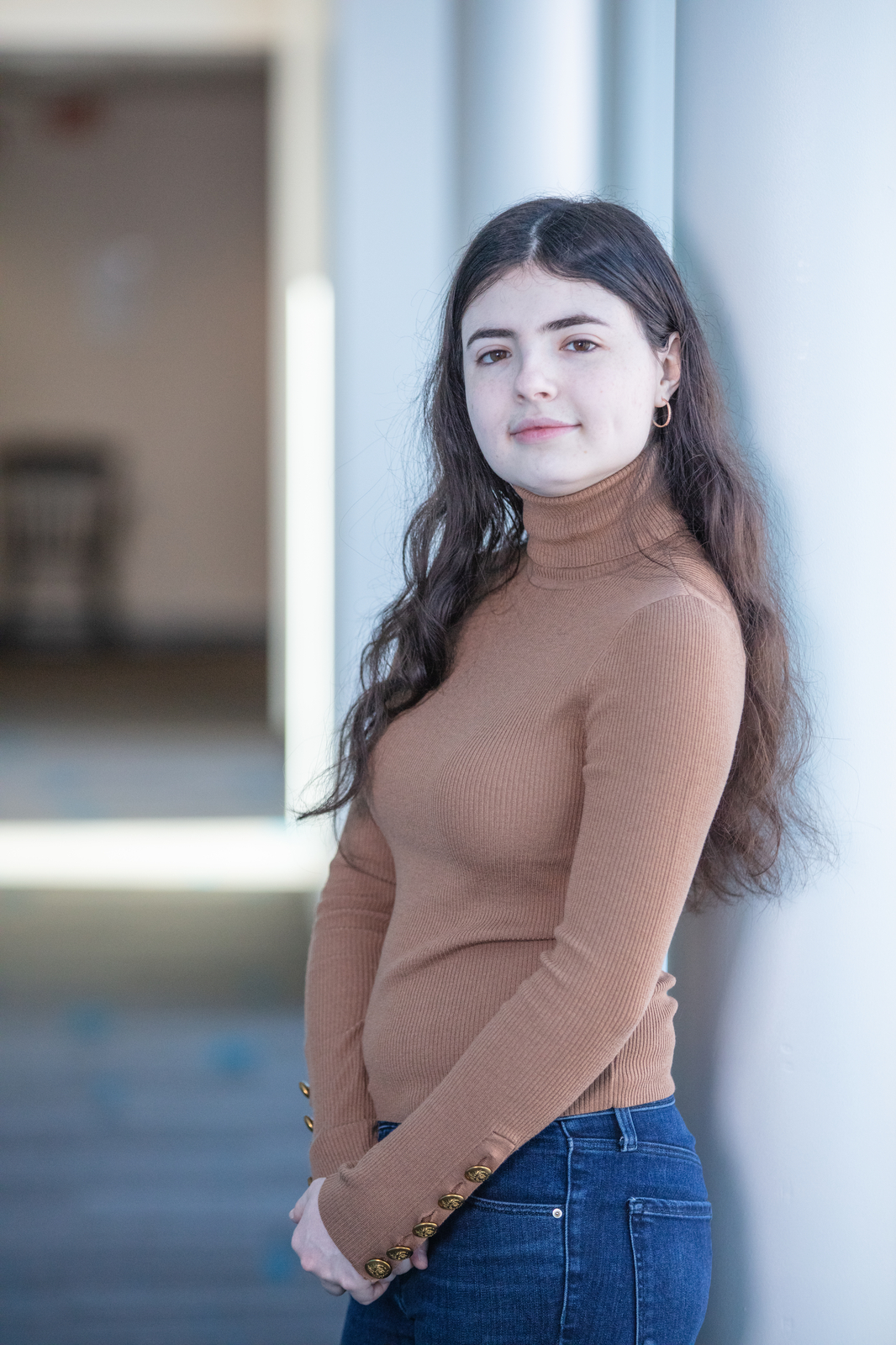 When she was picking a college, Makhlin wanted someplace where business came first. But she also wanted a place where she could be herself. 
"I didn't want to go to a liberal arts school. I wanted to be in a place where most of the student body was a business major," she says. "An overarching theme for me was, Bentley was near Boston. It wasn't a rural school. It felt like, 'We're near Boston. If you're homophobic, it's a 'you' issue.'"
Daniels, on the other hand, had to leave the country before she felt comfortable being a lesbian.
"College for me was a completely different experience," she says. "I was still dealing with internalized homophobia. I grew up in the South and went to a large state school (UNC-Charlotte), so I was trying to mask my lesbian/queer identity as much as possible. I just wasn't seeking out community like the way I have later in life."
A study abroad trip to Japan introduced her to other outwardly queer people and a chance at a different kind of life.
"Because of those relationships, I started going to therapy and reaching out to different people, seeking out like-minded folks, and that's when I really started accepting myself."
We talk a lot at Bentley about being your authentic self. It's really important to foster that, because lots of students aren't out because they don't feel comfortable.
Office of Gender and Sexuality Student Programs Manager
Although the mentorship program is still in its infancy, Office of Gender and Sexuality Student Programs Manager Dorothy Polatin says it's already playing a key role in Bentley's greater diversity and inclusion effort.
"We talk a lot at Bentley about being your authentic self," says Polatin. "It's really important to foster that, because lots of students aren't out because they don't feel comfortable.
"A program like this is a statement to the larger campus that this is really important. Bentley is working toward diversity, but we have a long way to go."
Makhlin agrees.
"The purpose of college, besides getting a degree, is to discover yourself and who you are as a person, to create your authentic self," she says. "I feel like you don't have the full college experience unless you try to at least pursue that authentic self."
First-year students are paired with upper-class mentors, and upper-class students are paired with staff. There are weekly one-on-one talks and larger networking nights built around a specific theme each month. Polatin says she's hoping to eventually add in alumni who are successful LGBTQ+ professionals.
"It's really about building a community and building a network," she says.
That quest for community is even more important to Daniels, who started at Bentley just a month before the COVID-19 lockdown closed campus. She was craving ways to stay connected to her new coworkers when she learned of the mentorship program.
"It's hard when we're still not a full on-campus experience, especially for new people," says Daniels. "New people are coming into the Bentley community every day, not just students but faculty and staff, too. I think this has been an invaluable experience to feel like part of the community even though I haven't been on campus."
Celebrating Pride Month with a new flag and renewed commitment to inclusion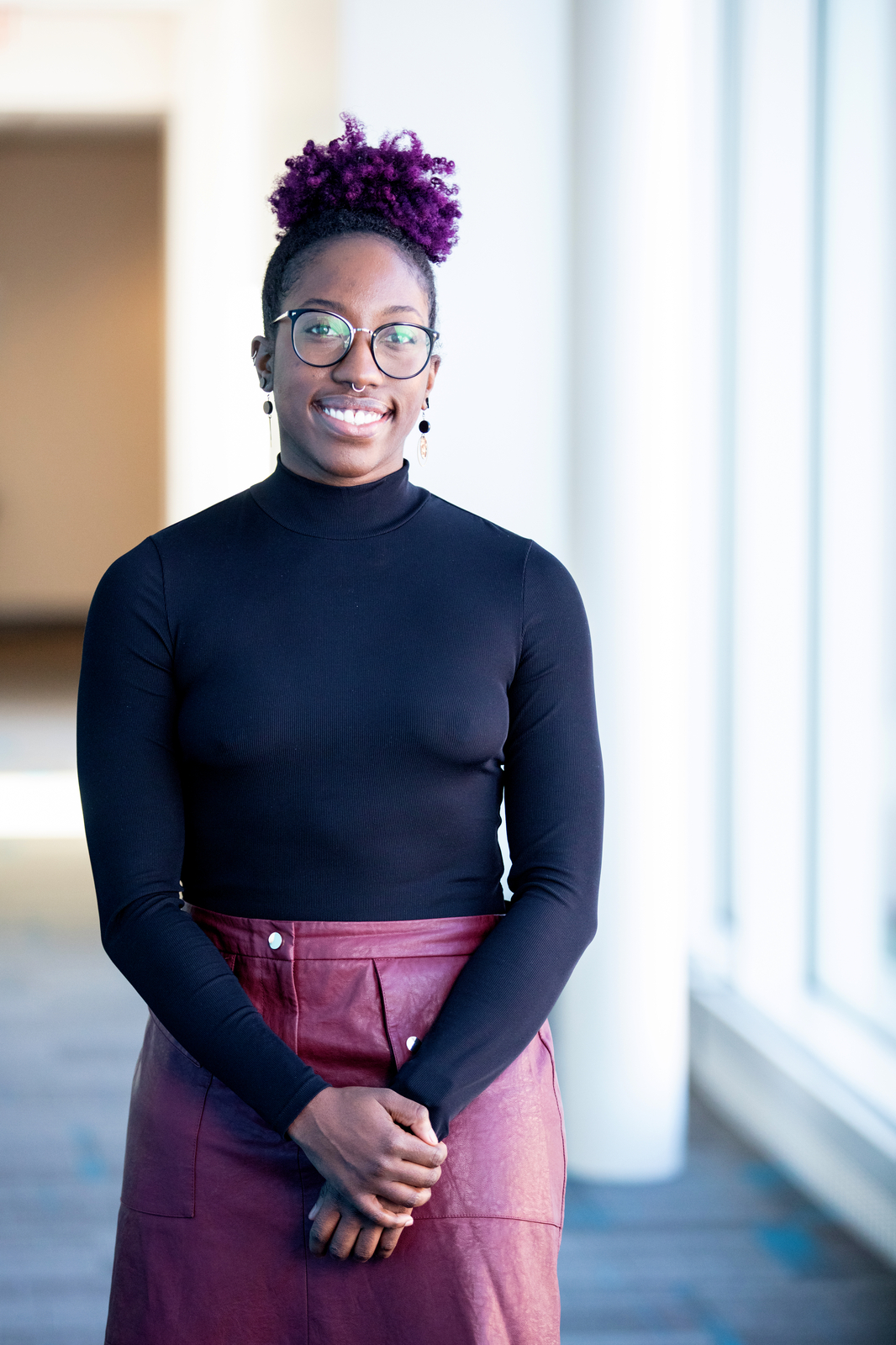 For Makhlin and Daniels, their weekly chats (for now, like many things, still on Zoom) center mostly on their lives, on campus and at home. Sometimes it's like therapy. Every time, the lessons and insight flow both ways.
"I have met very few queer people in my life," Makhlin says. "So it's really important that I have role models to look up to so that I know my orientation doesn't have to hold me back in life. It's definitely less of a concern now, after meeting Dionne. To me, she's a success story."
"There's a lot to learn from everyone, no matter where you are in your life," adds Daniels. "I've always thought that mentorship can come from anybody. Just hearing about how Lauren is navigating this journey of self-acceptance 10 years earlier than I did gives me more courage to continue to be my authentic self in every space."
To both Makhlin and Daniels, Bentley's renewed push for diversity and inclusion benefits more than the underrepresented. It's good for the entire campus, just as similar efforts are good for business in the world at large.
"If we don't include everyone, then we're not supporting a community for everybody," says Daniels. "Everyone won't be able to thrive and be their authentic selves. I think that's true for all organizations, institutions, workplaces: If we want to be the best, we have to include everyone."