Sept. 11 Commemoration  
Day honors past and future activists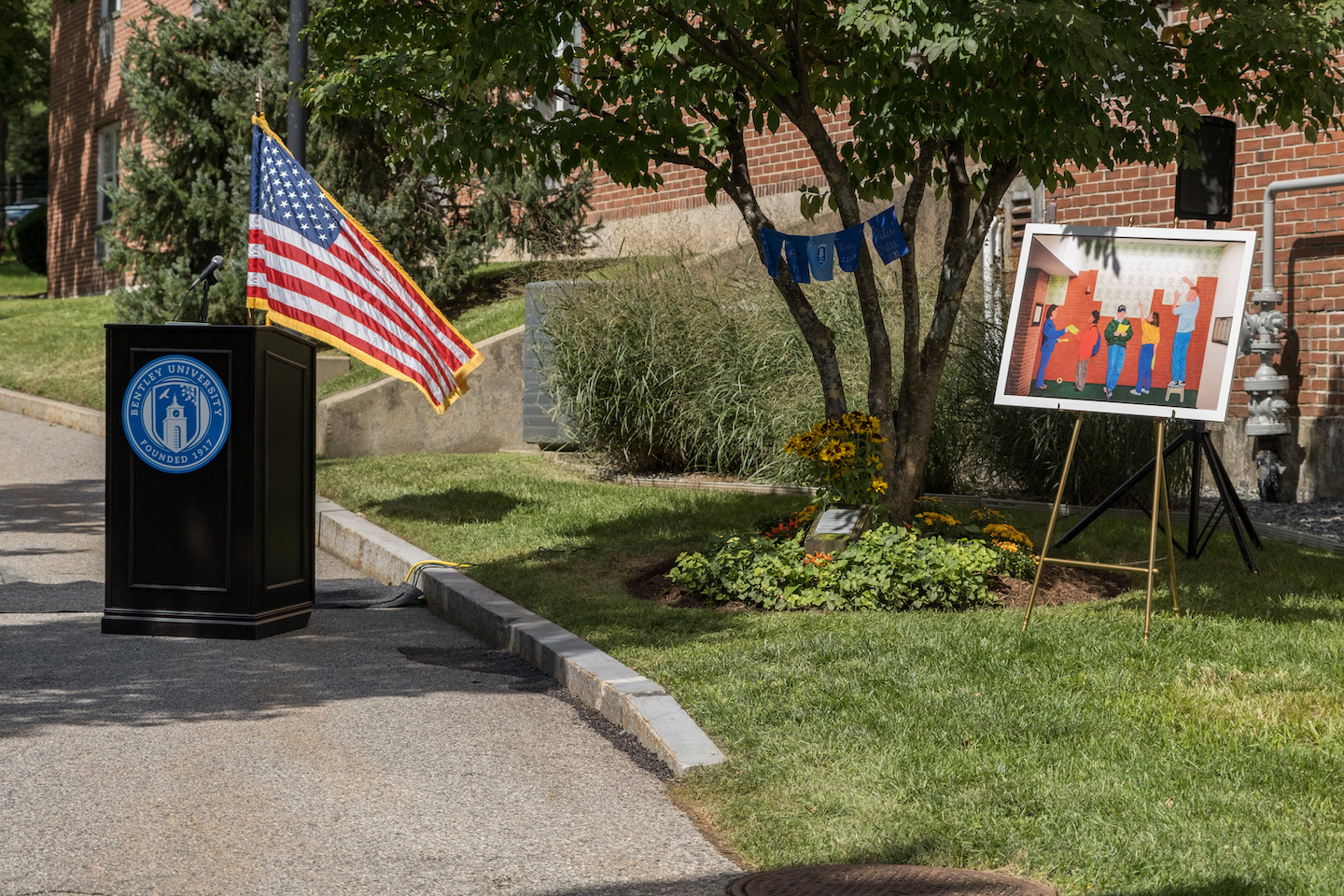 David Carlone '77, Terry Gazzani '00, Peter O'Neill '01 and Amy Toyen '99.   
These four Bentley alumni who died in the attacks of Sept. 11, 2001, were honored at Bentley's Commemoration Day on Sept. 10, 2021.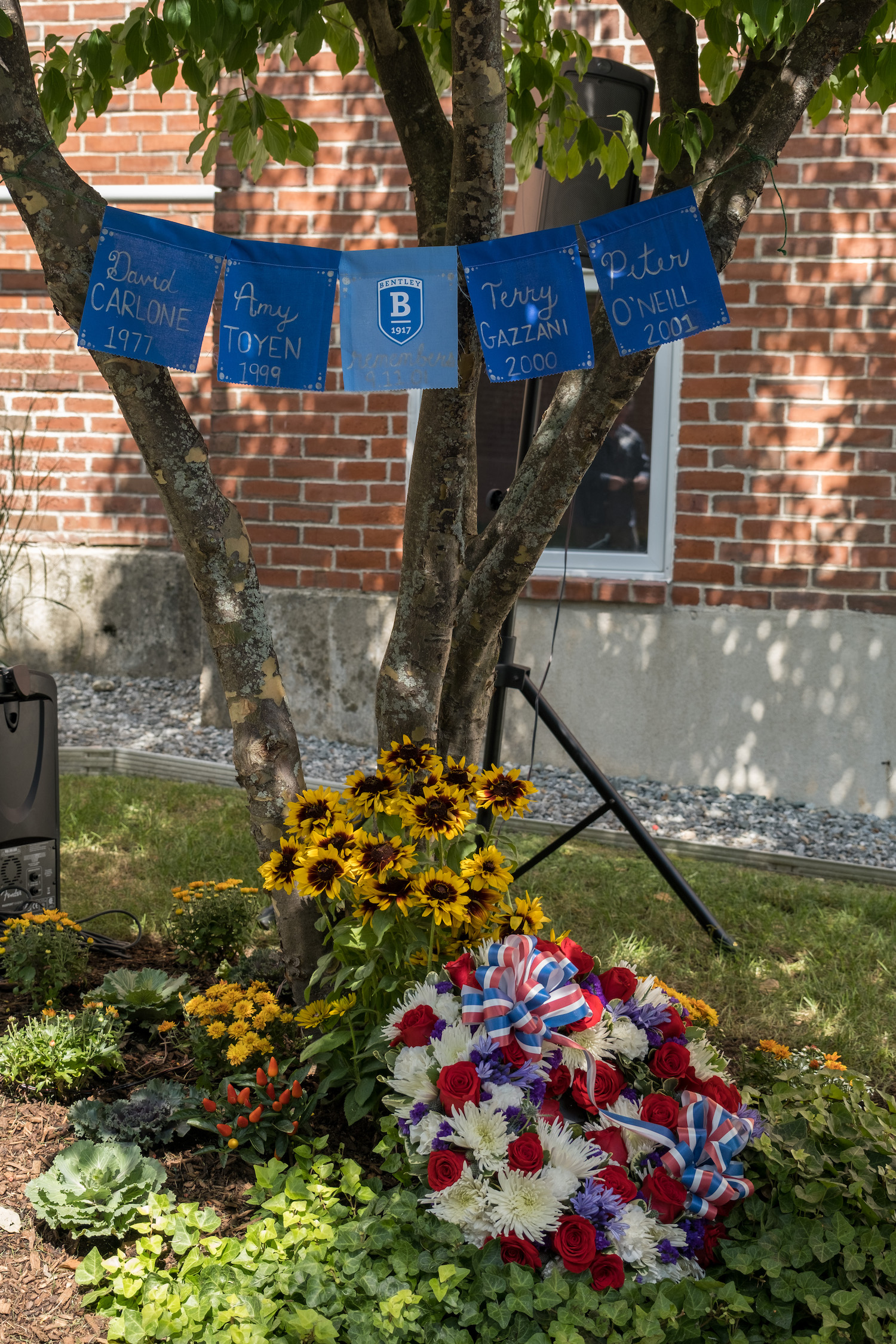 Students, faculty and staff solemnly gathered at the memorial tree between the Student Center and Rhodes Hall for the event, which served as a moment of reflection and a source of inspiration for continued student activism.   
Commemoration Day is hosted by the Spiritual Life Center. This year Rev. Robin Olson, director of spiritual life, implemented a storytelling component to the program. "I believe in the power of story to be transformative, to share that story from one generation to the next." 
The program was preceded by a procession of Bentley leaders from the Sacred Space in the Student Center to the memorial tree, where a wreath was placed. J. Andrew Shepardson, vice president of student affairs and dean of students, shared stories of remembrance of the four alumni, many of whom he knew.   
"We were all impacted by 9/11; but not until the family memorial at Bentley one month later on October 11 — when I met the families on campus — did I come to know the deep personal toll the day's events took," Shepardson says. "We all felt a sense of loss but nothing like the families. I think of them, and our alumni, often." 
David Carlone '77
David Carlone '77 was husband to Beverly and father to Darrick, Nicholas and Matthew. His niece Kimberly Napp '03 was a student at Bentley at the time of David's death. She remembers that "Education was very important to him. He said Bentley was a great school and I'd get a job right after graduation. I listened to everything he said." Carlone was devoted to his family, passionate about sports: playing, watching, coaching his boys in baseball, basketball, soccer and football. He was in the World Trade Center for a meeting that day.                   
Terry Gazzani '00
Terry Gazzani '00, the only child of Marty and Tracy Gazzani, worked in the World Trade Center. He was known as a leader with a moral compass who always did what he believed to be right. A friend remembers Gazzani as one "who had the ability to light up a room as soon as he entered. He made a lasting impact on every person he met, no matter for how long." He had many friends, a big smile, love of adventure in travel and sports.                                                                                                                                                                                                               
Peter (PJ) O'Neill '01
Peter (PJ) O'Neill '01 had started work in the World Trade Center in July 2001. Passionate about his job, he would stay at his desk long after others went home. He served as a firefighter in his hometown of Amityville Long Island and is described as the passionate life of the party who cheered the loudest for everyone as they crossed the stage at Bentley Commencement just three months before his death. His younger cousin Paige O'Neill is a member of Bentley's Class of 2018.                                                                                                                                          
Amy Toyen '99
Amy Toyen '99 was engaged to fellow Falcon Jeffrey Gonski '97 at the time of her death. She worked in Boston and was attending a meeting that day in the World Trade Center. Described as friendly, artistic and an advocate for tolerance and peace, she participated in the Bentley Heartbeat campaign in response to moments of intolerance and was included in a commemorative mural of the campaign. Toyen was also active on campus in Hillel, the Commuter Association, the Marketing Association and Delta Sigma Pi.                                                        
HONORING ACTIVISM
While at Bentley, Toyen was among a group of students who posted 5,000 fliers with the message, "This is our home, bigots not welcome," in response to hate crimes that took place on campus. Later, a "Bentley Heartbeat" mural was painted in LaCava to commemorate Toyen and the other students who posted the fliers.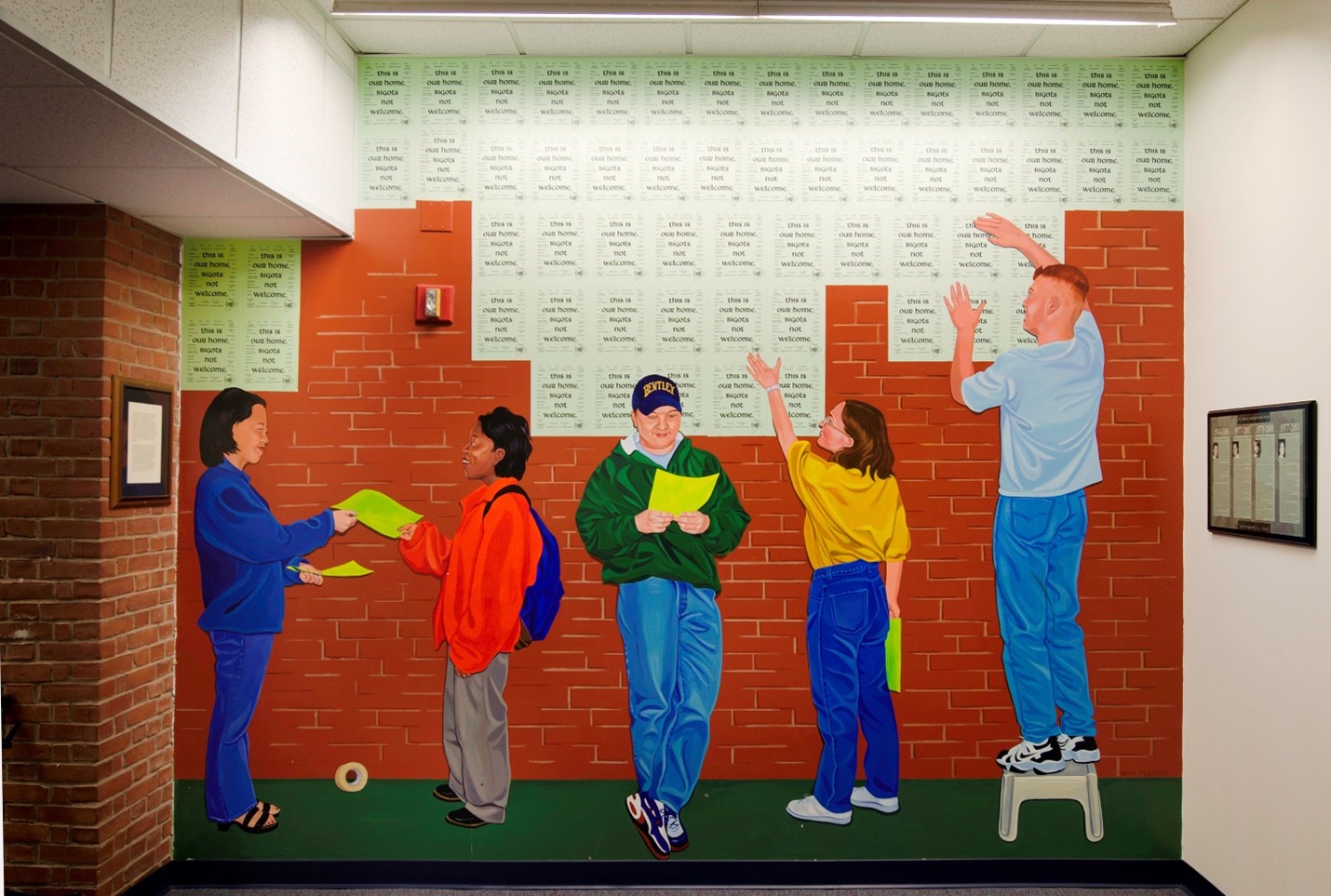 Kiana Pierre-Louis '99 was co-president of the Black United Body at the time and helped organize a rally against hate on the library steps. Two decades later, Pierre-Louis is now a senior lecturer in Law and Taxation. At the recent commemoration event, she and Rabbi Jeff Foust presented Black United Body Vice President Deandra Strickland '22 and President of Hillel Samantha Applebaum '22 with a framed print of the "Bentley Heartbeat" mural.  
Olson said when those hundreds of Bentley students rallied against hate following racist and homophobic incidents on campus 20 years ago, it marked an important time in Bentley's history, similar to the boost in activism that the university has witnessed in the last year and a half. 
"I don't think we would have called ourselves activist, but I guess we were," Pierre-Louis recalls of the Bentley Heartbeat campaign. "We knew this was our home and we deserve to feel safe and included and we as students were not going to stand for anything else. So, we decided that we were not going to be silent and we were going to take matters in our own hands and show this community is about love, respect and support." 
Olson aims to make sure that mission continues. "I really wanted to connect our current student activism to the student activism of Amy and other students who rallied against racism more than 20 years ago through the Bentley Heartbeat campaign," Olson says. "That was an important time in our history. Students are continuing to advocate for social justice; today, fliers are replaced by Instagram accounts like @BlackatBentley and @SexismatBentley."  
I believe in the power of story to be transformative, to share that story from one generation to the next.
Director of Spiritual Life
TOYEN LEGACY  
"When I think about Amy and the work that she did empowering the community, it was as if her purpose on campus was about positive change and making sure everyone had a seat at the table," says Claudette Blot, assistant director of mentorship and advising in Bentley's Multicultural Center. "She was always the first one to volunteer, even in behind-the-scenes roles. She never spoke of her work, but I remember telling her, 'I see you.'"  
Toyen's legacy lives on through a scholarship her fiancé Jeffrey Gonski '97 created in her name. The scholarship has received additional support from Amy's family, colleagues and friends, and has supported 15 students to date.    
ADVOCACY IN ACTION 
Blot clearly remembers the day of the Bentley Heartbeat rally. She watched as one-by-one students began to gather on the steps of the library.  
"It was amazing because it wasn't just one group of students; there were students of different nationalities and from different student organizations coming together as a united front," Blot says. "That is what made it so powerful for me."   
But that's not all. "Seeing faculty and staff surround students on the Library steps sent a message of "We got you" and we wouldn't tolerate bigotry either," Blot continues. "It's why I get excited by what's happening now at Bentley; it's not just one voice, everyone is saying the same thing: We want change."  
Olson agrees. "This kind of activism has happened before at Bentley and conveying stories like those of Amy and Kiana from one generation to the next is how we will continue to make positive change. I was called into ministry from the civil rights movement and for the church's role in social justice, and I am excited for our students to be empowered to work for justice and healing."