Skating Lessons
Former champion figure skater uses what she learned on the ice to get ahead in marketing
Every time figure skater Lindsay Toia '22 stepped onto the ice, she had a personal set of rules to follow: Fear is not an option. A strong presentation will help you make your mark. The competition can be daunting. And perseverance is a must. The lessons, which she learned during a 10-year competitive figure skating career that included achieving United States Figure Skating Association Gold Medalist status, are now being put to use in her personal life and her academic life at Bentley.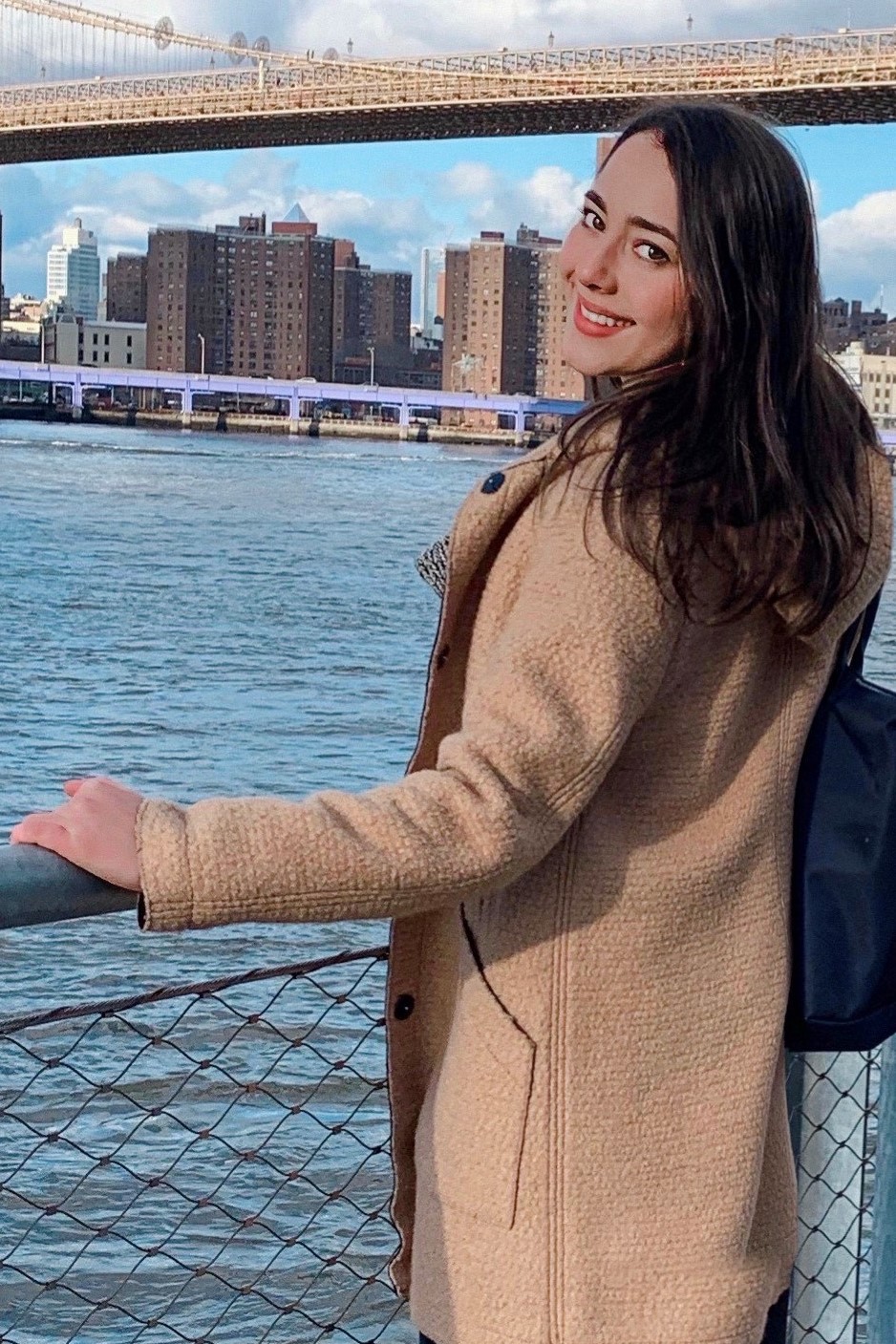 "Between the rigorous training and high level of competition, figure skating teaches you a lot about determination and resilience," says Toia, who trained six days a week throughout middle and high school. "Literally when you fall, you have to get back up — again and again and again. And even when you think you've mastered a jump you've been practicing for three years, precision is key and any hesitation or distraction can result in under-rotating the jump, or even falling."  
She leveraged that kind of experience when she had to give a 20-minute individual presentation in a Global Media Industries course at Bentley. The mental process leading up to and during that presentation was very similar to her figure skating competitions, in that she chooses not to watch those who are on the ice before her. 
"I didn't dwell on how other classmates presented," Toia says, "and I actively dismissed negative thoughts and doubts that came into my mind as I waited for my turn." 
That kind of confidence is what led Toia to Bentley in the first place. After taking a marketing class during high school, she knew it was her passion and was excited to dive deeper into the field. She is a Marketing major with a Liberal Studies Major in Media Arts and Society, but some of her most valued business lessons come from unexpected places. 
When Toia was assigned a research paper in her first-year expository writing class, for example, she "began diving deeper into the fashion industry" and came across the environmental hazards of fast-fashion items. It was a turning point in Toia developing an interest in sustainable fashion. The following year, she chose to research a socially responsible clothing company, Patagonia, for a Fundamentals of Marketing Operations course.
"I enjoyed the combination of marketing and operations because I was able to understand how companies like Patagonia authentically support sustainability initiatives from an integrated supply chain and promotional standpoint rather than greenwashing — marketing themselves as sustainable when they're not."
Figure skating teaches you a lot about determination and resilience. Literally when you fall, you have to get back up — again and again and again.
As Toia reflects on what she loves about marketing, she recalls the first time she picked up her family's camera. "I was about 12 years old and I didn't know how to photograph at all. I started taking pictures of plants in our kitchen and even though they were very basic, I started posting them on Instagram. After a while, I realized how much I like sharing and creating content in person and online. That's also a big component of marketing." She eventually launched Lindsay Toia Photography and sold prints of her nature photos, raising more than $1,000 for Yale Children's Hospital.
Toia's online presence has since taken off: She was a social media specialist for Bentley's Student Programs and Engagement team; a content creator and brand representative (posting sponsored content as a microinfluencer) for Dunkin' Brands, OPI Nail Polish and Sweat Fitness; director of social media for the Bentley chapter of Alpha Phi International Fraternity; and incoming PR Coordinator for Bentley's Office of Sustainability. 
Social media has also become an extension of Toia's personal brand. She designed a website to share her eportfolio, including projects such as the Bentley #YouCanB campaign and internship experience. And when the COVID-19 pandemic resulted in the cancellation of a spring break trip to France — the travel component of the Bentley course Forward Fashion, Omni Retail and the Luxury Consumer: Made in France course — Toia did something she had always wanted to do: start a blog. 
"When I considered starting a blog, I always put too much pressure on myself about the brand and business component of it. But the pandemic changed that. I finally decided it's more of a passion project. I wanted to connect with other people in a positive way; reflect on things and learn; and talk about the silver lining of unexpected situations."
Another unexpected fallout due to the pandemic was the delay of a consumer engagement internship at Horizon Media's Blue Hour Studios, the brand's newly launched in-house content agency scheduled for this summer. Fortunately, the company extended the offer to summer 2021, and Toia landed a remote editorial internship at New York media company Luxe Interiors + Design Magazine. 
Though it's in her nature to always be learning a new skill (or figure skating jump) and setting the next goal, Toia is also learning to enjoy the moment. "I try to focus on celebrating the victories as they come, but also look toward the future. You should always have your eye set on a goal you want to achieve, then sit down and develop the strategy to start making it a reality."
In the Market for a Marketing Degree?