Solving Her Puzzle
Sandhya Sangappa '24 takes a data-driven approach to changing the world
The distinctive part of Bentley's curriculum is often found at the intersection of business and the arts and sciences. For Sandhya Sangappa '24, it's a combination that just adds up. 
A native of Marlborough, Mass., Sangappa attended the STEM-heavy Advanced Math and Science Academy there, graduating with a love of business and data science. At Bentley, the aspiring Data Analytics major (she's also planning minors in Business Studies and Finance) is looking to harness the power of mathematics to help change the world of business.
"I love math and am very passionate about data science," she says. "With the Data Analytics program I'm in now, I'm able to build and create things. You can work in analytics or data science or computer science in essentially any industry, and being able to face so many different challenges; it's like a puzzle. I really like that aspect of it." 
Sangappa takes advantage of Bentley's Computer Information Systems (CIS) Sandbox, a state-of-the-art learning lab where students can get hands-on experience on the latest technology, but also leans on professors, alumni and older classmates to stay up to date on her fast-moving passion. 
A lot of people talk about working for a dream company. I don't look at it like that. I want to have a dream experience.
LEADING WITH EMPATHY 
Sangappa has also immersed herself in Bentley's campus culture, both as a way to deepen her experience here and as a way to prepare herself for success after graduation.  
"When I came to Bentley, I didn't know exactly where I wanted to be, but I knew I wanted to take advantage of all the resources that were available to me," she says. "You have to start working hard freshman year. You have to be on top of everything in order to get where you want to get to.  
"I went through all of the clubs and made a list of the ones I was interested in," adds Sangappa. "Then I spoke with those clubs at the activities fair. All of these clubs have freshman liaison positions, which is where I started so I could access the networks that existed within each group."  
Consulting bootcamp mentors Bentley students and lends a hand to businesses
The strategy has paid off. In her second year on campus, Sangappa is an executive board member of the Bentley Consulting Group, vice president of the Mathematical Sciences Club, a member of the Bentley Investment Group, and an ambassador for Bentley's Student Honors Council.  
"After being in these positions for over a year now, it's fun," she says. "They're like mini families. We all know each other pretty well." 
Sangappa says she's learned to be what she calls an "empathetic leader." So when a new direction was suggested for the Bentley Consulting Group, she made sure to plug into the entire organization before pushing through any big change. 
"I've learned how important it is to foster an environment where everyone feels valuable and comfortable participating, speaking up and sharing their perspectives, even if it's something they have issue with," says Sangappa. "On a consulting project for a client in Cambridge, a team member felt that the work we were doing was focused too much on implementation, and strayed away from the advisory part of the consulting role. From there we had a really great dialogue about what we thought consulting was. 
"That taught me a lot about learning from others' perspectives," she adds. "You have to be flexible and put yourself in their shoes. You have to be a team player."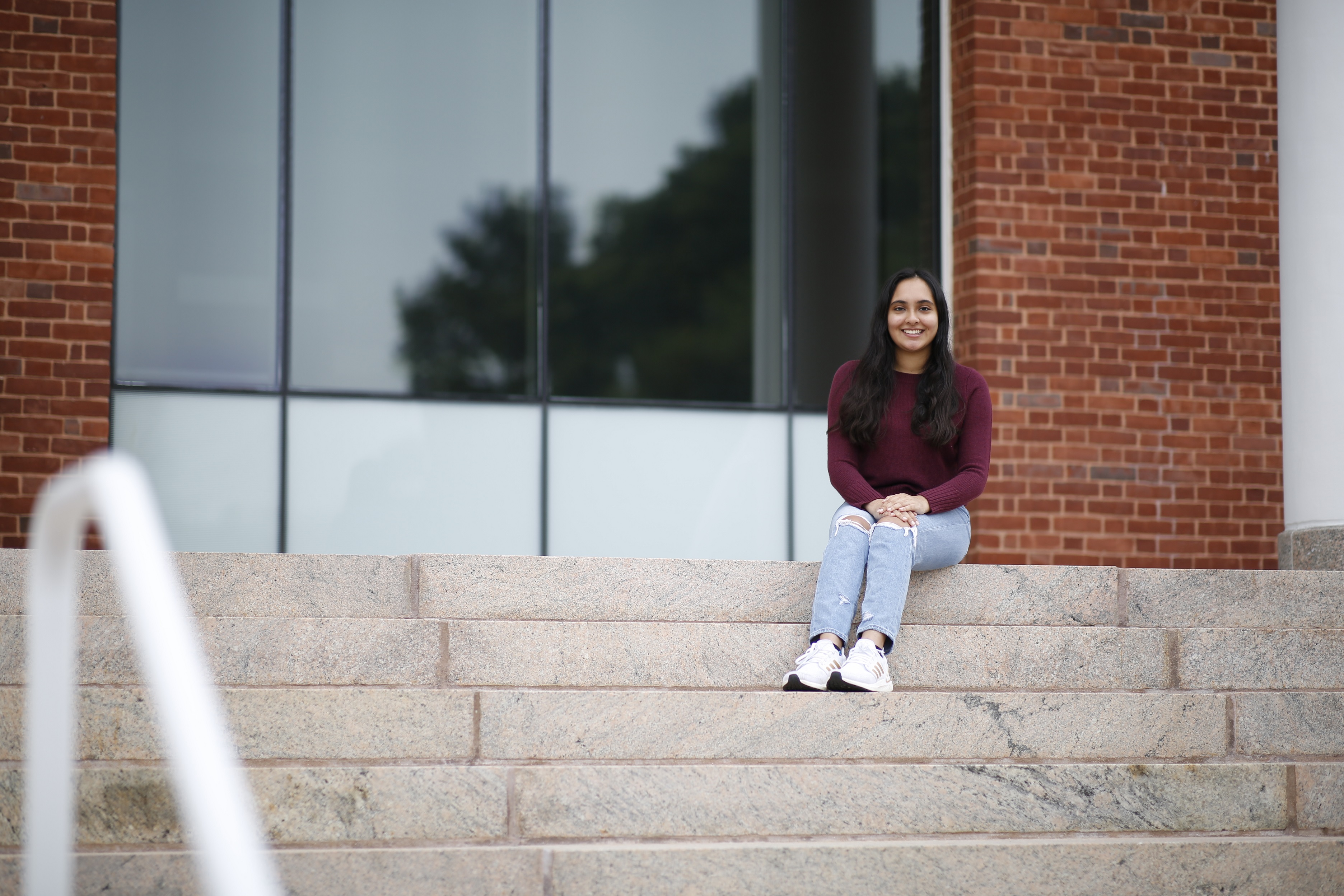 CHASING DREAMS 
Sangappa's interests go beyond campus as well. She's taken part in an exploratory program put on by Goldman Sachs, received a data analyst internship position at Eightfold — a company that uses AI to give hiring and employment groups equal access to job opportunities — and teamed up with a high school friend who studies at UCLA to work as data engineers at West Coast consumer services company Duffl and built them a product recommender system.   
"Helping any company or organization make better data-driven decisions is really important, especially as the world continues to evolve," she says. "A lot of people talk about working for a dream company. I don't look at it like that. I want to have a dream experience. I want to be doing a dream role." 
In October, Sangappa will take part (albeit virtually) in this year's Harvard Kennedy School Public Policy Fellows Conference. A STEM major attending a public policy conference at Harvard might seem like a stretch to some, but it's just another way for Sangappa to explore potential uses for the data she loves. 
"I'm trying to keep an open mind. When most people think of STEM or analytics, they think of tech companies. But you can work in health care, you can work for the government, pretty much anything." 
Just halfway through her Bentley experience, Sangappa isn't looking to slow down. She's staying busy on campus, and hoping to land an internship that would serve as another step in her path toward success.  
"I like to think they're all pieces to a puzzle," she says of her varied interests and roles. "What is the puzzle itself? I don't know yet. It'd be really cool to create my own startup someday. I always want to have that burning fire and ambition. I want to continue to learn, accomplish things and grow in every single way that I possibly can."