Stepping Up for Women
Red Shoe Movement honors President Alison Davis-Blake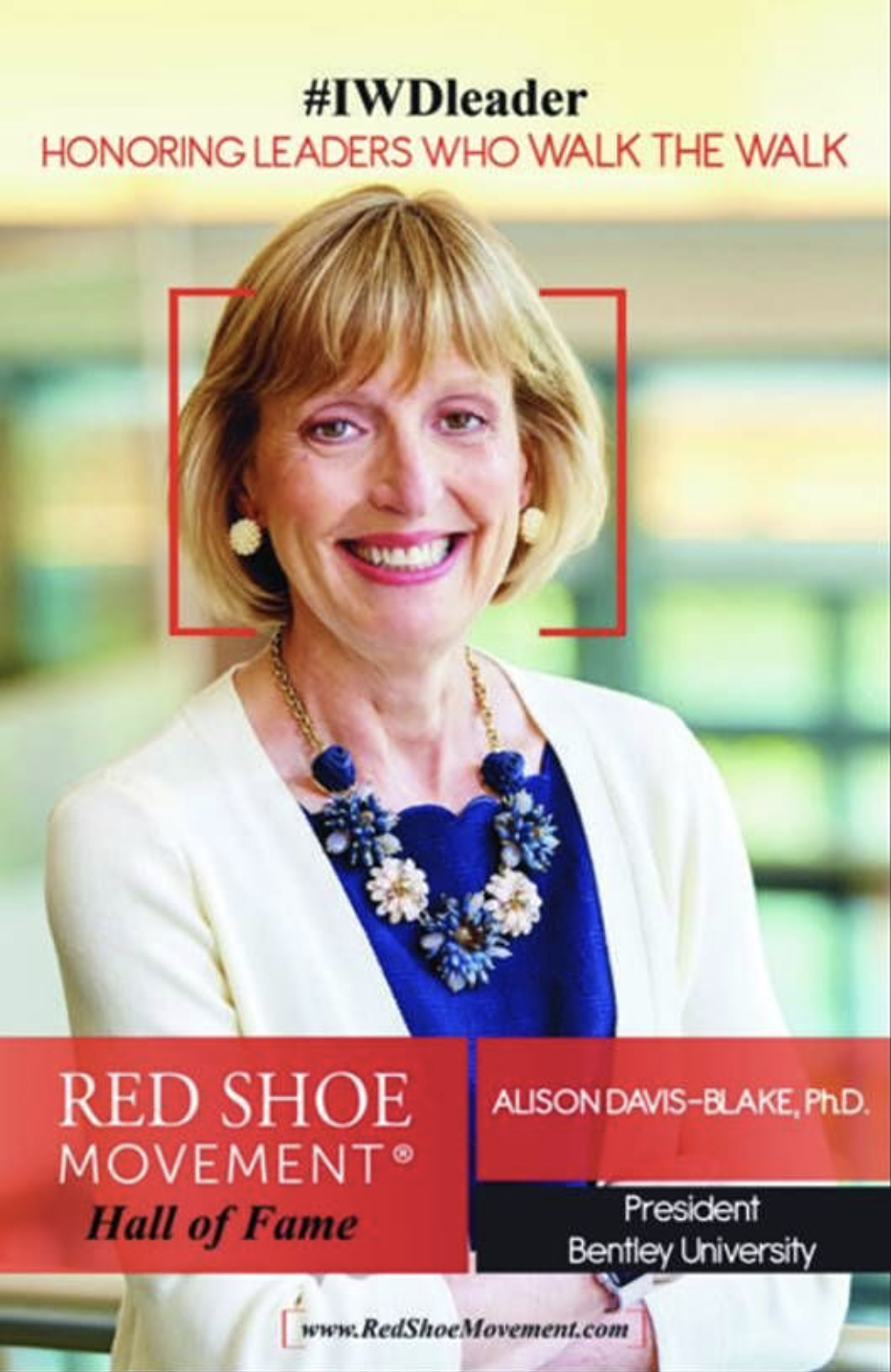 Above, President Davis-Blake with students on campus in spring 2019.
Bentley has a track record of leading conversations about gender equity, and President Alison Davis-Blake is all-in when it comes to leveling the playing field for women in business and beyond. Her commitment begins with the university itself. All faculty and staff hiring, for example, must include a strong pool of candidates representing different genders, races and ethnicities. That requirement has particular impact in leadership positions.
"Setting the example starts at the top," says Davis-Blake. "Our provost is a woman of color, our CFO is female and my cabinet is roughly equally represented in gender. Women and men alike are valued and can be successful at the highest levels at Bentley."
Davis-Blake's efforts inspired recognition by the Red Shoe Movement — a platform dedicated to career and leadership development for women. She was named to the organization's 2020 Hall of Fame for "relentlessly pushing for real results when it comes to full inclusion in academia."
Her commitment stems from personal experience: Davis-Blake blazed her own path in the historically male-dominated field of business education. She was the first female dean at both the Ross School of Business at the University of Michigan (2011-2016) and the Carlson School of Management at the University of Minnesota (2006-2011).  
"When I became dean, it was not uncommon for only 10 to 15 percent of full professors in a business school to be women. Based on that, one would expect very few women to be in senior administrative roles and even fewer to be deans," explains Davis-Blake, whose "very long road to deanship" included earning a PhD, securing an academic job, gaining tenure, becoming a full professor and building administrative experience.
A great many women working on the front lines went out of their way to tell me they were supporting me as a female leader.
Women have been essential in her journey, as sponsors, mentors, collaborators and supporters.
"We overlook the vital role of collaborators and supporters," says Davis-Blake. "My female collaborators provided a space where it was safe to be myself, vet concepts and test ideas. Also, a great many women who were working on the front lines went out of their way to tell me they were supporting me as a female leader and wanted to see me succeed. Their vote of confidence kept me going during some of my most difficult days."
The support and inspiration crossed gender lines, such as when a former male colleague introduced Davis-Blake to key university leaders before she succeeded him as a department chair. 
"He told those leaders how much they would enjoy working with me," she recalls. "He was extremely well-connected and well-respected. Those introductions, which took quite a bit of time to accomplish, were invaluable when I later became a department chair and then senior associate dean."
Bentley, too, brings men and women together around these issues. The Gloria Cordes Larson Center for Women and Business, for example, curated the research report Men as Allies: Engaging Men to Advance Women in the Workplace. Students, faculty and staff sign on to the Men of Alliance Pledge, which includes "taking meaningful action against gender bias and discrimination."
Enlisting Men as Allies for Gender Equity
Davis-Blake's work to close the gender gap reflects her belief that doing so is what the business world needs. She cites research showing that women leaders are perceived as being just as, if not more, competent than men in leadership positions
"I am not surprised by this data," she says of the study, published by Harvard Business Review. "I have personally found that, in the workplace, women are more likely to engage in integrative negotiations, where both parties win, rather than in negotiations that are win-lose.
"When women have had personal experiences of exclusion, they can often be more sensitive to the need for diversity and inclusion," she adds. "This recognition unleashes an organization's potential for creative and innovative solutions."
Diversity is a Core Value at Bentley