Men As Allies Research Report Request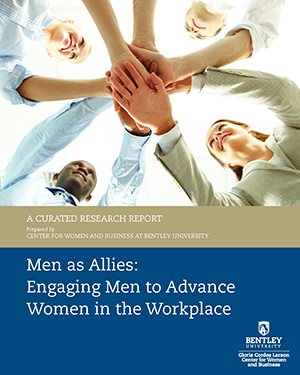 Thank you for your interest in the Gloria Cordes Larson Center for Women and Business (CWB) curated research report Men as Allies: Engaging Men to Advance Women in the Workplace. Download the full report.
Executive Summary
Improving gender representation in the workplace benefits everyone—it is good for our workplace culture, our professional development, our personal lives, and the financial bottom line. But these gains are only attainable with the cooperation and support of male colleagues, mentors, and sponsors.
Many male leaders recognize the value of women in leadership and have good intentions. The challenge is that unconscious bias and behaviors can stand in the way of making progress. Research shows that the key to "getting men on board" is increased awareness of gender bias.
Regardless of intent, it is not easy for many men to speak up and act on behalf of women. Several factors discourage men from taking action as allies including apathy, fear, lack of senior leadership support, and a belief that the problem is too daunting. Effective unconscious bias training and men as allies initiatives can address these barriers and help men understand the actions they can take to foster an inclusive workplace.
Please provide the requested information. After submission, the confirmation page will include the link to download the full PDF report.