Past Gearing Up Conferences
Past Keynote Speakers
2022 Gearing Up
Kiana Pierre-Louis, Esq. is an Assistant Dean for Diversity, Equity & Inclusion at Northeastern University School of Law. Prior to Northeastern, Kiana was a Senior Law Lecturer, Pre-law Advisor, and a Course Coordinator at Bentley University in the Law & Taxation Department. 
Kiana has a passion for social justice and diversity, equity, inclusion, and belonging and owns a consulting company, Justice Belongs Institute, LLC that centers this work. She has won numerous awards that recognize her work in advising and mentoring students, her leadership and dedication to advancing DEI initiatives, and her outstanding teaching capabilities. Kiana is the first Black person to be elected to the Select Board in Sharon, MA. She sits on the Board of Directors for KodeConnect, Inc. a non-profit organization helping marginalized youth to get access to STEM classes for little to no cost and she is an Advisory Board member of Youth LEAD at Emerson College. She is also the President and a board member of Sharon Racial Equity Alliance (SREA) an antiracist non-profit centering the racial inequities of BIPOC individuals in Sharon, Ma.
Kiana has been recognized for her social justice advocacy as a 2021 Massachusetts Black & Latino Caucus Black Excellence on the Hill Nominee and honored as Citizen of the Year in 2021 by the Town of Sharon. Kiana has also been highlighted for her business and legal expertise by the Massachusetts Conference for Women. In 2021, she had one of the most watched Learning Bursts on Building Self Confidence and was one of the top-rated podcast speakers with her episode, "What To Do When You're Chronically Underpaid."  
2021 Gearing Up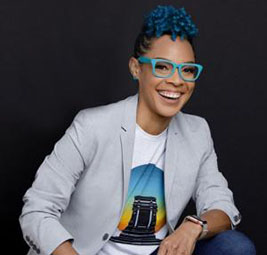 Tiffany Jana is the Founder of TMI Consulting and the best-selling author of four commercially published diversity themed books. Dr. Jana is an award-winning, international public speaker who transitioned TMI into the world's first Certified Benefit Corporation with a diversity and inclusion focus. Dr. Jana has positioned TMI Consulting as the global leader in DEI ROI and metrics-based accountability.
As TMI's leader, Tiffany oversees the development of the firm's strategy, growth, and people. Tiffany also serves as a strategic executive advisor on key client engagements, and has deep expertise in justice, equity, diversity, inclusion (JEDI) leadership and antiracism. Dr. Jana's vision is to help clients optimize their workplace and community environments based on stated values. TMI helps clients align their organizational values with inclusive behaviors that create welcoming, equitable workplaces for all employees. Dr. Jana has been featured in the Harvard Business Review, Forbes, the New York Times, Huffington Post, Psychology Today, the Wall Street Journal, CEO World, Business Insider, Thrive Global, MarketWatch and many others.
Awards & Honors
Top 100 Leadership Speaker for 2018 from Inc.com
Enterprising Women Magazine, Enterprising Woman of the Year Award 2017
Style Weekly's 2013 Top 40 Under 40
Diversity Journal's 2013 'Women Worth Watching'
Metropolitan Business League's 2014 Entrepreneur of the Year
Finalists for the National Association of Women Business Owners 2014
2020 IPPY Independent Publisher Book Award for the 2nd edition of The B Corp Handbook
VA Museum of History and Culture, Agents of Change Award
Changemakers to Watch, Berrett-Koehler Publishers
B Corp Hal Taussig Award 2020
Publications
Subtle Acts of Exclusion: How to Understand, Identify, and Stop Microaggressions
The B Corp Handbook, Second Edition: How You Can Use Business as a Force for Good
Erasing Institutional Bias: How to Create Systemic Change for Organizational Inclusion
Overcoming Bias: Building Authentic Relationships across Differences
Chop Suey Books is a local bookstore that sells all of Dr. Jana's books. Check them out here.
2020 Gearing Up

Kori S. Carew, Esq., an attorney and community builder who generates awareness and understanding of critical human issues by creating the space and climate for open dialogue that is meaningful, enables people to expand their perspective and drive positive change. 
With grace and truth, she is a disruptor, womanist and social justice advocate. With a multi-national, multi-religious, multi-ethnic, multi-lingual family background, she brings a keen sensitivity to belonging and inclusion across differences and creating space for the under-represented. Kori questions barriers that divide communities and hold back individual potential, and at the center of her perspectives and passion is her faith. 
Kori is the Chief Inclusion & Diversity Officer at Seyfarth Shaw, LLP, an international AmLaw 100 firm and before that served as the Director of Strategic Diversity Initiatives for 7 years Shook Hardy, & Bacon LLP, leading all efforts related to the firm's primary diversity and inclusion drivers of excellence, education and equity across 12 offices. She uses an innovative and proactive approach to tackling diversity and inclusion by embracing inclusive talent management, inclusive leadership development and assessing and interrupting systems. 
Using advocacy and organizational strategy to address structural barriers to diversity in the workplace, she brings an incisive voice, unapologetic questioning of the status quo, and a lifelong fascination of human potential to empowering women and marginalized people and improving inclusion. She is a nationally sought-after speaker on topics of diversity, inclusion and belonging, inclusive leadership, talent engagement and development, authenticity and leveraging power.
Kori's drive toward redefining the circle of belonging and restoring authenticity fuels her work in the marketplace as well as in her community. She is wife to Gary and mother to two spit-fire curly wild haired strong willed daughters, Riley and Samarah.
2019 Gearing Up - Grow to Lead

Born and raised in Caracas-Venezuela, Michelle Poler is a creative and passionate social entrepreneur, keynote speaker, fear facer, and branding strategist.
She is the Founder of Hello Fears, a social movement empowering millions to step outside of the comfort zone and tap into their full potential. She has spoken at TEDx, Google, INBOUND, Facebook, ESPN, Netflix, Procter and Gamble, Microsoft, Toyota, World Domination Summit, Festival of Media Global, and many more.
Michelle is also the creator of the project 100 Days Without Fear. Her work has been featured on CBS, CNN, Huffington Post, Buzzfeed, Fox News, Telemundo, Glamour, Elle, The Rachael Ray Show, Refinery29, and Daily Mail among many others.
In 2017 she started speaking to the younger generation. Since then, she has empowered over 20,000 students at schools and universities around the world to live with courage, find their authenticity and embrace their growth paths.

TeLisa Daughtry—is an Award-Winning Diversity & Tech Advocate, Serial Social Entrepreneur, Investor, Author, Multi-Disciplined Creative, Technologist, and Disruptor!
She is the Founder & CTO of FlyTechnista, a mobile app which provides women and girls with direct access to highly-curated education, employment, and entrepreneurship opportunities in technology; the Founder of STEEAMnista, a non-profit that seeks to increase the participation, visibility, and leadership of women across S.T.E.A.M. (science, technology, engineering, arts, math), entrepreneurship, and makers; both initiatives have been in partnership with The White House in 2016; the Founder & Managing Partner at FemX Ventures, a private fund and launchpad for female founders; and author of ebook "Learn, Lead, Launch: A FlyTehnista's Guide to Tech FLY & Hustle FLY".
In 2018 she was named 50 Most Influential Women Entrepreneurs in New York City, by My Boss Tribe.  In 2017 she was an honoree and recipient of an ACT4 Award, recognized for her achievements in technology and advocacy for diversity; a Finalist for Code/Interactive: Diversity in Tech Awards; listed on MIC's 1,000 Women in Tech and Science Speakers; and named Top 50 Visionary Women in Tech to Watch in 2017  by Innov8tiv Magazine. In 2016 she was recognized as a Changemaker  for Innovation & Entrepreneurship by the United State of Women.
2018 Gearing Up - Unlock Your Potential to Thrive

Ritu Bhasin's daily mission is to create a more inclusive and empowered world. As the Founder and President of the leadership and inclusion firm bhasin consulting inc., she coaches C-Suite leaders, executives, and diverse professionals on building cultural competence and leveraging their differences for success. She challenges others to take ownership of their role in addressing racism, discrimination, and prejudice—and is a passionate champion of authentic leadership as a path to inclusion, empowerment, and success. 
Ritu has received numerous awards for her commitment to social change, including the IndoCanadian Chamber of Commerce Female Professional of the Year Award, the City of Toronto William P. Hubbard Award for Race Relations, and Western University's Young Alumni Award.  
Before founding bhasin consulting inc., Ritu was a practicing lawyer, and the director of legal talent at a preeminent Canadian law firm. She earned an MBA from the University of Toronto's Rotman School of Management and an LL.B. (With Distinction) from the University of Western Ontario, and she has served as an instructor in the Executive Program at the Rotman School of Management. 
Her book, The Authenticity Principle, explores the relationship between inclusion and authenticity.
2017 Gearing Up - Charting Your Path to Success

Dr. Tasha Eurich is an organizational psychologist, researcher and New York Times bestselling author. As a third generation entrepreneur, she grew up seeing the powerful influence leaders had, both on businesses and the livelihoods of their employees. Leadership is now her life's work, and she's built a reputation as a fresh, modern voice by pairing her scientific grounding in human behavior with a pragmatic approach to business challenges—over her 15 year career, she's helped thousands of leaders transform, from Fortune 500 executives to early-stage entrepreneurs.
Her first book, Bankable Leadership, shows readers how to successfully manage the tension between people and results to foster confidence, success and a productive and engaged team. In her latest book, Insight, she reveals the surprising myths and unseen obstacles to gaining self-insight, how to avoid these costly barriers and wrong turns, and ultimately how to increase their understanding about everyone's favorite topic: themselves.
2016 Gearing Up - Confidence -Breaking Your Barriers

Mel Robbins is a powerful motivational speaker who is trusted by global brands to design and deliver multi-media, interactive keynotes that inspire change, challenge thinking and accelerate personal and business growth. Her TEDx Talk on How To Stop Screwing Yourself Over has over 3 million views, and her book on the brain and productivity, Stop Saying You're Fine, is a business bestseller that has been translated into four languages. She started her career as a criminal defense attorney and went on to launch and sell a retail and internet technology company. Mel has led multi-year coaching programs at: Johnson&Johnson, AG Edwards, Bear Stearns and Partners Healthcare. The media has tapped Mel to host award-winning shows for FOX, A&E, Cox Media Group and now CNN.